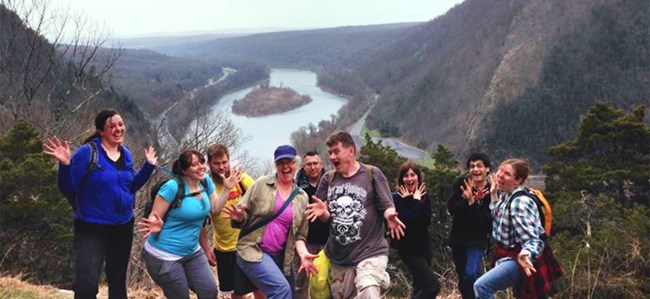 Length: 1.2 miles, one-way
Difficulty: Difficult
Blaze: Red
Elevation Change: 1201 feet
Trailhead Location: directions to Dunnfield Creek Natural Area trailhead
The Red Dot Trail is one of two trails that lead to the outstanding view looking into the Delaware Water Gap from Mt. Tammany. This hike is one of the most challenging in the park. Combining the Red Dot Trail with the Blue Blaze Trail makes a three-mile loop trail. If making a loop hike, consider hiking up the Red Dot Trail and down the Blue Blaze Trail, because most people find it to be an easier route. Over twenty miles of trail can be connected together in the Worthington State Forest area to fill the entire day.
Other Information: restroom located at trailhead;the trailhead parking lot fills quickly on summer weekends; more information about Worthington State Forest
Other trails in Worthington State Forest: