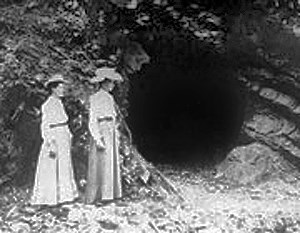 Length: 2.0 miles, one-way
Difficulty: Moderate-difficult
Elevation Change: 1104 feet
Trailhead Location: directions to Coppermine trailhead
Restrictions: mines are closed to protect bat roosting habitat
The Coppermine Trail climbs steadily up toward the Kittatinny Ridge, past two old copper mines. The trail passes through a hemlock ravine and mixed hardwood forest. The trail also parallels a stream with a number of modest cascades. Spurs that lead to the Kaiser Trail are found at the quarter mile and three-quarter mile marks (indicated with blue blazes); the first is 0.6 mile long, and the second is 0.2 mile long. Coppermine Trail terminates at the Appalachian National Scenic Trail, just south of the Mohican Outdoor Center. Extend the hike and make it a loop by adding part of the Appalachian Trail and the Kaiser Trail.