Winter Activities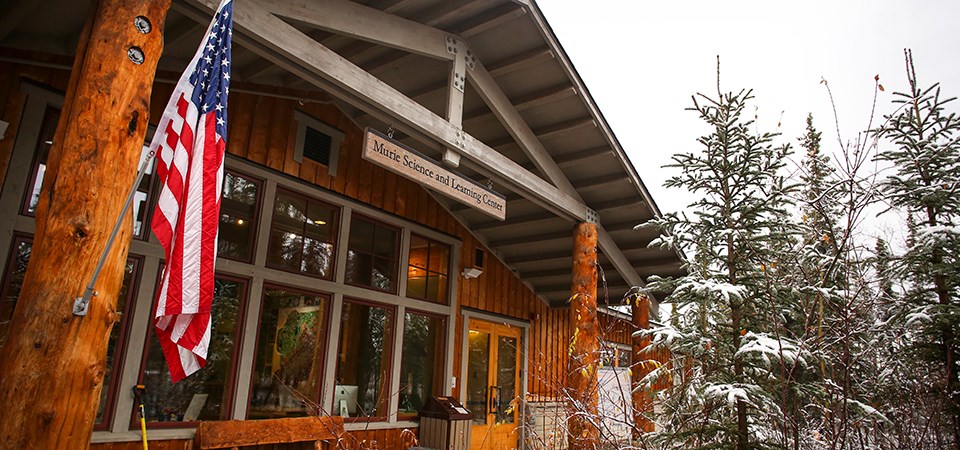 Denali is
not
closed in winter!
However, winter is the predominant season. During this time, snow blankets the park, daylight disappears, and temperatures can plunge to a frigid -40 F (-40 C). Even with the short days and chilly temperatures, there is still a lot to do here.
Though the Denali Park Road typically closes at Mile 3 for several months, there is plenty to do.
Winter Visitor Center
At Mile 1.4 on the park road is the Murie Science and Learning Center, which acts as Denali's winter visitor center. It is open daily from 9:30 am—5:00 pm, except major holidays.

At the center, you can watch the park film, "Heartbeats of Denali," talk with a ranger about conditions on park trails, acquire a winter backcountry camping permit, pay the park entrance fee, borrow snowshoes and more.
Indoor Picnic Area
Next door to the winter visitor center is an indoor picnic area. It is open the same hours as the winter visitor center (until April 14 each y ear, after which it is closed). There is no food service available, so bring your own food and drink.
A Recommended Winter Itinerary
---
Skiing, Winter Biking, Snowshoeing
Cross-country skiing, winter biking and snowshoeing are peaceful and rewarding ways to explore Denali, whether for an afternoon or a multi-day trip following sled dog trails or along the Denali Park Road.
Telemark skiing and snowboarding involve long climbs on foot, but are possible in good snow years. If you plan to travel in areas that present avalanche hazards, please have proper training and equipment. We encourage you to travel with a partner or a group.
A map of winter trails can be found lower on this page.

Conditions
Please be prepared for all conditions and call the park with any questions you may have about trail conditions and winter recreation in Denali (907-683-9532 daily, 9 am—4 pm). Snow cover in Denali can range from excellent to nonexistent and temperatures can range from 40 F to -40 F in the winter.

Equipment
The park offers free snowshoe rentals from the winter visitor center.

There are no ski or bike rentals, so be prepared to bring your own equipment to Denali. Fairbanks and Anchorage are the closest areas to buy/rent skis, bikes and other gear.
---
---
Trails
A number of summer-time trails also make for great winter travel. There are also some good off-trail winter routes close to the winter visitor center.
The map below color-codes trails to indicate their relative difficulty (you can also click on a given trail to learn its suggested difficulty).
Green trails are typically the easiest, and are suitable for cross-country skiing, snowshoeing or hiking. We try to groom some of these, mainly within Riley Creek Campground and the trails close to the park road. Grooming cannot always occur right after snowfall, though, so prepare for unbroken trails.
Blue routes tend to be steeper, and may not be good for novice xc skiiers.
Black lines are very steep trails, and/or trails that are exposed and tend to be snow-free most of the winter. These are best hiked, either in snowshoes or with some kind of grippy device attached to your boot.
Yellow lines indicate off-trail routes commonly used by visitors. Conditions can vary wildly, and these trails are never groomed (e.g., so they are often obscured after fresh snow, until people have begun using them again). Since these are routes, and not formal trails, you may find that the path taken by previous travellers deviates somewhat from what this map indicates.
This map does not update with current conditions. Please stop by the winter visitor center or contact us in advance to learn about conditions on these trails.
---
Backcountry Trail Conditions

Check out the latest winter trail conditions with the map below.
Until it snows enough to make winter travel possible, this map will not have current conditions information. Instead, it will have blue lines that indicate common trail routes.
Once snow falls, and rangers travel various trails, updates will display on this map. Trails will be color-coded to indicate relative difficulty. There will also be icons that indicate where the park sled dogs have recently travelled.
Unlike some public lands, Denali does not groom trails with snowcats or snowmachines. Much of the park is designated as federal Wilderness by Congress, wherein motorized vehicles are prohibited. So instead of machines, the sled dogs break recreational trails open for winter visitors to ski, mush, hike, bike, etc.
Last updated: February 21, 2019