Denali Winterfest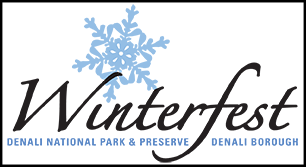 The 20th-annual Denali Winterfest is February 21-23, 2020.

Each year, this community-wide event features a variety of activities, with something for all ages, interests, and abilities.

Denali Winterfest is organized and supported by the National Park Service, Denali Borough and Denali Borough School District, Denali Education Center, Doyon/Aramark Joint Venture, Alaska Geographic, and additional community organizations.


Schedule of Events
Friday, February 21
6 pm — Winterfest Weekend Kickoff
Location: McKinley Park Community Center, Mile 230, Parks Hwy
Come celebrate winter in Denali with great friends, food, and fun for all. Join the Denali Education Center for live music, local art, and a potluck to help ring in the return of brighter days. A few food items and non-alcoholic beverages will be provided. Please bring a shareable appetizer or dessert to add to the spread! Remember to bring your own plates, silverware, and personal beverages -
#dontfeedthelandfills
. Presented by Denali Education Center and the Denali Zero-Landfill Initiative.
Saturday, February 22
10 am to 12 pm — Youth Cross-Country Ski Races
Location: Riley Creek Campground
Ski races (ages 8-18), skate or classic ski and relay. The 0.8 km loop track will be open for preview at 10:00 am. Racers should check in by 10:30 am. Bring your own equipment.

10 am to 3 pm — Snow Block Sculpting Competition
Location: Parking lot of the Denali Visitor Center
Sign up for a snow block and pick up sculpting tools at the MSLC. Judging begins at 3:00 pm.


10 am to 4 pm — "Our Winter World" Exhibits
Location: Winter Visitor Center Indoor Picnic Area
Snow is one of the most critical resources on Earth, providing water for about 2 billion people, and playing a major role in cooling the Earth, but many people are unaware of these facts. Join us to explore the fascinating vital role that snow plays in climate, water resources, and human lives with hands-on displays, models and activities about snow from around Alaska, and the world!

Presented by the University of Alaska Fairbanks and sponsored by the National Science Foundation

10 am to 9 pm — Hockey Games
Location: Tri-Valley Community Center, Mile 0.5 Healy Spur Road, Healy
Hockey games all day at the rink. Come cheer on the hometown Coal Kings (youth) and Coal Queens (women) as they host teams from Fairbanks. Refreshments available in the warming hut.

11 am to 3 pm — Refreshments
Location: Winter Visitor Center Indoor Picnic Area
Snacks, light lunch, and refreshments provided by Doyon/Aramark Joint Venture.

12 to 2 pm — Campfire and S'mores
Location: Outside of the Winter Visitor Center
Warm up, make a s'more, and meet a National Park Service firefighter!

12 to 5:30 pm — Warm-Up at Savage Cabin with Park Sled Dogs
Location: Savage Cabin (Mile 14)
Visit with park staff and some of our sled dogs at the historic Upper Savage River ranger patrol cabin. Enjoy a campfire, hot drinks and s'mores! Park at Mountain Vista Rest Area at mile 12. Walk, ski or snowshoe 1/4 mile to cabin.

1 pm to 3 pm — Guided Snowshoe Walk
Location: Winter Visitor Center
Join us for a fun and informative walk to discover the hidden joys of winter in Denali. Snowshoes available for checkout.

5 pm — Winterfest Community Dinner and Bingo!
Location: Tri-Valley Community Center, Healy

Dinner and events presented and supported by Denali Borough, Native Village of Cantwell, Holland America-Princess, Doyon/Aramark Joint Venture, Tri Valley School, and Denali Preschool Learning Center.

5 pm to 6:30 pm: Community Spaghetti Dinner
6:15 pm: Denali Borough Mayor's Community Service Award presentation
6:30 to 8:30 pm: BINGO! All ages are welcome to participate. Prizes include a one-hour massage by Therapeutic Massage and other various gift certificates from local winter businesses.

8:30 pm – Stargazing Party
Location: Mountain Vista Rest Area at Mile 13
If it's a clear night, come join us at the Mountain Vista parking lot to view constellations, planets, and maybe the northern lights. NPS Night Skies technician Cameron Sanson will give a short astronomy talk at 9 pm. Dress warmly and bring binoculars and a headlamp if you have them.

9:00 pm — Denali Game Night
Location: The Totem Bar, Healy

Head to the Totem Bar for a fun night of games and the chance to win some winter-themed prizes. Games will include pool, foosball, Pac-Man, X-Box games, over-sized Jenga, and more!

Hosted by the Denali Chamber of Commerce & Visitor Center.
Sunday, February 23
2pm - Bigfoot-Fest
Location: Tri-Valley Community Library, Suntrana Road, Healy

Do you know what life as a bigfoot is like? Come find out with a fun-filled, family friendly event at the library. Hone your bigfoot hunting skills with a scavenger hunt. Make your own bigfoot feet and run an obstacle course.

Bring your sleeping bag and pillows to curl up and watch the movie Smallfoot to find out what bigfoot thinks of you and your small feet. Come in your jammies and join us for lots of laughs, yeti movie snacks, and bigfoot crafts for all ages.

Search Filters
By Park
By State/Territory
By Event Type
Last updated: January 21, 2020