Denali Winterfest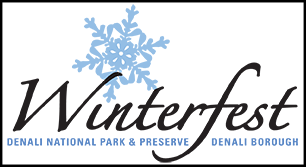 The 19th-annual Denali Winterfest occurred February 22-24, 2019.

Each year, this community-wide event features a variety of activities, with something for all ages, interests, and abilities.

Denali Winterfest is organized and supported by the National Park Service, Denali Borough and Denali Borough School District, Denali Education Center, Doyon/Aramark Joint Venture, Alaska Geographic, and additional community organizations.

Details for the 2020 Winterfest will be available in mid-winter; until then, browse the 2019 event's schedule for hints at what might come in 2020.
Schedule of Events
Thursday, February 21
6-8 pm — Art Night Workshop
Winter Visitor Center classroom
Join a fun art activity led by Fairbanks artist Tammy Holland, creating wildlife silhouettes on aluminum sheets made from recycled pop cans. Sign up in advance; space is limited to 10 participants.
Friday, February 22
6 pm — Potluck Dinner and Winterfest Weekend Kickoff
McKinley Park Community Center, Mile 230, Parks Hwy
Celebrate winter in Denali with great friends, good food, and fun for all. The Denali Education Center will be hosting a potluck dinner to help ring in the return of brighter days. The main course wil be provided, but please bring a warm side, salad, or dessert to share. Bring your own plates, silverware, and beverages! Presented by Denali Education Center and the Denali Zero-Landfill Initiative.

Saturday, Feb 23
Events occur in Denali National Park and the surrounding community. Locations are listed below time / event titles.
10 am—9 pm: Hockey Games

Tri-Valley Community Center, Mile 0.5 Healy Spur Road, Healy.
Hockey games all day at the rink. Come cheer on the hometown Coal Kings (youth) and Coal Queens (women) as they host teams from Fairbanks. Refreshments available in the warming hut.

10am—12pm: Youth Cross-Country Ski Races

Riley Creek Campground, Mile 0.2, Denali Park Road
Ski races (ages 8-18), skate or classic ski and relay. The 0.8 km loop track will be open for preview at 10:00 am. Racers should check in by 10:30am. Bring your own equipment.

10 am-12 pm: Guided Snowshoe Walk

Winter Visitor Center
Join us for a fun and informative walk to discover the hidden joys of winter in Denali. Snowshoes available for checkout.

10 am—3 pm: Snow Block Sculpting Competition

Parking lot of the Denali Visitor Center, Mile 1.5, Denali Park Road
Sign up for a snow block and pick up sculpting tools at the MSLC. Judging begins at 3:00 pm.

10 am—4 pm: Warm-Up at Savage Cabin

Visit with park staff at the historic Upper Savage River ranger patrol cabin. Enjoy a campfire, hot drinks and s'mores! Park at Mountain Vista Rest Area at mile 12. Walk, ski or snowshoe 1/4 mile to cabin.

11 am—11:45 am: "Layer it Up!"

Winter Visitor Center classroom
Join us for some fun activities for kids that will explore how wildlife and humans survive Denali's cold winters!

11 am—1 pm: Dog Sled Rides

Riley Creek Campground, Mile 0.2, Denali Park Road
Take a short ride with a local dog mushing team (children have priority).

11 am—3 pm: Refreshments

Murie Science and Learning Center Indoor Picnic Area, Mile 1.4, Denali Park Road
Snacks, light lunch, and refreshments provided by Doyon/Aramark Joint Venture.

11 am—2 pm: Denali Winter Planning Info Table

Murie Science and Learning Center Indoor Picnic Area, Mile 1.4, Denali Park Road
Swing by to learn about Denali's winter planning effort. What would you like the future of winter in Denali to look like?

Noon—1 pm: Denali's Mongolian Sister Park

Winter Visitor Center Classroom
Come learn about Denali's partnership with Otgontenger Sister Park with Deputy Superintendent Denice Swanke.

Noon—2 pm: Campfire and S'mores

Murie Science and Learning Center, Mile 1.4, Denali Park Road
Warm up, make a s'more, and meet a National Park Service firefighter!

12:30 pm—2:30 pm: Guided Ski Tour

Location TBD
Join Erica Carroll and Rose Keller for a guided ski on river and tundra routes in the park. Participants should be comfortable skiing in ungroomed tracks and backcountry terrain. Bring your own equipment. This activity is dependent on safe snow conditions. Call 683-9532 for status on snow conditions and for an update on the location of the ski.

12:30 pm—3:30 pm: Mountain Bike/Fat Tire Bike Ride

Meet at Mountain Vista Rest Area Restrooms, Mile 13, Denali Park Road
Bring your bike and join local bike enthusiast Norm Sollie for a moderately strenuous ride in the park, if conditions allow. Fat and/or studded tires are recommended, but not required. Dress for the conditions. Participants will have the option to end their outing at the nearby historic Savage Cabin for hot drinks and s'mores.

1:30 pm—2:30 pm: Denali Historic Slideshow

Winter Visitor Center Classroom
Park Ranger Dan Irelan will show rarely seen historic slides from throughout the park's history.

5 pm—7 pm: Winterfest Community Dinner and BINGO!

Tri-Valley Community Center, Healy

5—7 pm: Chili Cook-off Community Dinner: Chili, corn bread, hot dogs, and desserts
7 pm: BINGO! Prizes include gift cards for local, open-in-winter businesses.
Denali Borough Mayor's Community Service Award presentation
Kids In Motion raffle: enter for a chance to win a beautiful quilt!
Dinner and events presented and supported by Denali Borough, Native Village of Cantwell, Holland America-Princess and Doyon/Aramark Joint Venture, TVS 8th grade class, hockey team, Junior class, and Three Bears Alaska

8:30 pm: Night Sky Talk and Stargazing

Mountain Vista Rest Area at Mile 13, Denali Park Road
Come hear astronomer Katie Karnes tell stories about constellations, galaxies, and the northern lights, followed by stargazing if the sky is clear. Bring warm clothes, a head lamp, and binoculars if you have them, and we'll bring the telescope for a close-up look at the night sky.
Sunday, February 24
4 pm — Chocolate-Fest
Tri-Valley Community Library, Suntrana Road, Healy
Fun-filled, family-friendly, Movie Night at our local library with free food, cupcake decorating contest, prizes for the best chocolatey potluck dish, and a fantastic showing of the 1971 classic movie adaption of Roald Dahl's chocolate factory adventure! This event begins at 4pm with fun & food. Share your favorite chocolate concoction and bring your family & friends to the library!
Last updated: March 12, 2019