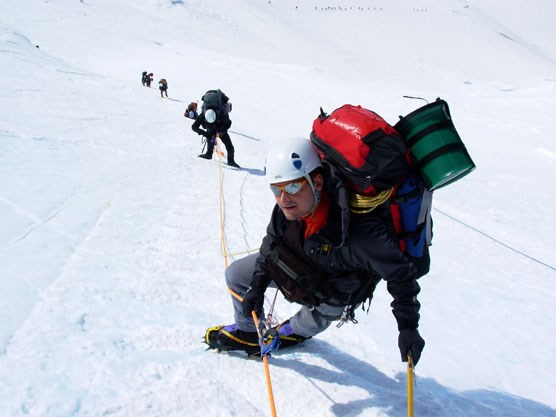 Clean climbing practices (aka 'Leave No Trace Mountaineering') on Denali have evolved over the past thirty years. A successfully enforced "pack in-pack out" policy began in the late 1970's, with climbers removing all their garbage from the Alaska Range. Today we take this program one step further by mandating the removal of human waste from historically contaminated areas such as the West Buttress high camp at 17,200-feet. These problem locations have not only been unsightly, but often the source of polluted snow linked to gastrointestinal illness.
History of Managing Waste
The Denali mountaineering rangers attempted various innovative measures to solve the human waste issue over the years. Conceived by mountaineering ranger Roger Robinson, the Clean Mountain Can (CMC) is a portable toilet designed to address Denali's remote, rugged environment and the unique logistical challenges presented by a 3-week long expedition.
In 2000, a 24-day ranger patrol led by Robinson proved it was feasible to completely remove an expedition's human waste from the mountain using commercially designed river toilet boxes. Robinson then worked with the manufacturer of this toilet to create a smaller, lighter version.
A grant from the American Alpine Club (AAC) in 2001 enabled the purchase of 50 of these prototype toilets which were used voluntarily by climbers with favorable results.
Robinson continued to work with the same manufacturer to enhance the can design, and through grants from both the AAC and the Access Fund, 220 newly designed Clean Mountain Cans were purchased for a large scale trial in 2002. Over 500 climbers used the CMC's, successfully removing their human waste from the polluted 17,200-foot high camp.
Response from the more widespread trial was again favorable. (Read our Annual Mountaineering Summaries for more information on these trials). Climbers and park management alike were pleased with the voluntary compliance, the ease of using the CMC, and most importantly, a noticeable improvement in cleanliness and hygienic safety of the 17,200-foot camp.