Part 1: Planning Considerations
Team Selection

Team dynamics is one of the biggest factors affecting safety and success on Denali. Ideally, an independent (non-guided) team will have past experience climbing together. Team members should know each other well enough to enable honest, clear communication and good decision-making throughout the climb.
Many teams start planning their Denali expedition a year or more in advance so that they can train and prepare together for the climb.
The average group size on Denali is 5-6 climbers.
Teams may not exceed 12 members.
Know your climbing partners in advance. Know their physical condition, limitations, skills, and their experience.
Establish some sort of leadership or logical division of duties within your team.
Denali National Park staff is not able to help teams find members or match up climbers.


Solo Travel

The National Park Service strongly recommends against solo travel.
Even the most cautious and experienced climber is unable to determine the location or strength of the many snow bridges that must be crossed. A solo climber has virtually no self-rescue ability in the event of a crevasse fall, illness, or a serious accident, and thus creates an undue risk to a search and rescue party.
Guided Expeditions

A Denali expedition can provide a tremendous mountaineering challenge, but it is not without risks. For many climbers joining a guided expedition can provide for a safer and more functional trip than they could construct on their own. Over the past several decades, an increasing number of climbers seek the benefits of a guided expedition, including:
Expert advice on equipment and training
Less logistical planning and effort
Experienced team leaders with a primary responsibility of safety
Ability to join a group of climbers with similar goals and experience
A guide's knowledge and experience can provide many people with the best possible chance of having a successful experience on Denali
Only the seven guide services listed below have been authorized by Denali National Park to lead commercial expeditions on Denali. Unauthorized guiding is an illegal activity.
Law enforcement rangers will prosecute illegal guides and illegally guided team members which can include both fines and time in jail.
The seven authorized guide services are:
Alaska Mountaineering School
P.O. Box 566
Talkeetna, AK 99676
Phone: (907) 733-1016
www.climbalaska.org
Alpine Ascents International
109 W. Mercer St.
Seattle, WA 98119
Phone: (206) 378-1927
American Alpine Institute
1515 12th Street
Bellingham, WA 98825
Phone: (360) 671-1505
www.alpineinstitute.com
International Mountain Guides
P.O. Box 246
Ashford, WA 98304
Phone: (360) 569-2609
Mountain Trip Alaska
P.O. Box 3325
Telluride, Colorado 81435
Phone: (970) 369-1153
National Outdoor Leadership School (N.O.L.S.)
P.O. Box 981
Palmer, AK 99645
Phone: (907) 745-4047
www.nols.edu
Rainier Mountaineering, Incorporated (RMI)
P.O. Box Q
Ashford, WA 98304
Phone: (360) 569-2227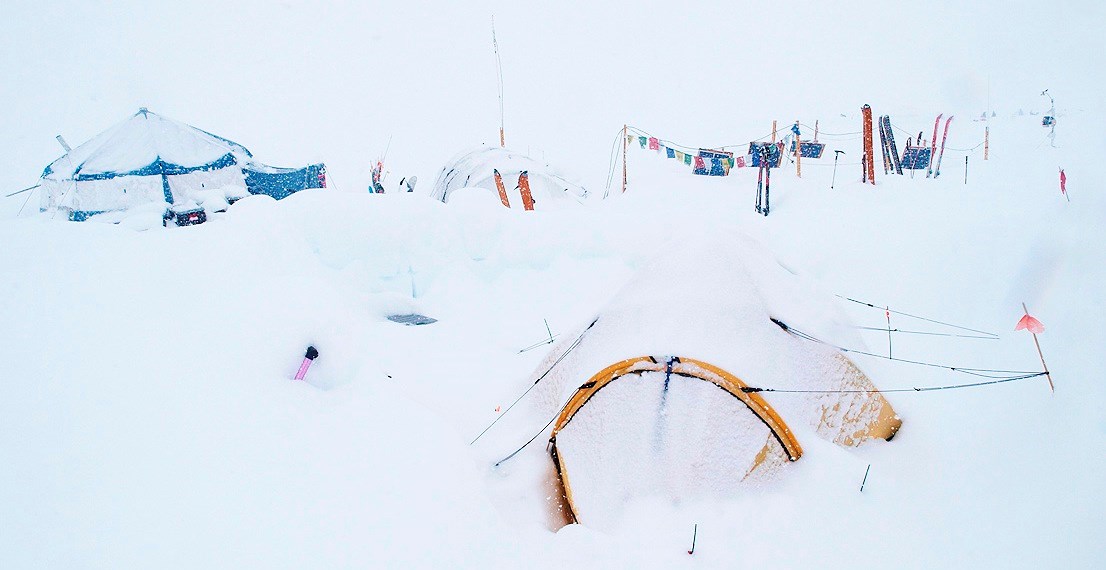 Climbing Seasons
The typical climbing season on Denali starts in late April and continues through the middle of July. Colder temperatures and strong winds are common in May; June and July have milder temperatures and less wind, but often more snowfall. By late July, travel on the lower glaciers is more difficult due to melting snow bridges over crevasses and airplanes may not be able to land at base camp.
There is no one 'best' time to climb Denali and what time of year is best for you will depend on your team goals. The busiest time of year on Denali is from the middle of May through the middle of June with several hundred climbers on the mountain in that time frame.
Daily weather observations
from previous seasons can provide an idea of temperatures, snowfall, and wind speeds.
Winter ascents on Denali are a much more serious and logistically challenging feat. Groups considering a winter ascent should be experienced with extreme cold, very high winds, and extended periods of suffering. In the winter climbers can expect very little useful daylight, deep and blowing snow, and limited rescue alternatives due to a lack of infrastructure in place.
Routes
The West Buttress, West Rib, and Cassin Ridge are the most frequently climbed routes on Denali. The West Buttress is the least technical ascent route; the primary climbing difficulties are crevasses, steep ice, exposed ice-covered ridges, and, of course, the environment. In recent decades, over 90% of climbers on Denali attempt the West Buttress. With this many climbers in a short season, climbers can expect to encounter several hundred others during the last week of May and first week of June.
The Muldow Glacier route was previously included in this narrative as the northern counterpart to the West Buttress and was considered one of the "less technical" routes up Denali. With the
2021 surge of the Muldrow
, it appears from the air that a large part of the glacier is impassable. The last time the Muldrow Glacier surged in 1957, the route was not successfully climbed for six years following the surge. For more information and photos, read this
Denali Dispatches blog post
detailing a ranger's August 2022 visit to the Muldrow Glacier. Any climbing teams considering this route are advised to do additional research prior to departing for your climb. The standard climber registration rules apply to the Muldrow Glacier route.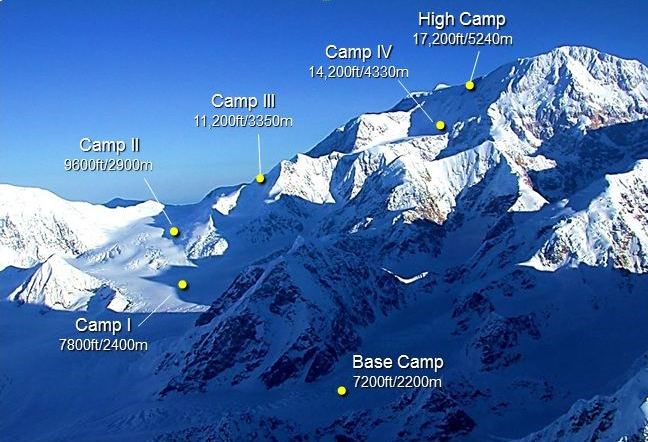 The Walter Harper Talkeetna Ranger Station staff are available year-round to help with route selection. Several excellent
guide books
are available for the high peaks of the Alaska Range.
Safety Notes Specific to the West Buttress Route

NPS rangers and mountain guides operating on Denali work together to maintain fixed lines on the headwall above the 14,200-foot (4328 m) camp. All teams should be familiar with the equipment and techniques needed to safely ascend and descend these fixed lines. Additionally, teams should always be prepared to place their own snow and ice anchors in the event the fixed lines are damaged, buried, or missing entirely.

The NPS rangers and mountain guides also install and maintain fixed snow pickets on the traverse between the 17,200-foot (5242 m) high camp and Denali Pass at 18,200 feet (5547 m). This area has been the scene of many climbing injuries and fatalities, largely as a result of unprotected falls. To help lessen the fall potential for teams traveling on this slope, fixed pickets are placed approximately every 90 feet (27 m) and include a sling and fixed carabiner to be used as "running protection". Rope teams must be familiar with appropriate team member spacing and how to pass fixed protection to make use of this safety measure. Teams should also be equipped to place their own snow pickets in the event of missing or buried fixed protection.

Moving quickly and efficiently on these protected sections of the West Buttress route is important to reduce congestion, as well as to keep your climbing team and other nearby teams safe.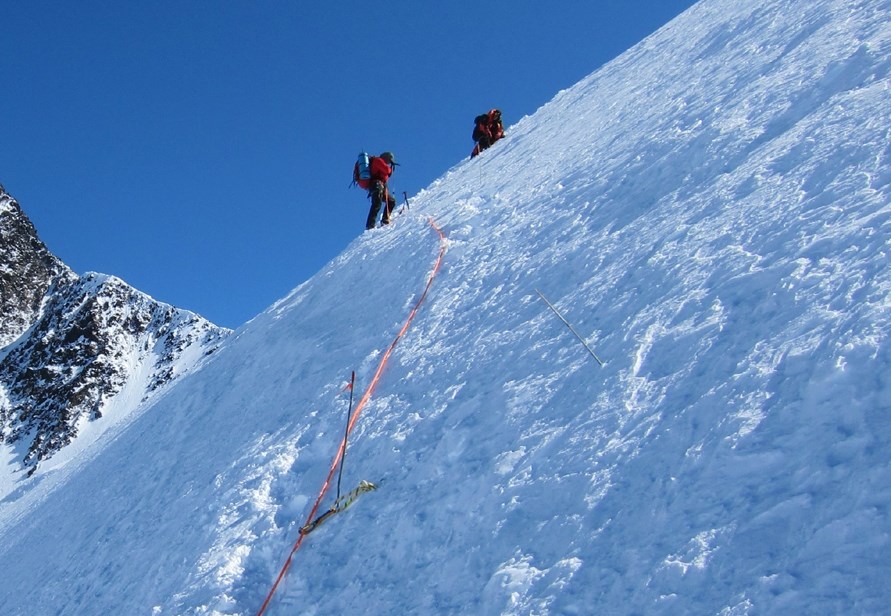 Approaches
Approaching from the South
Most climbers fly in a ski-equipped plane from Talkeetna to the Kahiltna Glacier basecamp (elevation 7,200 feet / 2195 m) with an
authorized air taxi operator
.
A few groups ski to the Kahiltna Glacier from the Peters Hills or the Parks Highway before the lowland snow melts in April. Overland skiers often have their upper mountain expedition gear flown in to the Kahiltna basecamp in advance. Expeditions should allow at least one week for the ski approach. Specific route information can be obtained from the Walter Harper Talkeetna Ranger Station.
Approaching from the North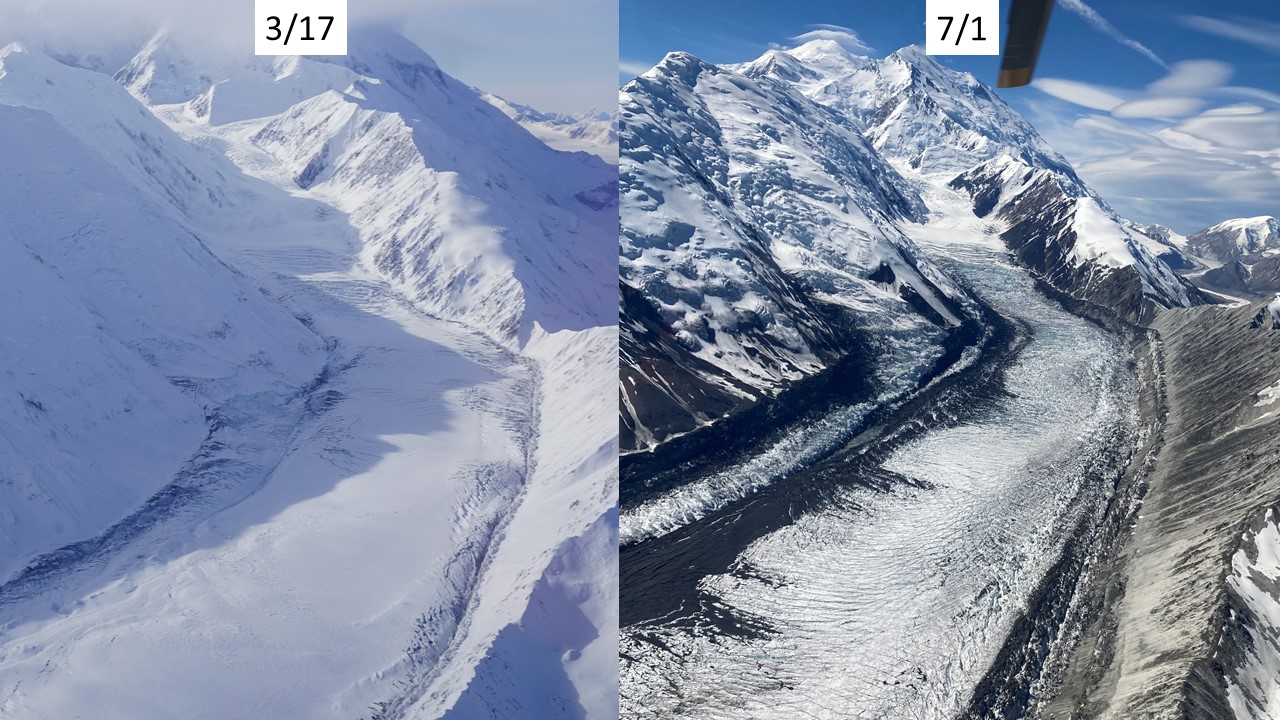 Side-by-side images of the Upper Muldrow Glacier taken on March 17, 2021 and July 1, 2021 show impact of surge on the glacier surface. (NPS Photos)
Accessing the mountain from the Muldrow Glacier or other northern routes can provide a longer and more varied wilderness experience, including crossing the braided McKinley River. However, ascents from the north require more logistical preparation and work than the southerly routes accessed from Talkeetna. The logistical challenges are particularly acute for next season due to the 2021 Muldrow Glacier surge, as well as recent landslide activity on the Denali Park Road that is expected to impact bus travel in 2022. Again, for more information and photos, read this
Denali Dispatches blog post
detailing a ranger's August 2022 visit to the Muldrow Glacier.
Gear hauling
NOTE: Due to the 2021 glacier surge, the dog freight concessioner will not be offering mountaineering gear hauling for the 2023 climbing season.
(The following content is retained for teams planning Muldrow trips in future seasons)
Getting gear to the base of the mountain must be planned in advance. Most groups have historically used a
dog freight concessioner
to drop off gear near McGonagall Pass on the approach to the Muldrow. Dog sled freighting must be done in winter, so planning must begin by September or October. Be aware that poor snow pack in a given year will make this service impossible due to both conditions and regulations. Also, all gear - including trash and packaging materials - must be packed out at the end of the trip. Dog freighting your trash out is not an option.
If you do not arrange a dog sled gear drop, your team must carry all your own gear which can be difficult and time consuming. Air drops of supplies are not allowed.
Modes of Access
Park Bus
: The Denali Park Road is generally open by the second week in June. Climbers can typically take a park camper or shuttle bus to Wonder Lake, and begin the approach from there. However, an ongoing
landslide at Pretty Rocks
, located roughly half-way along the park's sole road, has limited bus and vehicle traffic to mile 42 of the park road.
Air Taxi
: Prior to the June road opening, teams can fly to the Kantishna Air Strip, approximately 5 miles north of Wonder Lake. Numerous authorized flight services can land in Kantishna and other outlying preserve areas of the park
.
Ski or Dogsled
: In years of adequate snow cover, early season climbers can ski or mush out the road from the Park Headquarters.
Backcountry Permit
In addition to the Mountaineering Special Use Permit, all Muldrow Glacier expeditions are required to obtain a Backcountry Permit. This must be done in person at the Backcountry Information Center (BIC) near Denali Park headquarters. This secondary permitting process requires a backcountry orientation, which takes approximately 45 minutes.

Search and Rescue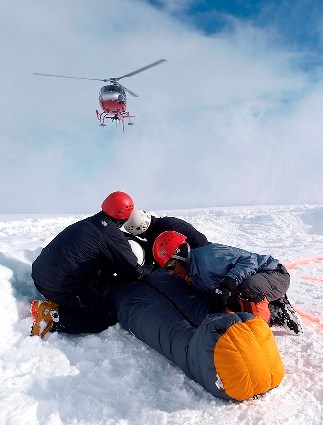 Denali National Park and Preserve expects teams to be self-sufficient. In the Alaska Range, mountaineers are responsible for their own safety and must be prepared with the knowledge, equipment, strength, and common sense to support their own expeditions.
Nevertheless, every year visitors become ill or injured. Search and rescue operations are always conducted on a discretionary basis. It is the policy of Denali National Park and Preserve to assist visitors in need when park management considers a rescue to be:
Necessary and appropriate, meaning an emergency involving an immediate threat to life, limb, or eyesight;
Within the skill and technical capability of park staff; and
Search and rescue operations can be conducted safely.
Rescuer safety is always our first priority.
Teams cannot depend on an NPS rescue, nor on the strength and expertise of other climbers, in the event of an emergency.
Due to bad weather, high altitude, and geographic locations where accidents typically happen, it is very rare that rescue personnel can respond to an emergency in a timely manner. More often than not, rescuers pick up the pieces and deal with the aftermath of an accident on Denali. Rescue is not something to rely on or factor into your decision making.
In most circumstances, Denali National Park and Preserve does not require payment for NPS search and rescue efforts. However, most patients are transferred to an air or ground ambulance, and from that point onward, the patient is responsible for their medical and transportation costs.
If a visitor is rescued, their climbing permit for that year will be revoked, i.e. they cannot return for another attempt or continue on their climb if rescue or medical treatment has been provided.
---
Registration Code for completing 2023 online registration form: 7611
---
Emergency Notifications
If a team or individual is experiencing or witnessing an emergency, the NPS should be notified as soon as is practical. You will be briefed on emergency communication procedures as part of your orientation at the Walter Harper Talkeetna Ranger Station.
NPS Emergency Contact Information
| | |
| --- | --- |
| FRS Radio | Channel 1.0 (462.5625) |
| Cellular Phone | 911, or 907-683-2276 |
| Satellite Phone - 8:00 am to 5:30 pm (Talkeetna Ranger Station direct) | (011) 907-733-2231 |
| Satellite Phone - 24 hours a day (Alaska Region Communications Center) | (011) 907-683-2276 |
| Texting devices | arcc [at] nps [dot] gov |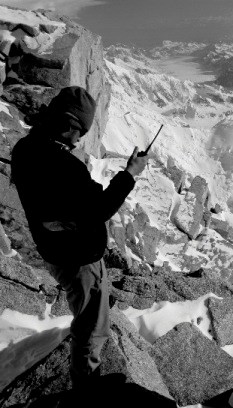 Provide clear, concise information:
Your name

Means of communication (radio, SAT phone, etc.)

The expedition name

Location and elevation

Patient info: name, age, extent of illness or injury

Current weather

Your resources
Last updated: December 7, 2022