Part 4: Clean Climbing

It is every climber's responsibility to help keep the glacier environment clean, both for the benefit of your own climbing experience and for the sake of future generations. Proper disposal of trash, fuel cans, and human waste is not only the right thing to do, it is required. Regrettably, violation notices are given out each season to climbers who do not respect these Leave No Trace practices.
Trash and Abandoned Gear
---
Registration Code for completing 2023 online registration form: 7611
---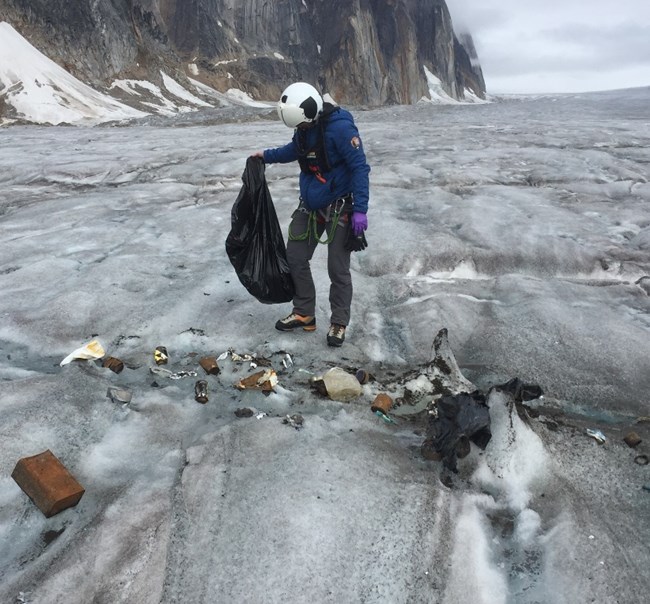 If you pack it in, you must pack it out. Abandoning surplus gear, food, fuel, or wands is not allowed. Violators will be given citations.
Strain solid matter out of waste water and dispose of liquid in a sump hole. Pack out food particles and uneaten food. Coffee grounds may not be dumped into sump holes and must be carried out with the rest of your garbage.
Any fixed lines or fixed protection you place must be removed at the end of your climb.
Fuel cans and cartridges must be carried off the mountain unless another party on the mountain takes possession of them from you.
For tracking purposes, be prepared to show your fuel cans and cartridges upon return to basecamp, or be prepared to name the expedition or individual you passed them on to.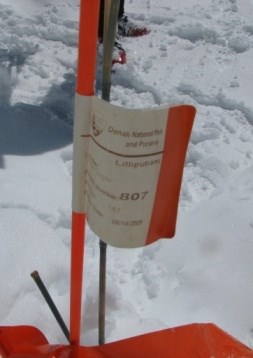 All caches must be labelled with your expedition name, permit number, and return date. Pre-printed cache tags will be issued to each team during the orientation at the Walter Harper Talkeetna Ranger Station.
Bury and mark caches with 5 to 6 foot (1.5 to 2 m) wands. Dig cache holes at least one meter deep and bury them with at least one meter of snow on top of the cached items. On the lower mountain, it is not uncommon for a meter or more of snow to melt in a week or two. Exposed caches are raided by ravens and other climbers.
No permanent caches are allowed.
Locate caches outside of established camp sites and tent platforms so that other groups may use these areas.
All caches belonging to other parties should be left intact. Please report abandoned or unmarked caches to NPS rangers.
Below 6,000 feet (2000 m) store food caches in bear-proof containers to prevent attracting wildlife.
If you are unable to locate one of your caches please inform rangers on the mountain and the ranger station staff in Talkeetna so they can attempt to remove the cache if it surfaces later in the season.


Human Waste on the West Buttress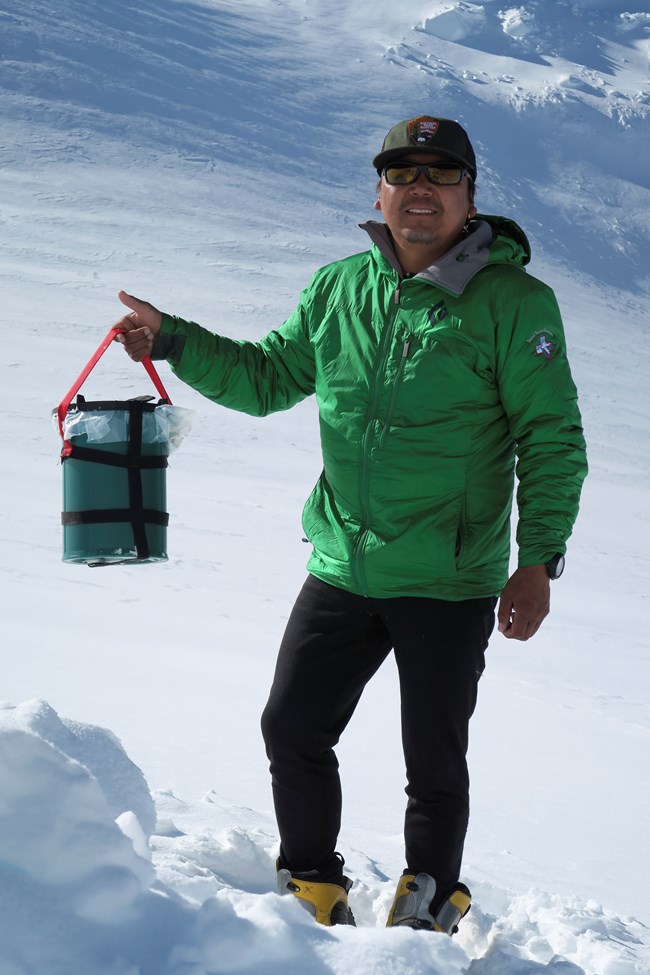 Proper disposal of human waste is critical. Intestinal distress, vomiting and diarrhea may result from contamination of food or drinking water. The resulting dehydration can become a serious or life-threatening problem at altitude. Since all drinking water is obtained from melted snow, precaution must be taken when gathering snow from well-used camps. For the health and safety of all, everyone must follow these simple steps:


When possible use an existing, centrally located urine or pee spot at camps. If you need to establish a new one, mark it with a wand and inform any other groups in the area.
For solid waste, all expeditions will be issued Clean Mountain Cans (CMCs) at the Walter Harper Talkeetna Ranger Station for use during their trip. Biodegradable bags will be given with each CMC.
On the West Buttress route, solid human waste must be collected in a Clean Mountain Can. Below Camp 4 (14,200 feet / 4328 m), solid waste must be removed from the mountain and returned to the CMC cage at the Talkeetna Ranger Station. Above Camp 4 (14,200 feet and higher elevations), solid human waste must either be removed from the mountain, or alternatively, it can be deposited in a single marked crevasse at the 14,200-foot camp designated and flagged by the NPS rangers.

There will be no crevassing of waste below Camp 4.

Each party must arrive at Camp 4 with at least one CMC. Extra CMCs will be available at Camp 4.
CMCs must be returned to the Walter Harper Talkeetna Ranger Station when teams check back. There will be a $150.00 charge for lost CMC's.
Human Waste on Other Denali Routes

If you intend to use the West Buttress route at any point on your ascent or descent you must have and use a CMC. On Denali routes other than the West Buttress, CMCs are not required. On these routes human waste may be deposited into the compostable bags issued at the ranger station, and then crevassed or tossed off a portion of the route where it will never be seen again.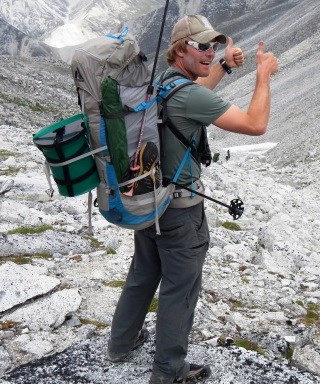 The Clean Mountain Can (CMC) was designed specifically to collect and transport human waste in Denali's fragile, remote terrain. The durable CMC comes with a harness system that locks the lid in place, and is sturdy enough to strap on a pack or sled. The CMC comes equipped with a two-way Gortex vent that allows for the release of gases and enables air to enter the can when descending from high altitude. The CMC is designed to have its contents dumped directly out or lined with a compostable bag. Currently, the CMC's are manually cleaned and disinfected to approved NPS standards.

The compostable liner bags we provide are made of 'bioplastics' with components derived from renewable raw materials. The bags are made from a combination of PHA and PLA, the latter of which is derived from plants that produce starch or sugar. PHA is derived from Algae and switchgrass, and the polymers are harvested from them. Our own research in Talkeetna observed the bags taking 2 to 3 years to breakdown in our colder climate.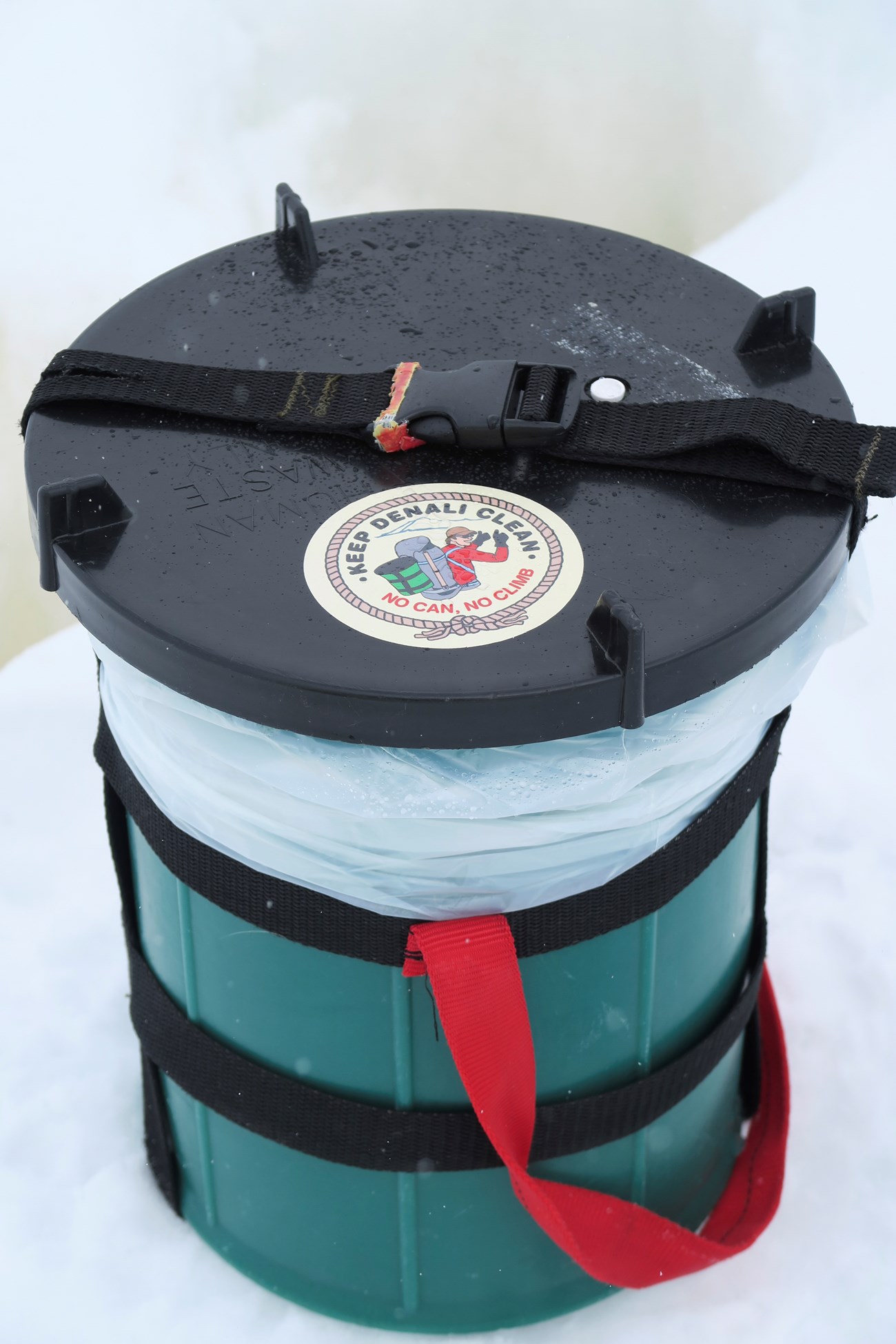 .
Last updated: November 7, 2022