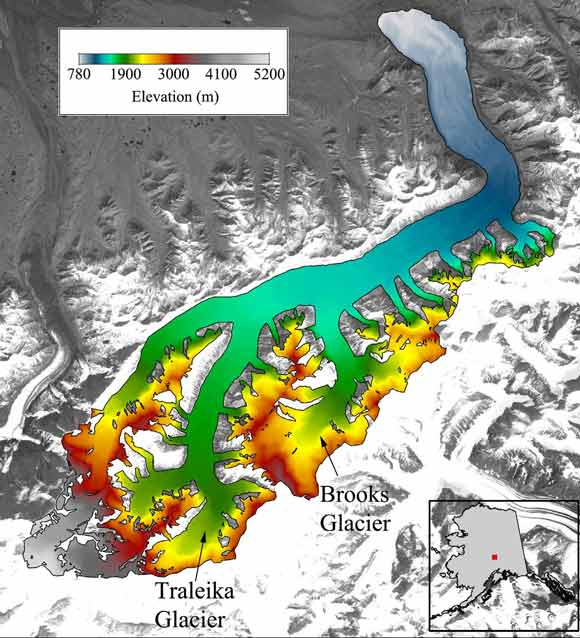 Harrison (1964) hypothesized that the previous surge of Muldrow occurred between 1906 and 1912, based on observations by climbers and explorers in those years. Harrison (1964) adds that debris paPerns on Muldrow Glacier suggest that Muldrow had surged at least three times in the 200 years prior to the 1956-­‐57 surge, further suggesting that Muldrow Glacier had maintained a roughly 50 year surge cycle for over two centuries.

However, it is unclear whether Muldrow Glacier will surge again under current climate conditions. It is possible that changes in climate have interrupted Muldrow's surge cycle similar to other Alaska glaciers (e.g., Heinrichs et al., 1996).

To investigate the likelihood that Muldrow will surge again, we utilize both DEMs and airborne laser altimetry to trace the elevation changes of Muldrow Glacier from 1952, four years before the surge, to 2010.



Methods
We use three DEMs:
(1) the National Elevation Dataset (NED) 2-arcsecond DEM, based on surveys in 1952;
(2) the Washburn DEM, based on aerial photogrammetry and ground-­‐based surveys supervised by B. Washburn in 1976; and
(3) the Aero-­Metric DEM based on a LiDAR survey completed by Aero-­‐Metric, Inc. in 2006.

We calibrated all three DEMs with off-ice locations north of the Muldrow terminus.

We use two centerline elevation profiles from 2008 and 2010 acquired using airborne laser altimetry acquired as part of the UAF laser altimetry project