Biking in the Park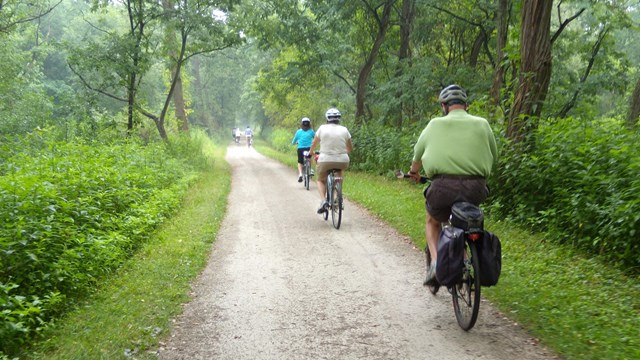 Biking the Towpath Trail
This multi-purpose trail was developed by the National Park Service and is the major trail through Cuyahoga Valley National Park.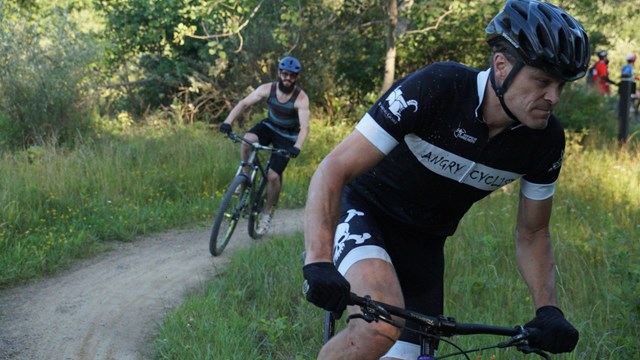 Mountain Biking
The East Rim Trail System has stunning views, varied terrain, exciting obstacles, and an element of adventure for anyone who explores it.
Cuyahoga Valley Scenic Railroad Explorer Program
Bike or hike the Towpath Trail in one direction and hop on the train on your way back! The train can be flagged down at boarding stations by waving both arms over your head. Please arrive 10 minutes prior to the train's scheduled arrival. You can pay your fare when you board. For more information, visit the railroad's website.
Cleveland Metroparks' All Purpose Trails (Brecksville and Bedford)
Cleveland Metroparks provides over 60 miles of paved, all purpose trails for cycling, walking, running and in-line skating. Motorized vehicles are prohibited on the all purpose trails.
Summit Metro Parks Bike & Hike Trail
Nearly 16 miles of this trail border the park. Ideal for family bike rides, this asphalt trail is managed by Summit Metro Parks. A connector trail near Holzhauer Road south of SR 82 provides access to the Towpath Trail.
More Bike Trails outside the Park
Cleveland Metroparks (Ohio and Erie Canal Reservation): 1.8 miles Expert Loop and .4 miles Beginner Loop

Cleveland Metroparks (Mill Stream Run Reservation (Royalview Singletrack)) : 8.7 miles

Lake Metroparks (West Branch State Park (Atchinson/Hogsback Ridge)): 2.5 miles

Vultures Knob: 6.8 miles

Medina Huffman and Reagan Park Trails : 8.8 miles

Findley State Park (Thorn Trail): 7.8 miles

Mohican State Park MTB Trail: 22.2 miles

Quail Hollow State Park MTB Trail: 3.0 miles

Camp Tuscazoar MTB Trail: 5.6 miles
Last updated: February 27, 2022