Biking
Most people who come to bike pick the popular Ohio & Erie Canal Towpath Trail. It runs north to south with 20 of its 101 miles inside the national park. The Towpath is a shared trail. Cyclists may encounter runners, wildlife watchers, families with young children, dog walkers, and horseback riders. People are moving at different speeds and may be distracted. To keep everyone safe, we have a speed limit and practice trail courtesy. Seasonally, Cuyahoga Valley Scenic Railroad offers a one-way shuttle service. Only some trailheads have a train station. The Towpath Trail page has trip-planning details, including the mileage between points and trailhead links with descriptions of each section.

The Towpath links to three other shared trails managed by our partners. Cyclists can enjoy these separately or in combination.
The All Purpose Trails are managed by Cleveland Metroparks. They cross Brecksville Reservation and Bedford Reservations from east to west. The surfaces are paved.
The Bike & Hike Trail is managed by Summit Metro Parks. It borders the national park to the east. The closest trailheads are at State Route 82, Brandywine Falls, East Rim/Boston Heights, and State Route 303. The entire trail is 33.5 miles long and paved. A steep connector trail joins the Bike & Hike Trail at Holzhauer Road with the Towpath Trail just north of Red Lock Trailhead.
The Hemlock Creek Trail was developed by West Creek Conservancy and is managed by the City of Independence. Hemlock Creek joins the Towpath Trail by Stone Road, just north of Canal Exploration Center. It is 1.7-miles long, paved, steep, and scenic.
Mountain Biking
The East Rim Trails are for mountain bikers with intermediate skills. The system of four trails offer stunning views, varied terrain, exciting obstacles, and an element of adventure. Our partners manage other mountain biking trails in and near Cuyahoga Valley. There are choices for beginners to advanced riders. Visit our mountain biking page for details.
Bike Rentals
The Towpath Trail page has a list of the closest bike rental businesses.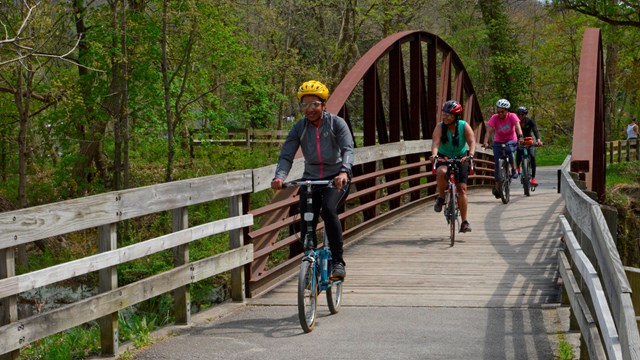 Biking the Towpath Trail
This multi-purpose trail was developed by the National Park Service and is the major trail through Cuyahoga Valley National Park.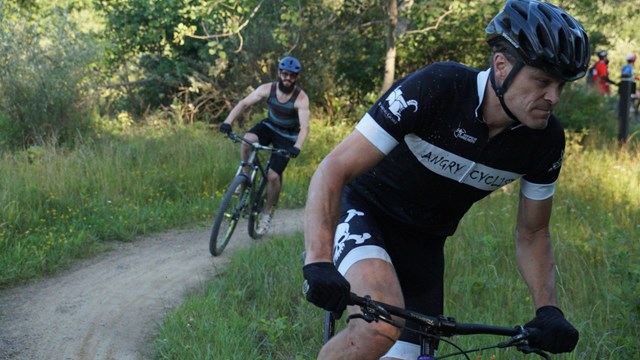 Mountain Biking
The East Rim Trail System has stunning views, varied terrain, exciting obstacles, and an element of adventure for anyone who explores it.
Last updated: August 4, 2023