Half Day Visit
---
If you only have a few hours to spend at Cuyahoga Valley National Park, you may have time to visit some of these popular attractions.
---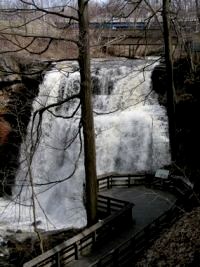 Brandywine Falls (Boardwalk opposite parking lot; 30 minutes)
Parking located in lot off 8176 Brandywine Road in Sagamore Hills 44067 (81° 32.264' W) (41° 16.580' N).
Brandywine Falls, a 65-foot high falls, is the second highest falls in Ohio and one of the most popular attractions in the park. A boardwalk takes you to upper and lower observation platforms, which overlook the falls head on. It is open daily from dawn to dusk. If you have an extra hour, you can also take a 1.5-mile hike around the Brandywine Gorge Trail starting from the upper observation platform. This trail lets you explore the deep gorge cut by Brandywine Falls.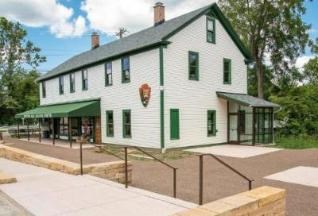 Boston Mill Visitor Center (View exhibits; 30 minutes)
Parking lot entrance is on Riverview Road, 6947 Riverview Road, Peninsula 44264 (41° 15'45.3" N) (81° 33'37.3" W).

Historic Boston Mill Visitor Center was constructed in 1905 along the Ohio & Erie Canal as a general store for the Cleveland-Akron Bag Company. In 1923, the bag company closed and eventually the original store managers, Chester and Julia Zielenski bought the building in 1925. Visit Boston Mill to learn the history of Boston Mill and the Cuyahoga Valley's rehabilitation since the iconic river fire. You can also talk with a ranger, obtain park publications, and purchase park-themed items. Before visiting, check the visitor center's operating hours. For more information call 440-717-3890.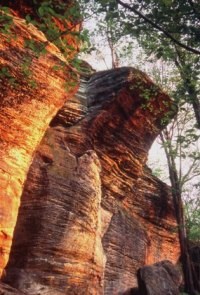 Ritchie Ledges (1 mile Ice Box Cave hike; 1.0 hour)
Parking located in lot off Truxell Road/Kendall Park Road, 1 mile west of Akron Cleveland Road, Peninsula 44264 (81° 30.652' W) (41° 13.137' N).
The cool, moist hemlock and yellow birch forests along the towering sandstone Ritchie Ledges benefit from a microenvironment formed near the over 300-million-year-old rock formations. Enormous blocks of the orange and yellow rock have broken off and make you feel like you're walking in the rock garden of a giant. It is open daily from dawn to dusk. Note: Ice Box Cave is closed on the trail in an effort to slow the spread of a disease to our bat population.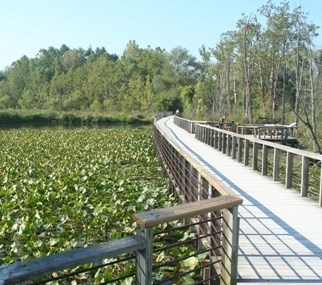 Beaver Marsh (1.5 miles; 1 hour)
Parking located at Ira Trailhead, 3801 Riverview Road, Peninsula 44264 (81° 35.001' W) (41° 11.075' N).
Look for beavers, otters, muskrats, and water fowl along the wetland boardwalk. The Beaver Marsh is designated as an Ohio Watchable Wildlife Area, so bringing a camera is a must. It is a short, 10-minute walk north on the Towpath from the Ira Trailhead. This is an accessible trail, suitable for strollers and wheelchairs.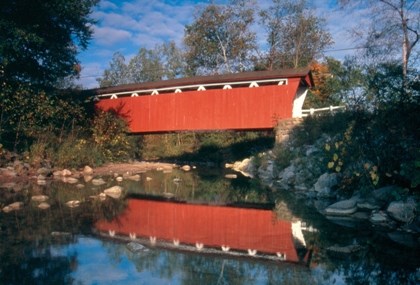 Everett Covered Bridge (.5 mile; 30 minutes)
Parking located at 2370 Everett Road, Peninsula 44264 (81° 34.865' W) (41° 12.265' N).
Everett Covered Bridge, which crosses Furnace Run, is the only remaining covered bridge in Summit County. Built in the 19th century, the original was destroyed by the great flood of 1913. Although repaired, it was destroyed during a spring storm in 1975. This historically accurate replication was finished in 1986.
Last updated: May 24, 2021