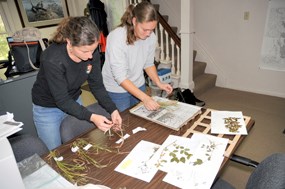 Science in the Park
Inventory and monitoring (I&M) builds a strong scientific foundation for the management and protection of natural resources in national park areas.
Cuyahoga Valley National Park (CVNP) is a member of the Heartland I&M Network, fifteen parks in the Midwest sharing resources and professional expertise to inventory and monitor natural resources.
The Inventory provides a snapshot of the natural resources in a park. Monitoring tracks the health of the natural resources across time. Effective monitoring programs alert park managers about changes—both positive and negative—in a timely way so that they can make informed decisions to protect the resources.
At Cuyahoga Valley National Park, the largest inventory and monitoring project focuses on wetlands. Wetlands are a significant part of the park's natural environment. Nearly 1,500 individual wetlands cover over 1,900 acres within the park. Many of the wetlands are smaller than one acre. However, about 40 are larger than ten acres. All of these occur in the Cuyahoga River floodplain.
Inventory & Monitoring Reports and Data
Reports and data are found on the NPS Inventory and Monitoring website.