Life on the Farm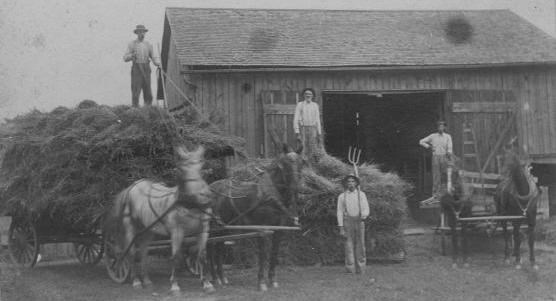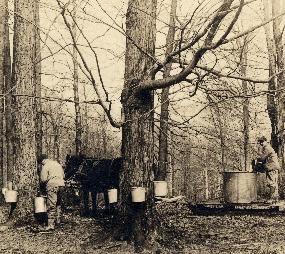 Life on the farm revolved around the seasons. Each season brought its own chores and tasks that needed to be done to keep food on the table, a roof overhead, and the farm functioning.
The year might begin with the farmers in the woodlot cutting timber or in the pond cutting ice. Later, maple trees needed tapping for sap to make syrup. Spring meant plowing and planting and, for the farmer's wife, churning butter. Summer brought weeding and hoeing, followed by more weeding and then harvesting. The farmer's wife gathered garden produce to preserve, gel, salt, pickle, dry, or put up. Fall brought the harvesting of wheat, corn, oats, and the remaining garden produce. The fall ended with butchering— more time in the kitchen for the farmer's wife. Throughout the winter, grains were threshed and equipment was repaired for another season's use. And, for most, each Sunday brought a day of rest after a long week at work.
Click the links at the bottom of the page to learn more about what it was like to live and work on several prominent farms in the Cuyahoga Valley.
Seasonal Farm Activities

Laura DeYoung talks about seasonal activities and events on The Spicy Lamb Farm.
---
Click on the links to discover more:
Last updated: December 7, 2021