Hammond-Cranz Farm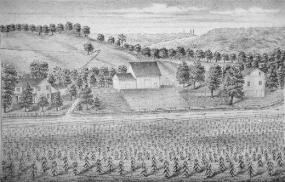 The story of the Hammond-Cranz Farm involves family cooperation, the influence of growing markets, and innovative farming practices. Located on Ira Road just south of Oak Hill Road, the farm once included a farmhouse, chicken coop, smokehouse, cider house, carriage house, and two barns. Open fields and gently rolling hills surround the buildings.

Lewis Hammond arrived in the valley in 1810 with the Hale family, among the first settlers in Summit County. During his life on the farm, Lewis introduced Shorthorn cattle and Merino sheep to the valley. After his death in 1849, Lewis' heirs sold the farm, which eventually passed to William F. Cranz in 1864.

On the Cranz Farm, William and his family raised 12 cows and 33 sheep. The cows needed to be milked twice a day: in the morning before work or school and in the evening before bedtime. The Cranz family also produced cheese and butter on the property, instead of taking milk directly to area factories. William most likely received significant help from his wife and daughter, since it was customary for women to be primarily responsible for milking cows and making cheese and butter.
In 1898, William's son Eugene F. Cranz inherited the farm. Eugene and his wife continued operating the property as a sheep and dairy farm. Eugene gained fame for his scientific farming practices, and as an active member of local and state agricultural organizations. An advocate for land conservation, Eugene became involved in the reforestation movement. In 1949, his property was dedicated as Ohio Tree Farm Number 81.
Click on the links to discover more:
Last updated: October 8, 2021