Farming in a National Park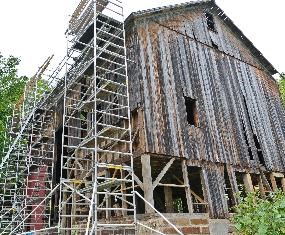 Surrounded by the history of the valley's early farmers, modern families carry on agricultural traditions, while also introducing their own specialized practices. In order to preserve the valley's pastoral landscape and protect both natural and cultural resources, the National Park Service developed a program called the Countryside Initiative. This program invites farmers to lease land and farm in the Cuyahoga Valley National Park. The Countryside Initiative program balances the needs of the land and farmer, who must follow strict guidelines for sustainable farm management.

The Countryside Initiative program began in 1999 to rehabilitate approximately 20 picturesque old farms that operated in the valley from the mid-19th to the mid-20th century. As agriculture disappeared from the valley in the 20th century, these farms fell into disrepair. Through the Countryside Initiative program, the National Park Service celebrates farming and healthy land practices that help both the farmers and land.

While farming in a national park is an unconventional idea in America, that is not the case elsewhere in the world. In Great Britain, for example, over 90% of national park land is privately owned. Not only is it considered natural and normal to live within the park boundaries, farming is considered the only practical way to maintain the openness, beauty, and diversity of the countryside.

---
In Their Own Words
Click the topics to hear stories about Cuyahoga Valley life.
Sustainability and the Small Farm (57 seconds)
Daniel Greenfield, from the Greenfield Berry Farm, talks about what it takes to be a sustainable farmer.
Farming in a National Park (1 minute 16 seconds)
Alan Halko, from the former Spring Hill Farm and Market, describes the unusual challenges of farming on National Park Service land.
---
Last updated: May 21, 2020