Learning to Farm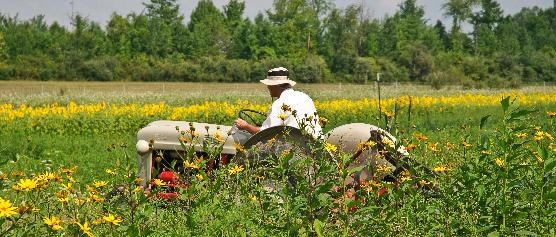 Could you run your own farm? Some farmers joined Countryside with a long history of agricultural work in their families, while others joined the program with no history of farming life. Ten farms currently operate as part of the Countryside program, each at a different stage of development. As part of their commitment to run a successful farm, Countryside farmers continue their education through courses offered by Countryside and other organizations. These farmers face daily challenges related to learning and conducting general farming practices, as well as aligning their work with the sustainability goals of the national park.

---
In Their Own Words
Click the topics to hear stories about Cuyahoga Valley life.
Learning to Farm (44 seconds)
Laura DeYoung, of The Spicy Lamb Farm, talks about how she learned her business.
Learning from Other Farmers (32 seconds)
Pamela Neitenbach, of the Neitenbach Farm, explains how she learns from the experiences of other farmers in the valley.
From Gardening to Farming (50 seconds)
Heather and Eric Walters, of the former Basket of Life Farm, describe how they shifted from gardening to farming.
Farmers' Optimism (27 seconds)
David Wingenfeld, of Canal Corners Farm and Market, offers some advice for farmers who face daily challenges.
---
Last updated: June 24, 2020