Changing Landscape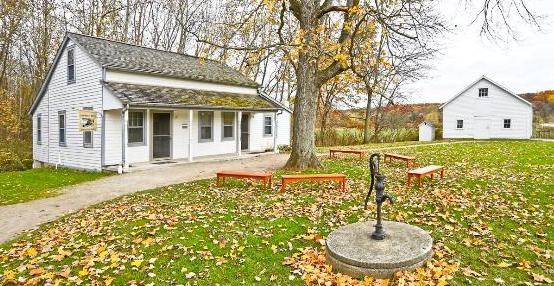 The landscape of the Cuyahoga Valley has witnessed centuries of changes as farmers struggled to use the land to feed and support their families. Over time agriculture intensified, technology advanced, and properties exchanged owners.
Later generations of landowners were sometimes members of the same family and sometimes not. Some new owners continued to plow the land, while others pursued different goals. During the establishment of Cuyahoga Valley National Park from the mid-1970s through the mid-1980s, the federal government purchased many properties. The park brought new hopes for preservation, but also new challenges related to increasing tourism and shrinking local tax bases. The Cuyahoga Valley is a dynamic landscape, continuously adapting to new cultural influences.

---
In Their Own Words
Click the topics to hear stories about Cuyahoga Valley life.
Land for the National Park (2 minutes 31 seconds)
Hazel Broughton, who grew up in Everett, describes residents' fears and concerns about their homes and farms during the creation of the national park in the 1970s.
Farming Fades (47 seconds)
Martin Johnston, a farmer from Valley View, talks about the decreasing number of farms in the Cuyahoga valley.
---
Past and present residents have witnessed natural and cultural changes that impacted their decisions to live and farm in the Cuyahoga Valley. From the first stages of national park development, local residents expressed concerns about what would happen to their properties, neighborhoods, and way of life.
Click on the links to the left to learn more about some of the Cuyahoga Valley National Park's historic farms, and hear stories from residents who experienced many of these changes.
Click on the links to discover more:
Last updated: December 10, 2018