Webcams
The park has three webcams, which you can view below. Also, check out our
gallery of interesting images
captured by the Crater Lake Webcam in the past. If you spot something noteworthy on any of our webcams, let us know! Right-click on the image to save it, then send it to craterlake@nps.gov.
Links for recent weather observations, the forecast, and current snow information are found on the
weather
page.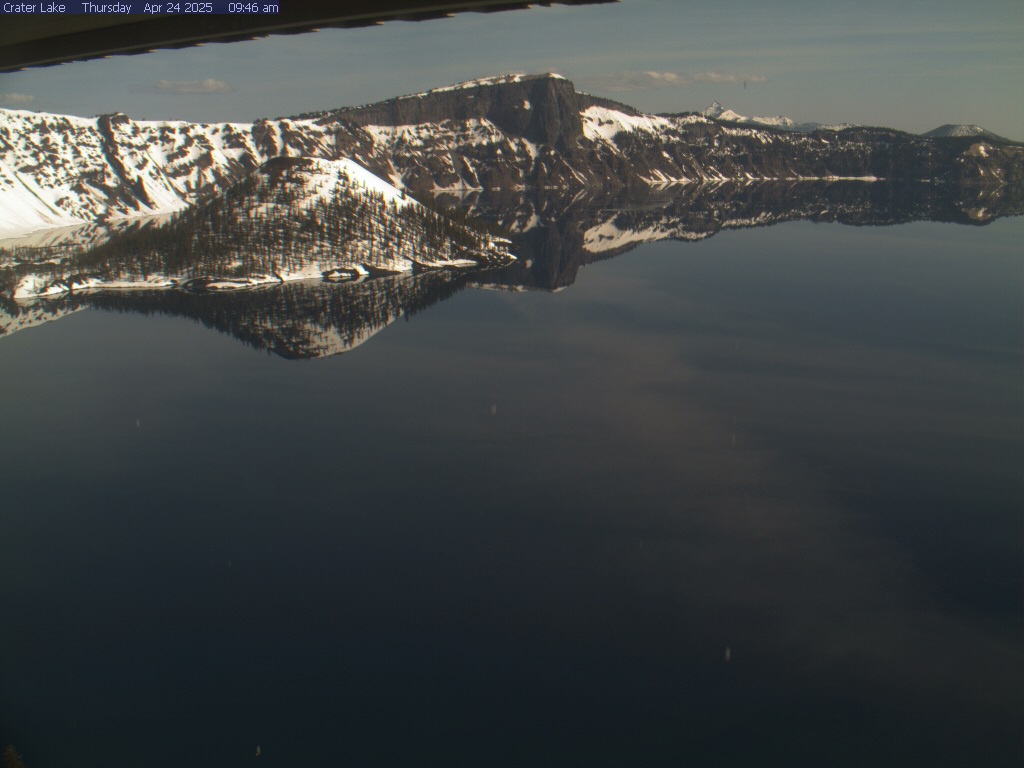 Webcam
Is Crater Lake visible today? Sometimes the lake is hidden by clouds, especially in the winter. This view looks north across the lake from the Sinnott Overlook at Rim Village (elevation 7,100 feet). On a clear day, it takes in Wizard Island, Llao Rock, and Mount Thielsen. Image updates every 4 to 6 minutes.
View Webcam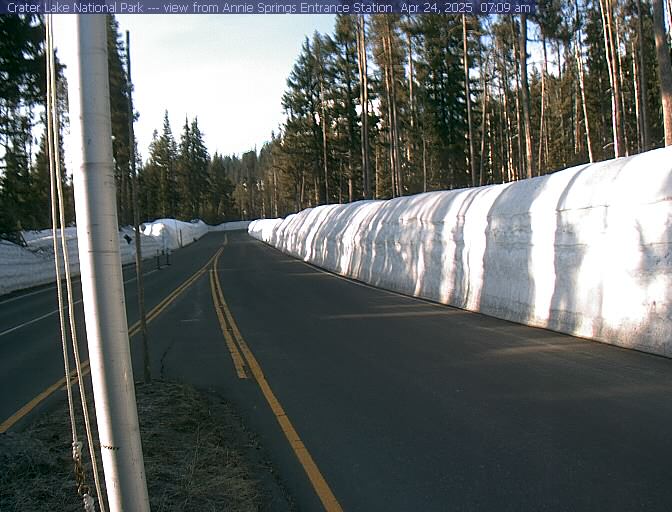 Webcam
Curious about road conditions? This webcam can help you determine if the park's roads are icy. It looks south along Munson Valley Road from the Annie Spring Entrance Station (elevation 6,000 feet). The silver bar on the left is a flag pole. Image updates every 4 to 6 minutes.
View Webcam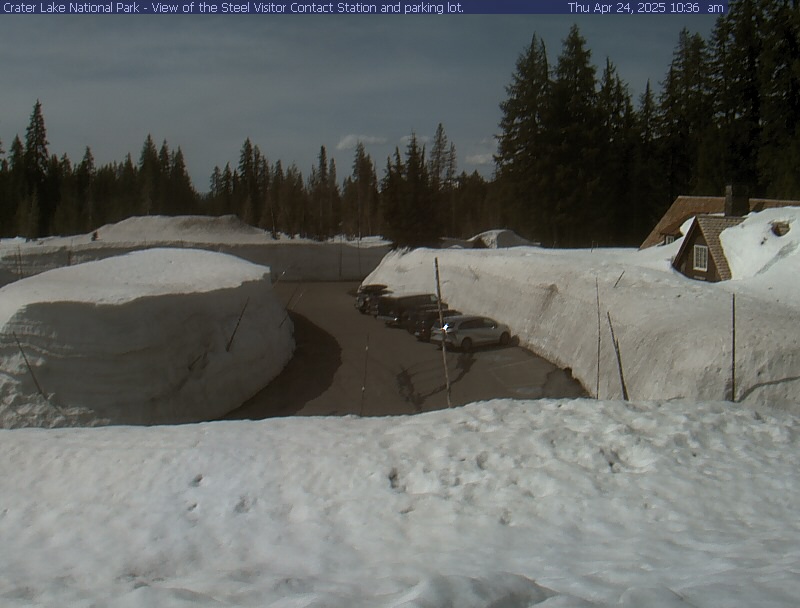 Webcam
The Steel Visitor Center at Park Headquarters (elevation 6,450 feet) is currently closed for renovation. (Normally, it's open every day of the year except Christmas.) This view is useful in showing the amount of snow currently on the ground in the park. It can be 10 to 15 feet deep in the late winter and early spring. Image updates every 1 to 2 minutes.
View Webcam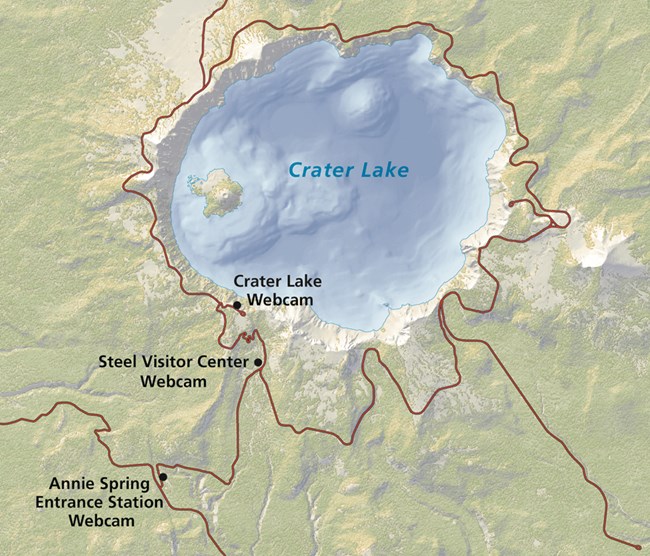 Webcam Locations
The park's webcams are all on the south side of the lake. See below for a description and photo of each location.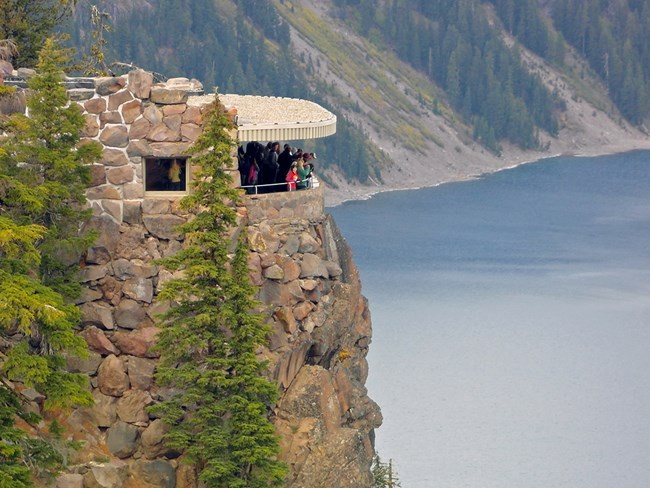 Crater Lake Webcam
This webcam hangs from the roof of the Sinnott Memorial Overlook at Rim Village. The overlook was built in 1930 on a rock ledge 900 feet above the lake. A viewing platform and exhibit room are typically open from late June to late October. Deep snow keeps the overlook closed the rest of the year.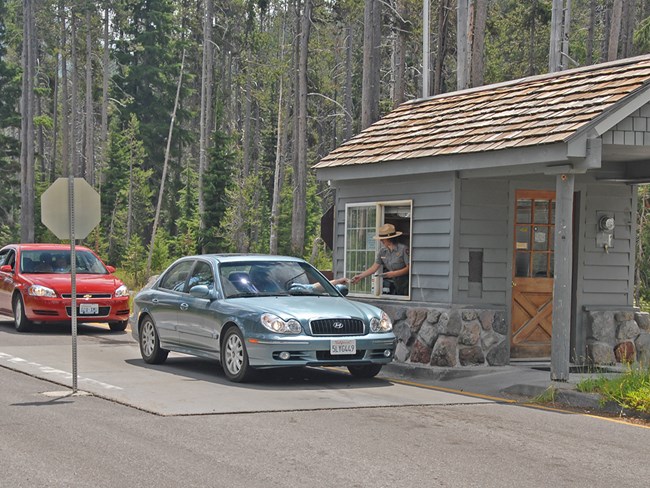 Annie Spring Entrance Station Webcam
This webcam looks south from the Annie Spring Entrance Station toward Highway 62. On a busy day, the line of cars extends all the way to the highway. About 700,000 people visit Crater Lake National Park each year.
Steel Visitor Center Webcam
This webcam lives in the Administration Building at Park Headquarters, in an office on the second floor (the top left window in this photo). In the winter, the view from the window is sometimes obstructed by snow and ice.
Last updated: November 8, 2023