Current Conditions
Alerts
Caution
Some minor flooding is possible along Bates Ferry Trail (#7) and Fork Swamp Trail (#9).
Information
Due to the high volume of visitors expected over Memorial Day weekend (Friday-Monday), visitors should be prepared for long wait times for parking (especially evenings). Visitors may have to park a considerable distance from the Visitor Center.
more

Due to the expected crowds, parking will be very limited during the Synchronous Fireflies event. Please carpool when possible. For bus & oversize vehicles, please plan to drop off passengers & have a set time to pick them up as parking is NOT guaranteed
more
---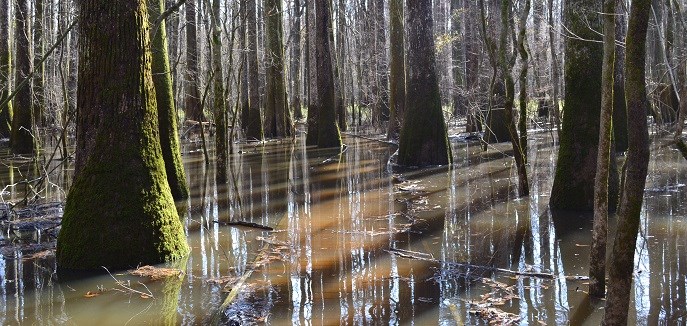 Much of Congaree National Park lies within the floodplain of the Congaree River. This dynamic environment is subject to periodic flooding which occurs approximately ten times each year. With almost 80% of the park lying within the floodplain, these floods make the backcountry trails and even parts of the boardwalk inaccessible to visitors.
The United States Geological Survey (USGS) maintains two flood gauges in or near the park. The Cedar Creek and Congaree River gauges are available online and updated hourly for you to check current water levels. Flooding is most common during the winter months, but can happen at any time of the year. Flood stage for Cedar Creek is set at 8 feet, and for the Congaree River at 15 feet. Low lying areas of the park can begin to flood even if the creek or river have not yet reached flood stage. For questions or to check on current water levels or trail conditions, please call our information desk at (803) 776-4396.
Last updated: March 15, 2016