Current Conditions
Alerts
Information
The Fireflies Festival will be May 10-27, 2019. Visitors will be able to observe the synchronous fireflies along the "Fireflies Trail." The Harry Hampton Visitor Center will be open till 10pm nightly. Click "more" for the latest updates & info.
more

During the Fireflies Festival (May 10-27, 2019), backcountry campers will only be able to access the backcountry via Kingsnake Trail at the South Cedar Creek Canoe Landing. Vehicles of backcountry campers must be parked at the parking lot at that site.
---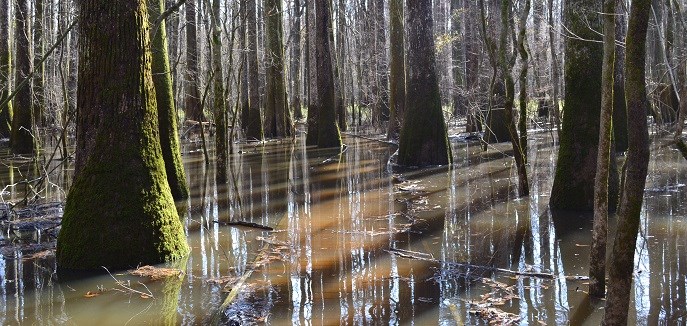 Much of Congaree National Park lies within the floodplain of the Congaree River. This dynamic environment is subject to periodic flooding which occurs approximately ten times each year. With almost 80% of the park lying within the floodplain, these floods make the backcountry trails and even parts of the boardwalk inaccessible to visitors.
The United States Geological Survey (USGS) maintains two flood gauges in or near the park. The Cedar Creek and Congaree River gauges are available online and updated hourly for you to check current water levels. Flooding is most common during the winter months, but can happen at any time of the year. Flood stage for Cedar Creek is set at 8 feet, and for the Congaree River at 15 feet. Low lying areas of the park can begin to flood even if the creek or river have not yet reached flood stage. For questions or to check on current water levels or trail conditions, please call our information desk at (803) 776-4396.
Last updated: March 15, 2016