Current Conditions
Alerts
Caution
Flooding conditions are occurring in the floodplain. The following are NOT affected: Visitor Center, Campgrounds, Elevated Boardwalk, Bluff & Longleaf Trails. Paddling in the park is not recommended at this time.
more

Although hunting is not allowed in Congaree National Park, hunting activities occur on adjacent lands. Visitors should not cross out of the park on to private lands. Doing so could put you at risk and you may be subject to citation for trespassing.
Information
During the federal government shutdown, trails at Congaree will remain open. However, there will be no visitor services, and hazardous or dangerous conditions may exist. In the event of an emergency, please call 911 for assistance.

The Harry Hampton Visitor Center will be closed on the following days: Monday, Dec. 24, Tuesday, Dec. 25, and Tuesday Jan. 1. Park trails will remain open, and park information will be available outside of the visitor center.
---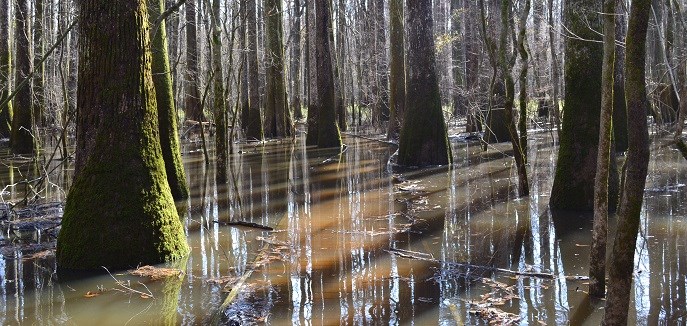 Much of Congaree National Park lies within the floodplain of the Congaree River. This dynamic environment is subject to periodic flooding which occurs approximately ten times each year. With almost 80% of the park lying within the floodplain, these floods make the backcountry trails and even parts of the boardwalk inaccessible to visitors.
The United States Geological Survey (USGS) maintains two flood gauges in or near the park. The Cedar Creek and Congaree River gauges are available online and updated hourly for you to check current water levels. Flooding is most common during the winter months, but can happen at any time of the year. Flood stage for Cedar Creek is set at 8 feet, and for the Congaree River at 15 feet. Low lying areas of the park can begin to flood even if the creek or river have not yet reached flood stage. For questions or to check on current water levels or trail conditions, please call our information desk at (803) 776-4396.
Last updated: March 15, 2016