Pets
Pet Safety at Congaree National Park
Congaree National Park welcomes all visitors and their pets! Pets are allowed on all trails, including the boardwalk, as well as in the campgrounds. Before you come out to the park, here are a few things that you should keep in mind:
Your pet needs water, too! In the summer months, it can be very hot and humid in the park. When you set out for your hike or paddle, be sure to bring enough water for everyone in your group.
All pets must be on a leash (6 feet long maximum) and under your control at all times. This is to protect you, your pet, other pets and their owners, and wildlife here in the park. In the spring especially, you may see snakes along the trails. Most of these are harmless, but it is important to keep yourself and your pet at a distance. The easiest way to do this is to keep your pet close to you!
Be aware of ticks! When you leave, be sure to check yourself and your pet for ticks.
Pets may not be left unattended for any period of time.
Please be a responsible pet owner and clean up after your pet! Pet waste bags are available outside of the visitor center for your use if you need them. Please do not leave used pet waste bags along the trails.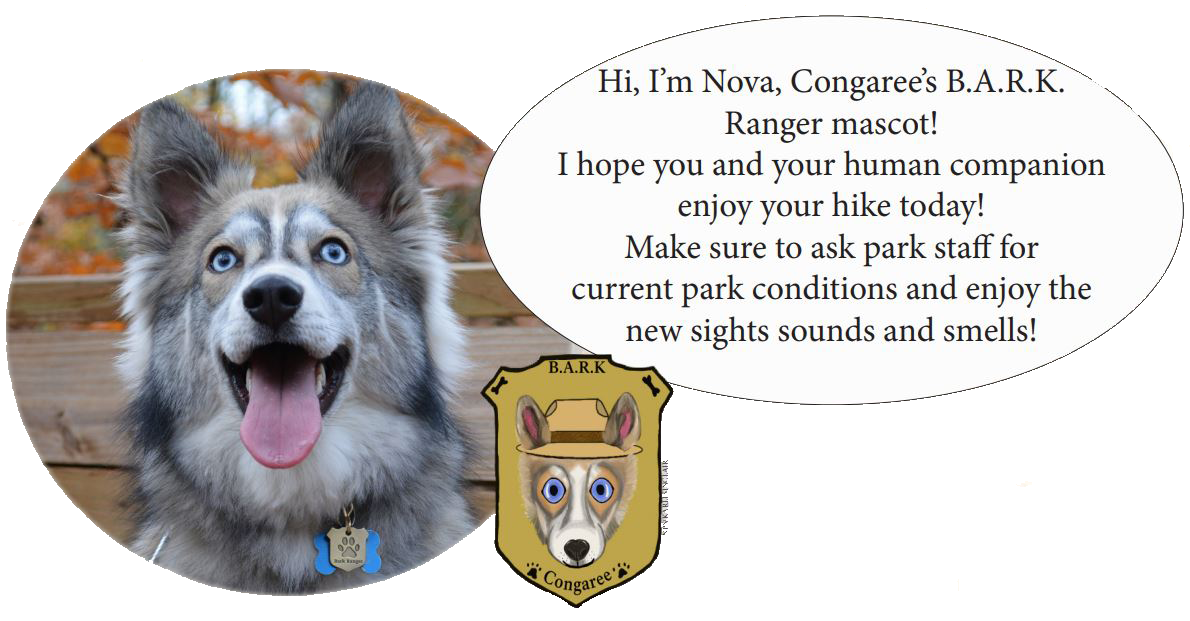 Remember the B.A.R.K. Principles!
Bag your pet's waste
Help keep trails and waterways clean by collecting and disposing of all dog waste
A
lways leash your pet
Leashes protect dogs from becoming lost, and from wilderness hazards
R
espect wildlife
Keep a respectful distance away from all wildlife
K
now where you can go
Pets are welcome on all of Congaree's trails, please remember to be courteous of others
Learn more about National Park Service B.A.R.K. Rangers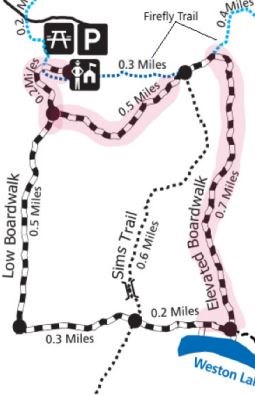 B.A.R.K. Ranger Tips for Congaree
Trails
The section of Boardwalk highlighted in the image to the right is elevated. This section is a confined space and there is no way to make a quick exit. If your dog is uncomfortable with other people or pets, consider taking another route.
Heat
Summer months in Congaree can be very hot and humid. Never leave your dog in a hot vehicle, bring enough water for them as well, and know the signs of heat stroke and dehydration.
Camping and Canoeing
If you will be in the park for more than a few hours, such as on a camping or canoeing trip, make sure to bring along food, water, a first aid kit, and any safety gear they might need (ex. PFD/life jacket).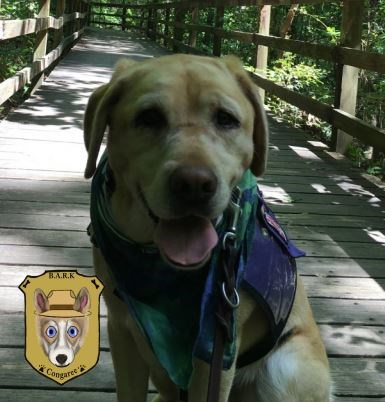 B.A.R.K. Ranger Service Dogs
Daisy (pictured left) is a B.A.R.K. Ranger and a retired service dog. You may see Daisy on the trails with her human companion, Congaree volunteer Jory. Service animals are much more than just pets, receiving special training that allows them to perform specific tasks to keep their human companion healthy and safe from harm.

Some service animals may wear a vest to identify them, but not all do. Just because a dog is not wearing a vest does not mean it is not a service animal. Keeping your four-legged friend on a leash and being courteous to other visitors and their dogs helps make sure service animals can do their jobs while also having a great time at Congaree with their companion.
Last updated: February 23, 2023