Canoeing and Kayaking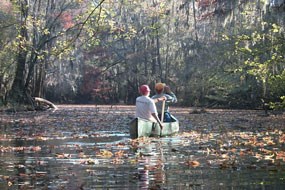 Planning Your Congaree Canoe Adventure!
Whether you are planning a short day trip or an overnight trip into the backcountry, travelling on Cedar Creek by canoe or kayak is a great way to experience Congaree National Park. This waterway passes through a primeval old-growth forest which contains some of the tallest trees in eastern North America. Opportunities are plentiful for viewing various types of wildlife such as river otter, deer, turtles, wading birds, and even the occasional alligator!
The marked Cedar Creek Canoe Trail winds approximately 15 miles through the Congaree Wilderness, starting at Bannister's Bridge and going all the way to the Congaree River. Potential trip ideas are available to help you decide which is the best way for you to experience the park from the water. Paddling Cedar Creek requires visitors to bring their own canoes or kayaks with them. If you do not have your own equipment, there are a number of professional outfitters in the city of Columbia that rent canoes, kayaks and other paddling equipment (the park does not rent out kayaks or canoes). Also, there are several outfitters that hold commercial use authorizations which allow them the ability to offer guided paddling tours in the park and to drop off equipment in the park. Please contact these outfitters directly for schedules, prices and other information:
canoe trail
page.
Last updated: June 2, 2022