Canoeing and Kayaking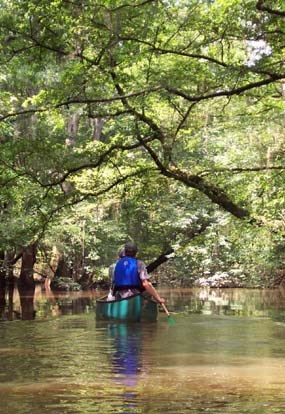 Whether you are planning a short day trip or an overnight trip into the backcountry, travelling on Cedar Creek by canoe or kayak is a great way to experience Congaree National Park. This waterway passes through a primeval old-growth forest which contains some of the tallest trees in eastern North America. Opportunities are plentiful for viewing various types of wildlife such as river otter, deer, turtles, wading birds, and even the occasional alligator!
The marked Cedar Creek Canoe Trail winds approximately 15 miles through the Congaree Wilderness, starting at Bannister's Bridge and going all the way to the Congaree River. Potential trip ideas are available to help you decide which is the best way for you to experience the park from the water. Paddling Cedar Creek requires visitors to bring their own canoe or kayak with them, unless participating in a guided tour. Outfitters in the city of Columbia have gear for rent if you do not have your own. The park does not rent out kayaks or canoes.
Whether you are a novice or an experience paddler, knowing what to expect before you arrive is important for having a safe, enjoyable trip. Canoe trail information such as water levels, what to bring, and what to expect are available on our canoe trail page.
Are you interested in taking a trip down Cedar Creek with a park ranger? Congaree offers a limited number of ranger-guided canoe tours each year. These reservation only trips provide visitors an opportunity to get a more in-depth look at the park and the amazing life that it supports, all from a unique perspective.
Last updated: August 2, 2016