Backcountry Camping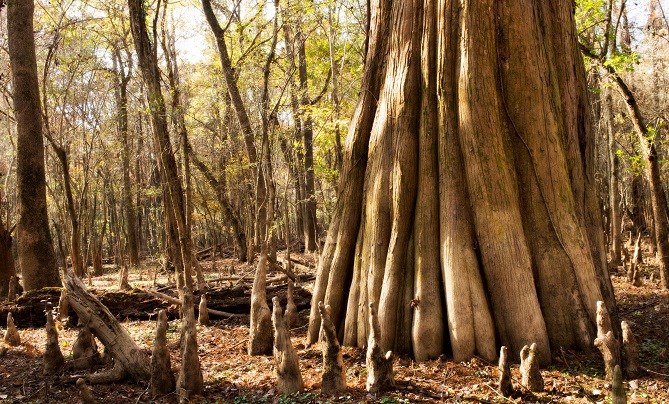 BACKCOUNTRY CAMPING PERMITS
During the month of May, no backcountry permits will be issued due to scheduled resource management work and wildlife protection throughout the park.


Camping in the backcountry requires a permit. Backcountry camping permits are FREE, and those wishing to request a permit should do so by emailing the park at the link below.
Request A Permit

Requests must be sent at least 72 hours in advance to guarantee time to process the permit application.

Backcountry Camping at Congaree
Camping in the backcountry is a great way to experience the wilderness at Congaree. The park's backcountry can be reached either by foot or by canoe or kayak. But before you head out on your backcountry wilderness adventure, here are a few things that you should know before beginning:
All land on the left bank of Cedar Creek between

Bannister Bridge Canoe Access and

Cedar Creek Canoe Access

that is within the park boundary is designated as frontcountry. Camping in the frontcountry is limited to the Longleaf and Bluff Campgrounds only.

All other sections of the park are designated as

backcountry.

Camping in the b

ackcountry requires a free permit. Please call (803) 776-4396 or email cong_information@nps.gov for more information on obtaining a backcountry camping permit.
There are no designated campsites in the backcountry. Campers may select any suitable place, as long as they remain 100 feet away from Cedar Creek, Tom's Creek, Bates Old River, and Wise Lake. It is advisable to check the river forecast prior to your visit to ensure that a rise in water levels is not forecast.
Selected campsites are limited to 6 campers and 3 structures per site and must be no closer than 300 feet from the next closest site. Hammocks are not considered as structures, but the 6 person limit per site remains.
Open fires are not permitted in the backcountry. Campers are permitted the use of a backpacking stove for cooking.
Please follow the principles of Leave No Trace and make sure to pack all trash, equipment, and personal belongings out with you at the end of your stay.
Last updated: April 26, 2023