Trail Information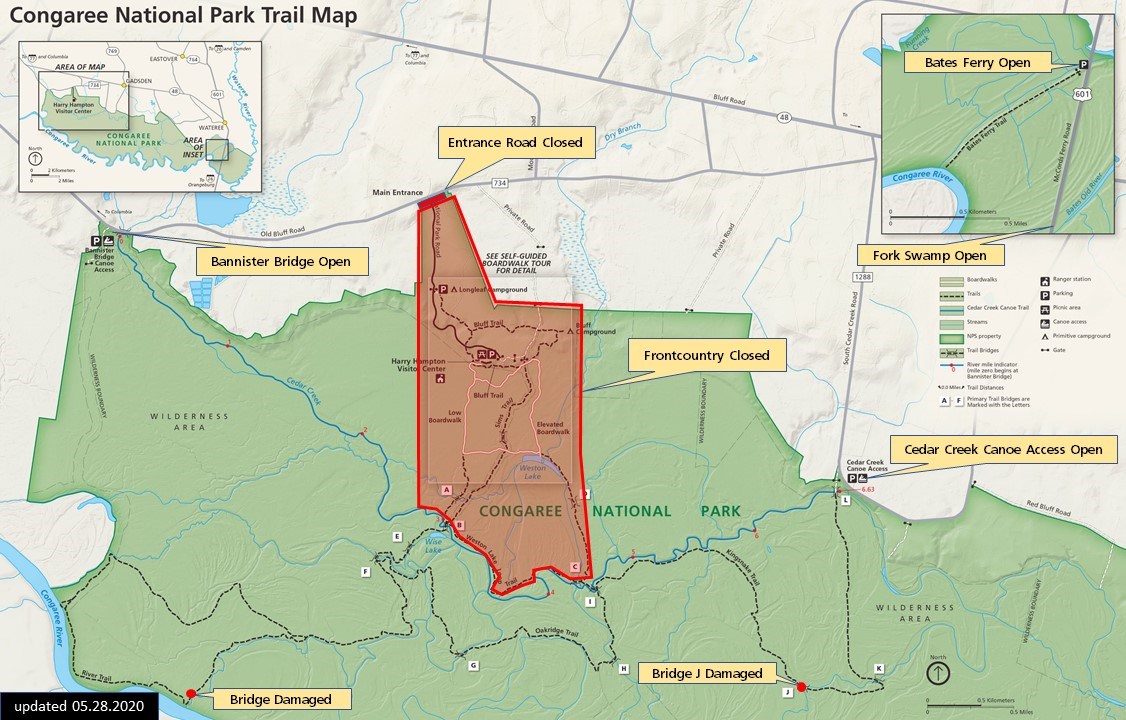 There are a number of trails at Congaree which are available for foot travel only. Because the majority of the park lies within a floodplain, the terrain is generally very flat with only slight elevation changes. The majority of trails begin from the Harry Hampton Visitor Center and vary in length. Trails are well marked and have brown blazes with the trails number on each. Trail maps are available at the Visitor Center 24/7.
Park Trails
Boardwalk Loop Trail - CURRENTLY CLOSED
Round Trip Distance: 2.4 miles

Download your Digital Boardwalk Tour Guide
NOTE: Starting December 2, 2019, the section of Boardwalk between the Harry Hampton Visitor Center and the first junction will be closed so that the section can be rebuilt. Through most of 2020, access to the Boardwalk will be via a short section of Bluff Trail (#1), which starts just outside the Visitor Center. While this necessary work is being conducted, visitors with mobility issues are encouraged to contact park staff at the Visitor Center prior to visiting for up-to-date information that can help them plan their visit.

The boardwalk begins on a bluff at the Harry Hampton Visitor Center with an elevated section that leads down into the old-growth bottomland hardwood forest. A variety of different tree species can be observed including bald cypress and tupelo trees in the lowest elevations. Loblolly pines, oaks, maples and holly can also be observed. The boardwalk has benches along the way and is wheelchair and stroller accessible. Pick up the Self-guided Boardwalk Tour brochure at the Visitor Center before beginning your walk to learn more about the the natural and cultural history of Congaree.
Bluff Trail (#1) - CURRENTLY CLOSED
Round Trip Distance: 1.7 miles

NOTE: Starting December 2, 2019, the section of Bluff Trail (#1) between the Boardwalk and the junction with Longleaf Trail (#8) will be closed due to construction on the Boardwalk. Visitors will still be able to hike to and from the Harry Hampton Visitor Center, Longleaf Campground and Bluff Campground via the open sections. If you have any questions, please contact park staff.

This upland trail loops north of the Visitor Center and connects to the elevated boardwalk for a short distance. The Bluff Trail passes through a young forest of loblolly and longleaf pines. Evidence of prescribed burns can be found along this trail.
Sims Trail (#2) - CURRENTLY CLOSED
Round Trip Distance: 3.2 miles
The Sims Trail follows an old gravel road and runs from the Bluff Trail on its northern end to Cedar Creek at its southern end, crossing the boardwalk twice. The clearing at the intersection with the Weston Lake Loop Trail was the site of a hunt club where Harry Hampton was once a member.
Weston Lake Loop Trail (#3) - CURRENTLY CLOSED
Round Trip Distance: 4.4 miles
This loop trail provides great views of Cedar Creek where otters and wading birds are regularly observed. The eastern portion of this trail follows a cypress -tupelo slough (dried up river bed) where many cypress knees can be seen sticking up out of the water.
Oakridge Trail (#4) - DAY-USE ONLY
Round Trip Distance: 7.0 miles
Passing through a rich stretch of old-growth forest, this trail traverses a subtle ridge where a variety of large oak trees grow. The number of low-lying sloughs makes this trail great for viewing wildlife like deer and wild turkey.
River Trail (#5) - DAY-USE ONLY
Round Trip Distance: 10.4 miles
This trail leads to the Congaree River, the lifeblood of the park's great natural diversity. Approximately ten times a year the river overflows its banks and pulses water through the bottomland forest. When the river is low, a large sandbar may be visible. Much of the forest along the river was logged prior to the park's establishment and vegetation here is noticeably denser than that of other trails.
Kingsnake Trail (#6) - DAY-USE ONLY
Round Trip Distance (Not a Loop): 11.7 miles
The Kingsnake Trail is a favorite trail for birders because of the diverse vegetation and proximity to Cedar Creek. When sloughs are full of water, beautiful views are possible around every bend. Note: Bridge J is damaged (~2.5 miles from Cedar Creek Canoe Access) and may be impassable, especially with high water conditions.
Bates Ferry Trail (#7) - DAY-USE ONLY
Round Trip Distance: 2.2 miles
Starting from Route 601 in the eastern section of the park, this trail follows a 1920's ferry road south to the Congaree and is a remnant of the areas rich history, which includes colonial era ferries which once crossed near here. While at the river, please be aware that the bank is steep and could potentially be slippery. It is best to stay on the marked path, as old side trails are neither cleared nor marked.
Longleaf Trail (#8) - CURRENTLY CLOSED
Distance: 0.3 miles (one-way distance)
This spur trail branches off from the Bluff Trail and provides access to the Longleaf Campground.

Fork Swamp Trail (#9) - DAY-USE ONLY
Distance: 0.6 miles
The park's newest trail, which was opened in late 2017, provides access to the Fork Swamp area of the park. The trail runs alongside a narrow section of Bates Old River, a large oxbow lake created by a hurricane in 1852.
Last updated: May 27, 2020