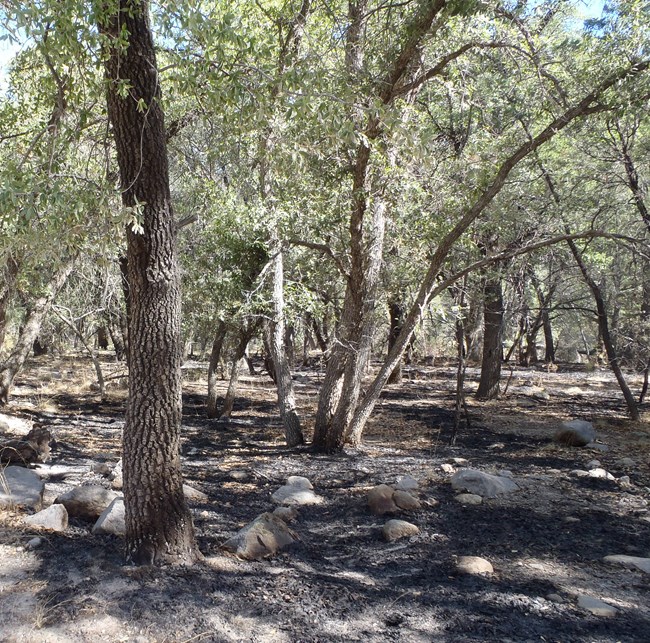 Imagine arriving in southern Arizona around 1750. Large open valleys teem with Sonoran pronghorn, grazing on grasses and cholla cactus. One startles and flees, and the other pronghorn follow, even though you are more than a mile away. You turn your horse towards a small river, coming out of the nearby mountains, and trace it into a spacious woodland. Large boulders are interspersed with a wide variety of oak trees, junipers, and manzanitas. It seems as though a fire had burned here recently, within the last five years, since there is very little undergrowth. Most of the big, mature oak trees are alive, although one or two succumbed to the fire, you notice. Woodpeckers bore holes in the dead trees, to shelter their eggs.

Prior to widespread European settlement, this part of Arizona experienced frequent, low-intensity fires. The pattern often was wet years when grasses and shrubs grew, providing fire fuel for the following dry years, when lightning could easily ignite wildfires. Scientists look at tree ring records, and can tell that across the southwest, dry years had more fires than wet years, and these fire patterns were cyclical.

Now flash forward to 1888, and you are an early homesteader, settling in Bonita Canyon with your family. You graze cattle on your own homestead, as well as all the unclaimed forest and canyon land around you. Your small herd of cattle, along with thousands of others foraging across the southwest, reduce grass and shrubs wherever they go. Cattle are creatures of habit, and follow the same trails year after year, essentially creating firebreaks across the terrain.

Although the United States Forest Service was established in 1905, fire suppression policies did not begin in earnest until 1935 with the so-called "10 am policy." This policy's goal was to completely suppress any fire before 10 am the next day. From 1935 through 1978, fire suppression was a priority for land management. For decades, managers of forests thought eliminating fires would help increase timber production, and ignored the fuel buildup and increased danger of people living in fire-suppressed, forested landscapes (now called the Wildland-Urban Interface).