The Stafford Family
Learn about Ja Hu and Pauline Stafford, two of the earliest pioneers to settle in Bonita Canyon. Their family continued to live in the cabin Ja Hu and Pauline built until 1918.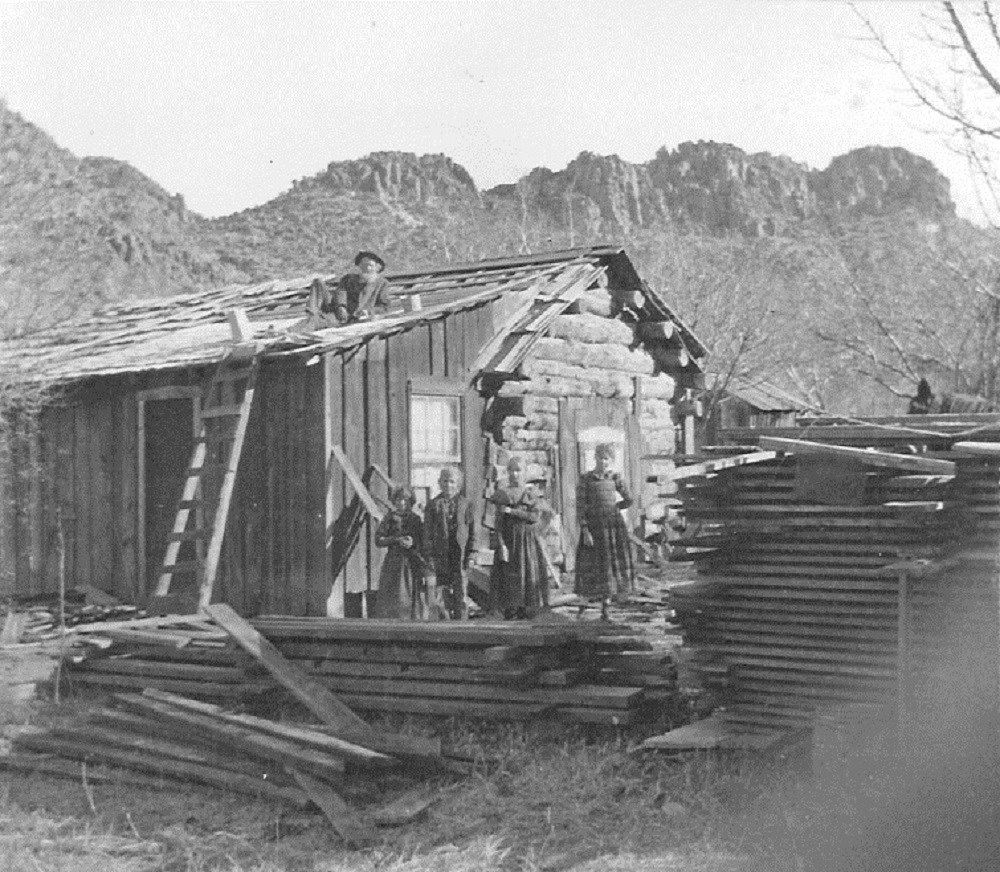 Ja Hu Stafford
Ja Hu Stafford was 46 when he arrived in Bonita Canyon with his 12-year-old wife,
Pauline
, in 1880. They were the first white settlers in Bonita Canyon, although their neighbor,
Louis Prue
, had a ranch at the mouth of the canyon.
Originally from North Carolina, Ja Hu lied about his age as a young man and joined the Army in Missouri. He was stationed across the country, and probably in Illinois married his first wife, Dorothy Francis Hicks. Ja Hu had a number of occupations, including driving cattle, ranching, operating a public house, and working as a travelling sewing machine salesman. In the mid 1870s, Ja Hu left his first family (his wife, stepson, and daughter) in Colorado, and went to Manti, Utah, where he met his second wife, Pauline.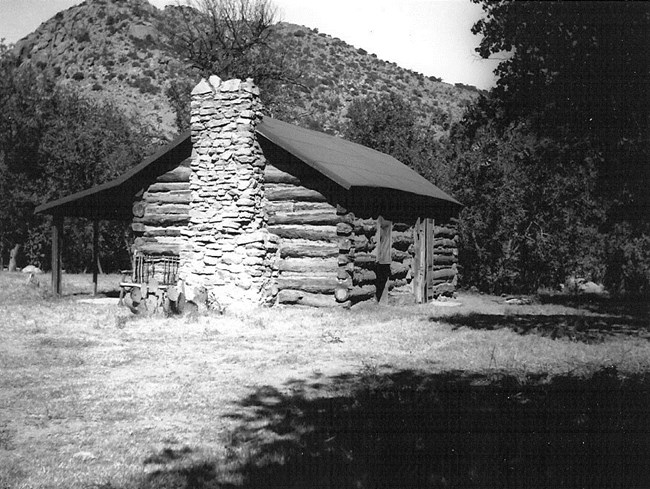 Homesteading in Bonita Canyon
From Manti, where Ja Hu and Pauline were baptized into the Mormon faith (and married), the couple travelled to southern Arizona. Ja Hu filed a homestead claim October 17, 1880, and he and Pauline quickly began building a cabin before winter set in. The cabin was originally about 14 feet x 14 feet and made of unpeeled logs with a dirt floor. Unpeeled logs and dirt floors indicate it was built in a hurry. Ja Hu chinked the cabin with wooden wedges and gravelly mud, and made wooden shakes (like shingles) for the roof.
The first spring Ja Hu and Pauline planted an orchard to the southwest of the cabin. Their large vegetable garden was to the east, near where Silver Spur Meadow is today. The rest of the homestead was hilly and rocky, but suitable for grazing cattle, although they did not have any at that time.
By May 23, 1888, when the Staffords officially acquired their
homestead
, they had improved their land by enlarging the cabin, and building a chicken house, smoke house, corral, and four acre fenced-in garden. The garden and orchard would prove to be the Staffords' biggest source of income.
The Stafford Orchard cultivated pears, apples, apricots, persimmons, and peaches, although frost killed the fruit crops fairly regularly. The large garden was supposedly watered by a warm or hot spring, which stopped flowing after an earthquake on May 3, 1887 (according to family lore). Ja Hu grew radishes, beans, lettuce, cabbage, onions, pumpkin, tomatoes, potatoes, carrots, parsnips, corn, squash, watermelon, and peanuts. He sold produce to the
Buffalo Soldiers
stationed to the west of his homestead, as well as to
Fort Bowie
.
Education
Ja Hu and Pauline had five children who lived to adulthood. By 1886, the Riggs Home Ranch private school was incorporated into the new El Dorado School District #16 in Sulphur Springs Valley. The Stafford children, along with the Erickson and Riggs children, were able to go to school until 8th grade, which was usually sufficient for most ranching families.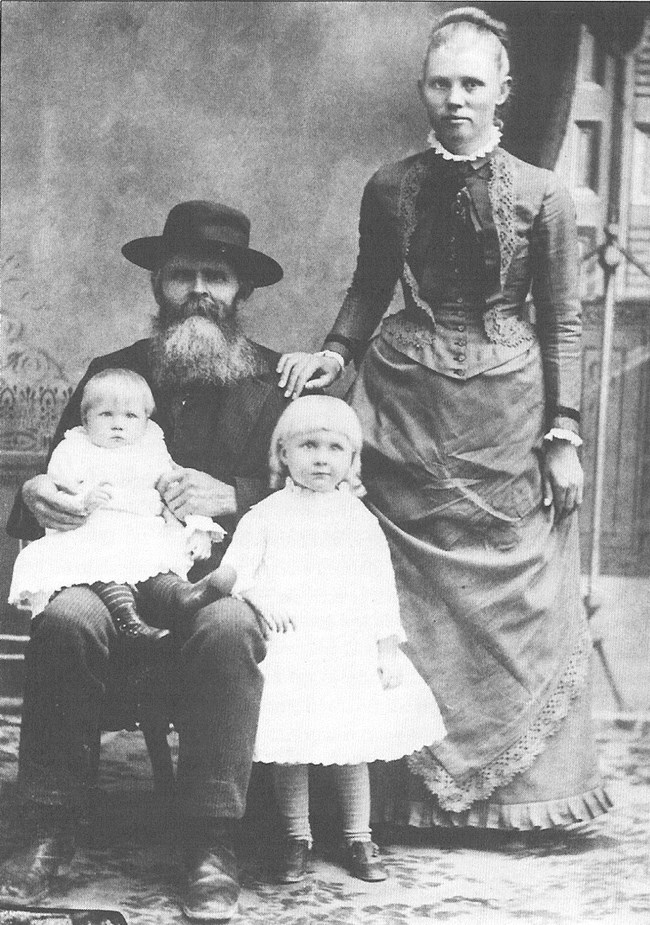 Pauline was 12 years old when she met, and later married, Ja Hu Stafford, who was 46. Family stories indicate that the two met when Pauline was herding cattle (barefoot) and went to Ja Hu's cabin to warm up. In June, 1880 Pauline and Ja Hu were baptized into the Mormon faith and married in Manti, Utah. Shortly after their nuptials, the couple headed south, to Arizona.
After a few years of marriage, Pauline has her first child, who died in childbirth. The baby was supposedly named Reveley Stafford (a family name), although the grave simply says "R Stafford."
In Her Own Words
Pauline was a great letter writer, although not a great speller. Her own words give us some insight into her pioneer life in Bonita Canyon. In 1882, Pauline wrote in a diary, "Mrs. Pauline Stafford and J. H. Stafford live in Bownita Canyon Arizona in a log cabin / the wind is blowing very much today / we have to (sic) horses and 18 chickens /"
About ten years later, in 1892, Pauline wrote to her sister, "I must tell you something about what we have been doing. I have made 50 quarts of Ketchup for sale and 6 gallons of Citron Preserves, 3 gallons of Tomatoes Preserves besides I have put up for my own use 2 gal. apples 3 gal. Peaches 3 gal. Gooseberries and about 10 [?] gal. Tomatoes and then I want to make a lot more Preserves. I also dried about 25 pound Sweet Corn and alot of Strong Beans."
Pauline cared deeply for her children, and even though the Staffords had a tight budget, they were able to provide for their five children, sometimes with the help of the neighbors. Emma Erickson started a Christmas party tradition in which she gave presents to all the children in Bonita Canyon. Pauline's sister Clara, in Utah, also helped the Staffords out by buying shoes and sending them to Arizona. Clara sometimes sent extra presents, which Pauline appreciated in this 1894 letter:
"The Children were very agreeable Supprised to get the Valentines and Handkercheifs you sent them they were just simply delighted even the baby was Pleased/ She has not been very well for several days taken Cold in her eyes they were so Painful yesterday that she could scarcely see out of them Swelled almost Shut but to day they were very much better/ Clara is a great Papas Baby She sleeps in Papas arms all night and crys if I want to take her. She speaks a good many words and she says them very Plain She calls Thomas Boy all the time this morning when Pansy and May started to school she went to the door and called, Bye Children. I told her Aunt Clara was going to send her a Pair of Shoes and then she looked down at her shoes and laughed … I want to put Thomas in pants the 30 day of May that is his birthday he will be 4 years old then …"
In Memoriam
In what may have been one of Pauline's last letters to her sister, she entreats Clara to visit and help her deliver her baby. "I expext to be sick by the end of August or at least by the [?] of Sept so you will see the nesecesity of starting by that time if you do not come I do not know how I will get along as it is just impossible to get help here at the present time thier is only one woman that I know of that I can get at all and she has two small children."
Sadly, Pauline's sister Clara did not arrive in time (or possibly at all). After Pauline died delivering her sixth child August 26,1894, Ja Hu tried to take care of the children on his own. Neighboring women, including Emma Erickson offered to help. Ja Hu stubbornly refused help, and sadly the unnamed baby boy died a few months after his mother.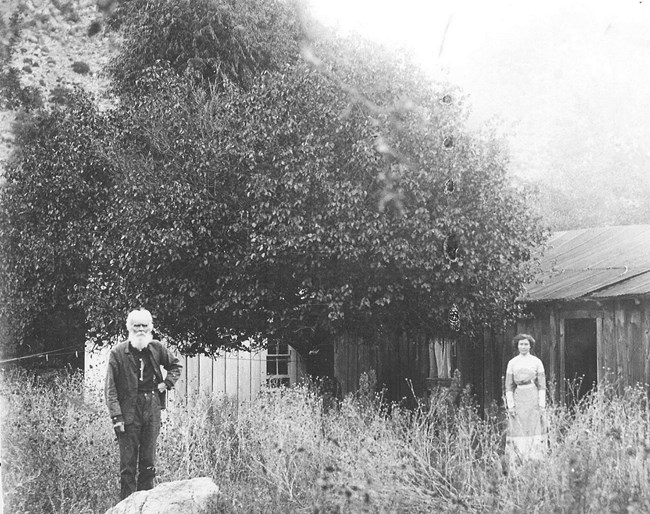 Growing Up Without a Mother
The oldest Stafford child, Pansy, went to work in Willcox after her mother, Pauline, died. Later she went to work, as well as school, in Bisbee. Anna Mae, another daughter, was eight or nine when Pauline died, and she began to do the sewing for the family. The younger children, Ruby, Thomas, and Clara learned pioneering ways from their father and helped as much as they could. Clara said Ja Hu "taught me how to shoot when I was five years old," and the family subsisted on small wild animals like rabbits and squirrels, since domestic meat was more expensive.
Ja Hu sometimes had a temper, and killed at least two of the children's pets, according to Clara's oral history. He tried to remarry after Pauline's death, but his mail order bride from Missouri left almost as soon as she arrived in Bonita Canyon. In 1898 Ja Hu expanded the cabin by adding a lean-to, and a few years later, he added another addition.
Ja Hu's Last Years
By 1910, Ja Hu's health was declining, so he turned the ranch over to his youngest daughter, Clara. Clara had been in teaching school, but gave up her career to come home and run the homestead. Clara registered a brand, as well as filed permits to graze her cattle and horses on the US Forest Service land surrounding their homestead. In 1915, Thomas, Clara's older brother, moved back to the ranch with his new wife, and they were able to help with and expand the orchard, garden, and livestock operations.
On November 14, 1913, Ja Hu Stafford died at 79, of natural causes. He left most of his estate to Clara, who shared it with her new husband, Wilber Wheeler. In 1918
Lillian
and Hildegard Erickson bought the Stafford homestead as an expansion of
Faraway Ranch
.
Stafford Children
Reveley: Died shortly after birth, between 1882 - 1884
Mary Pansy: January 15, 1885 - January 26, 1913 (Married Francis R. Bree and died in childbirth)
Anna Mae (May): December 1, 1886 - August 25, 1963 (married Thomas Jefferson Riggs (who died 1926) and later Joseph Peter Schafer)
Ruby Evelyn: September 30, 1888 - March 26, 1979 (married Jess Amalong)
Thomas Asa: May 30, 1890 - August 1, 1966 (married Nora Swanner)
Clara Clementine: June 10, 1892 - February 25, 1978 (married Wilber Wheeler)
Unnamed Baby Boy: Died a few months after his mother, Pauline, died, between 1894 and 1895
Last updated: February 7, 2019