Early Pioneers of Bonita Canyon
Some of the early pioneers in Southern Arizona called the area in and around Chiricahua National Monument home. Learn about their lives!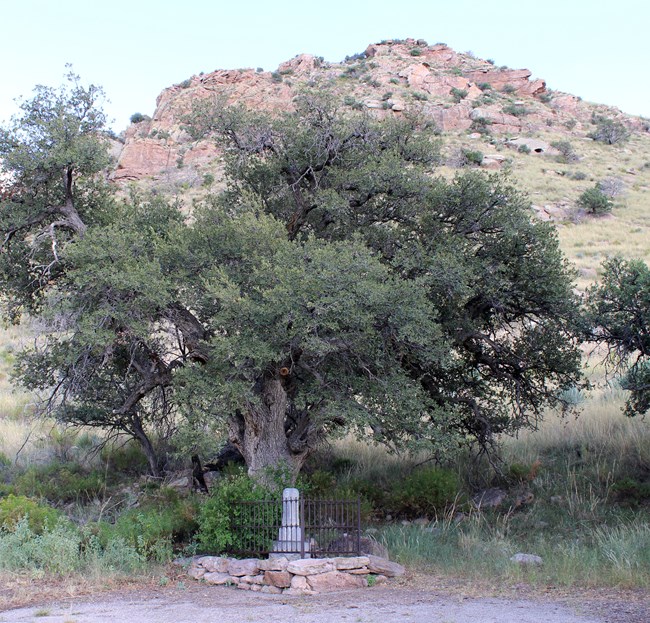 Louis Prue
Canadian Louis Prue was one of the earliest ranchers in Sulphur Springs Valley and the mouth of Bonita Canyon. When he was 21, Prue enlisted with the 2nd New York Heavy Artillery in 1864 and was shot in the foot at the Battle of Petersburg and lost three toes. Prue's first marriage to Clara Maddox Prue ended in divorce in 1878. Towards the end of his fairly long military career, Prue worked as a Scout and was discharged from
Fort Bowie
, Arizona Territory in 1878.
On Christmas Day, 1882, Prue married his second wife, Annie Wilson, in Tombstone, Arizona. Prue may have been the first white settler in this area, and lived in southern Arizona for the rest of his life. He was killed in a horseback riding accident in 1892, when he was 49 years old. Local families buried him at the mouth of Bonita Canyon under an oak as Prue had requested, "where he could watch his cattle go to water." Annie received a military pension of $30.00 a month until she passed away in 1921.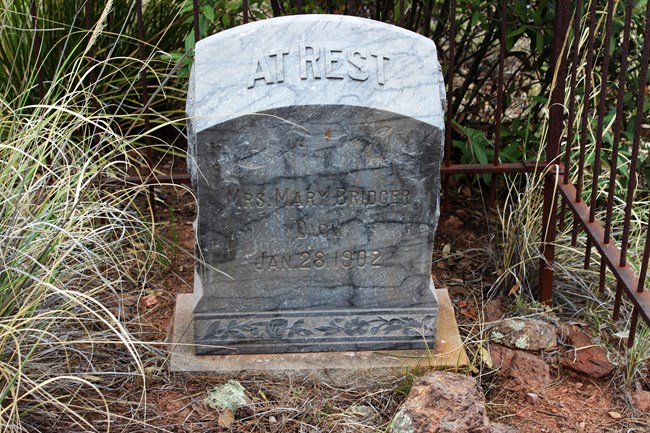 Mary Bridger
Mary Bridger (unknown maiden name) emigrated from Ireland in 1849, around Cape Horn, and to San Francisco. She met and married Tom Bridger there, who was a gold miner, prospector, and "49er." Like many prospectors, they moved from place to place and made it to southeast Arizona by 1885, although they may have settled in this region earlier.
An account from 1885 mentions Mary and Tom hearing shooting, as another pioneer named Fry supposedly held off Geronimo's band, and the Bridgers ran to safety in a stone fort. Local stories say Mary's skirt was riddled with bullet holes from the Apaches, but she was unharmed. Another version says that a bullet grazed her arm, leaving her mostly unharmed as she took shelter.
John Riggs, of the long-time Cochise County Riggs family, grubstaked the Bridgers, which lead them to Bonita Park, in what is now Chiricahua National Monument. The prospecting couple founded the Lead King Mine and Queen of Sheba mill site, where they built a cabin. All their supplies from Willcox were brought in by burros. Mary would stay at the cabin while Tom retrieved their supplies (and packed out any ore they found). There is a local story that Tom would always bring Mary back a quart of alcohol to drink, and one time he forgot it halfway back from Willcox, and turned around so he could bring it to her.
Tom and Mary did not have any children, but it is said that Mary was "a good-hearted soul who always insisted on feeding the neighbor children who came past her cabin looking for cattle." Mary became sick in January of 1902, and while her husband Tom went for help, she passed away. The Riggs erected a stone monument for Mary, and buried her a short distance from her cabin. Not much is known about Tom's life after Mary's death, although it is said that he died in an old soldiers' home in California.
If you have any information about Louis Prue, Mary Bridger, or Tom Bridger, please contact us.
Last updated: September 30, 2018