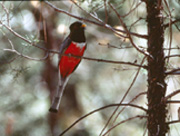 New! Updated 2016 Bird List:

Bird Checklist
(pdf 670 KB)
Chiricahua National Monument is home to a wide variety of birds. This part of Arizona is famous for its avian diversity, and several borderland sites, including Chiricahua National Monument, have been identified as "Important Bird Areas" by the American Bird Conservancy. These areas are home to federally listed Threatened and Endangered species, species with restricted ranges, and large numbers of migratory birds. As birds fly north or south on their yearly migrations to Mexico, central- and south America, they are "funneled" through parts of California, Arizona, New Mexico and Texas. Many migrants stop for brief periods along the way, and others come to stay for the summer or winter months, so there are always interesting birds to search for.
Our diverse habitats and southern location bring a variety of Mexican species across the border - such as the Elegant Trogon and the magnificent hummingbird. In fact, thirteen species of hummingbirds are know to occur in the Chiricahua mountains, and many of these are Mexican species that are rarely seen in the United States. In all, there are around 200 species of birds that have been documented in this area, making it a great stop for both the serious and casual birder!