Weather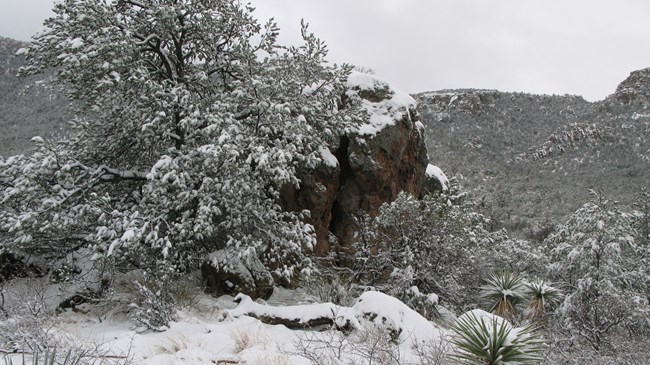 Where can you go to experience different seasons in the same location, on the same day? Chiricahua National Monument! As a Sky island Chiricahua ranges in elevation. It can be warm at the visitor center (at 5,400 feet/ 1646 meters), but cool and breezy at Massai Point (6,800 feet/ 2073 meters). There can be rain at the visitor center, but snow at Echo Canyon Trailhead.

Sky island climatic conditions exhibit a distinctly bimodal pattern (having two different modes), with spring and fall having low moisture, and summer and winter having high precipitation. Precipitation within the monument averages 19.52 inches (49.5 centimeters) a year, most of which falls as localized, heavy rain during the summer monsoons, usually from July through mid-September. Since the monument is at a higher elevation than the surrounding deserts, summertime temperatures are usually very pleasant for outdoor activities, such as hiking. It is still aways a good idea to begin hikes early in the day to avoid heat-related illnesses.

Summer rainfall occurs during high intensity thunderstorms, which can cause flash floods, while winter rainfall is usually associated with Pacific frontal storms. Snowstorms can occur from late fall through early spring, and may bring up to a foot of snow, but the snow rarely lingers except on shaded northern slopes at the highest elevations.

This 2014 Resource Brief has basic information about climate change and how it is impacting the monument.

Always check the weather before hiking! Your safety is your responsibility.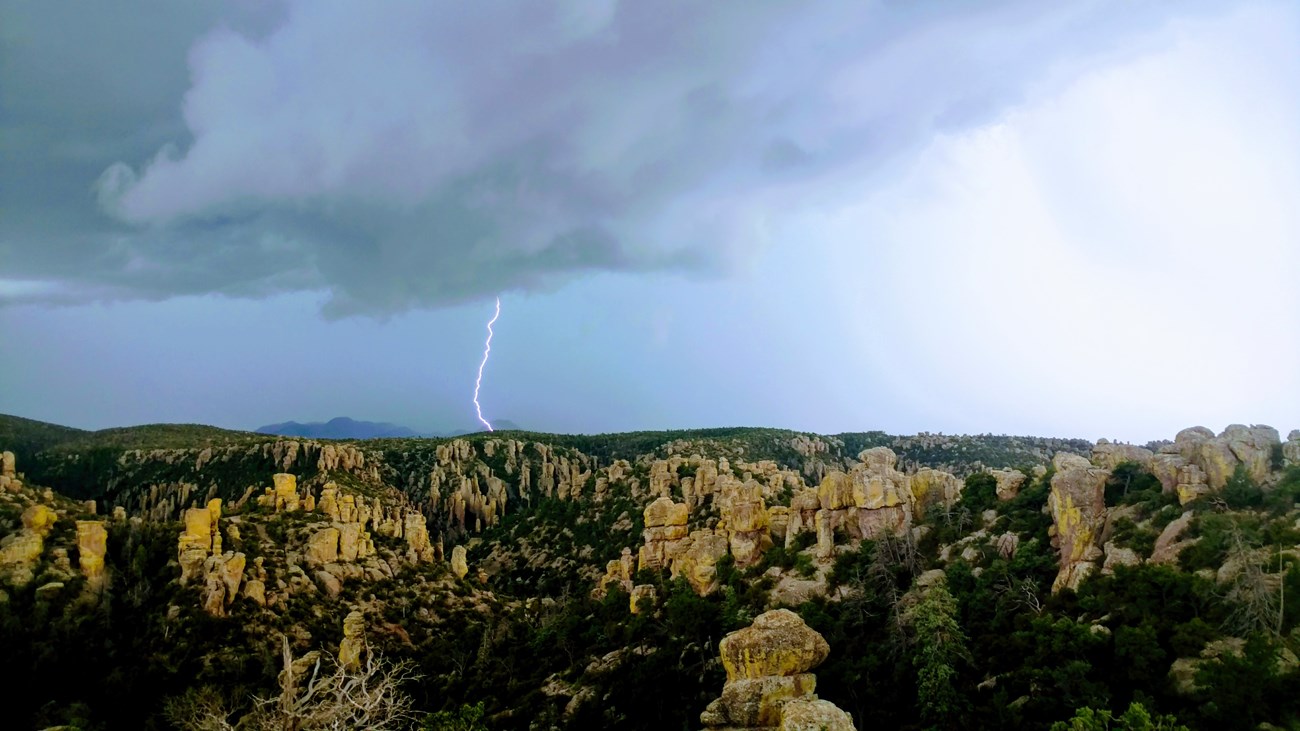 Prolonged strong winds occur during spring and summer, and are often associated with high-pressure systems. Wind speeds have been recorded as high as 60 miles per hour (97 kilometers per hour) and often will cause large trees to be uprooted and can cause wildfires grow quickly. Predominant daytime wind direction is from the southwest, but high-pressure systems will cause daytime wind direction to change to an easterly flow. Due to high topographical relief, upcanyon winds prevail during the daytime, while downcanyon winds occur at night. Average wind speed ranges from 1-7 miles per hour (1.6-11 kilometers per hour).

Check out real-time weather data from Sugarloaf Mountain and Bonita Creek inside the Monument, or look at the larger Chiricahua Mountain Range.
2013 Visitor Center Parking Lot Flooding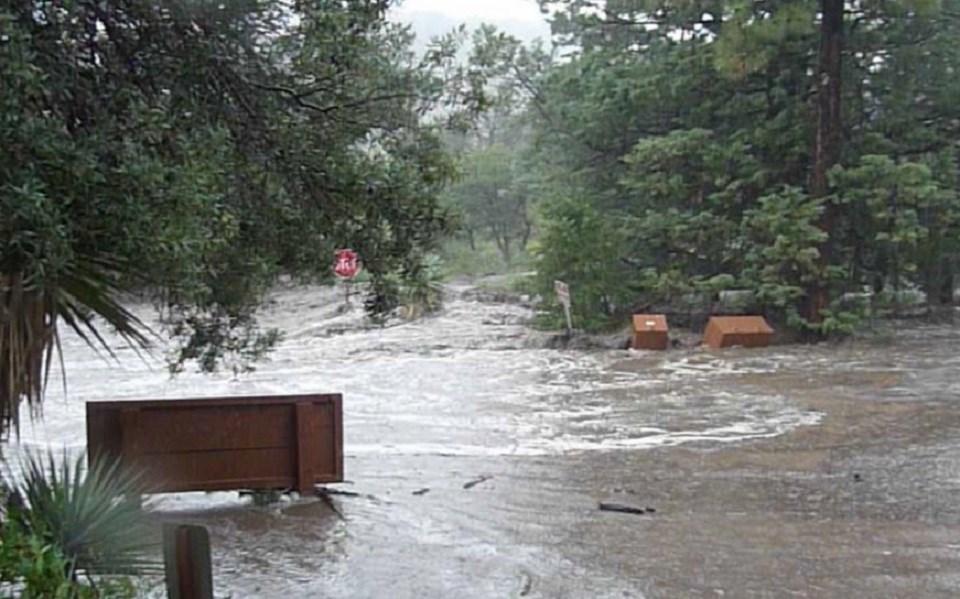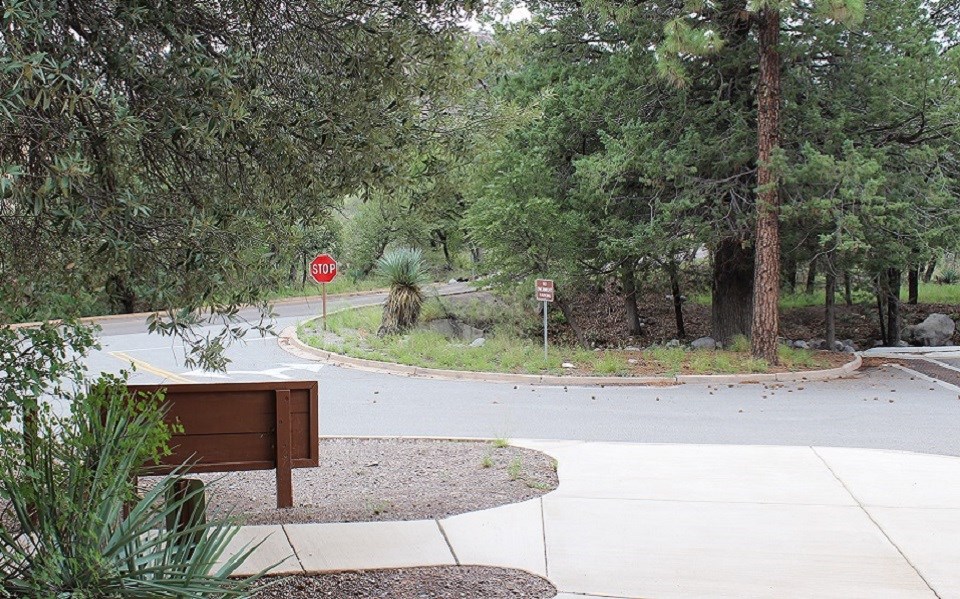 Left image
Credit: NPS/ S. Moody
Right image
Credit: NPS/ A. Huston
August 2012 Flood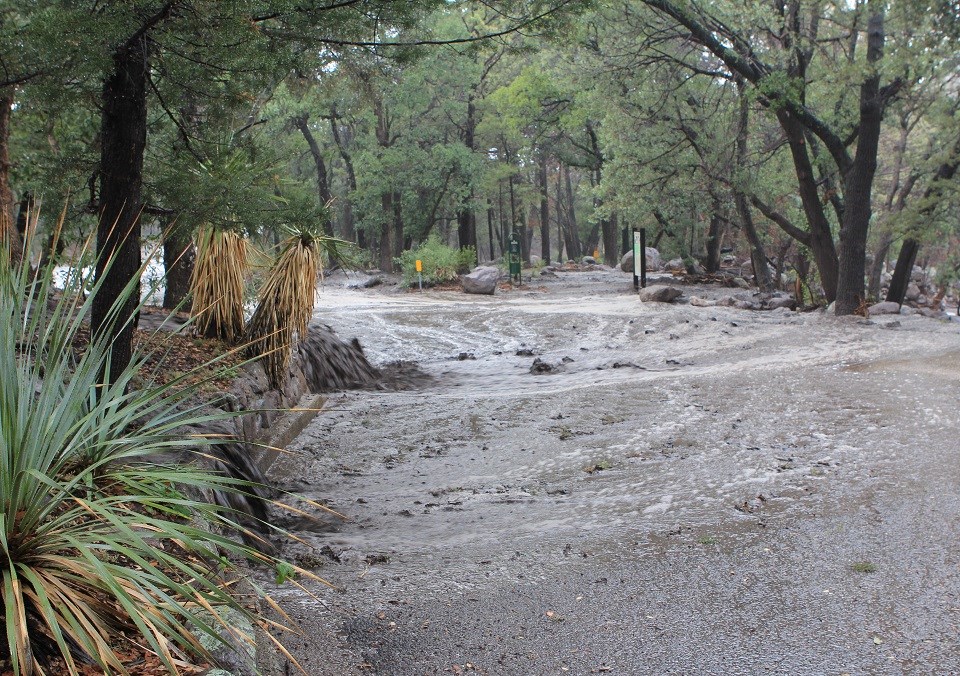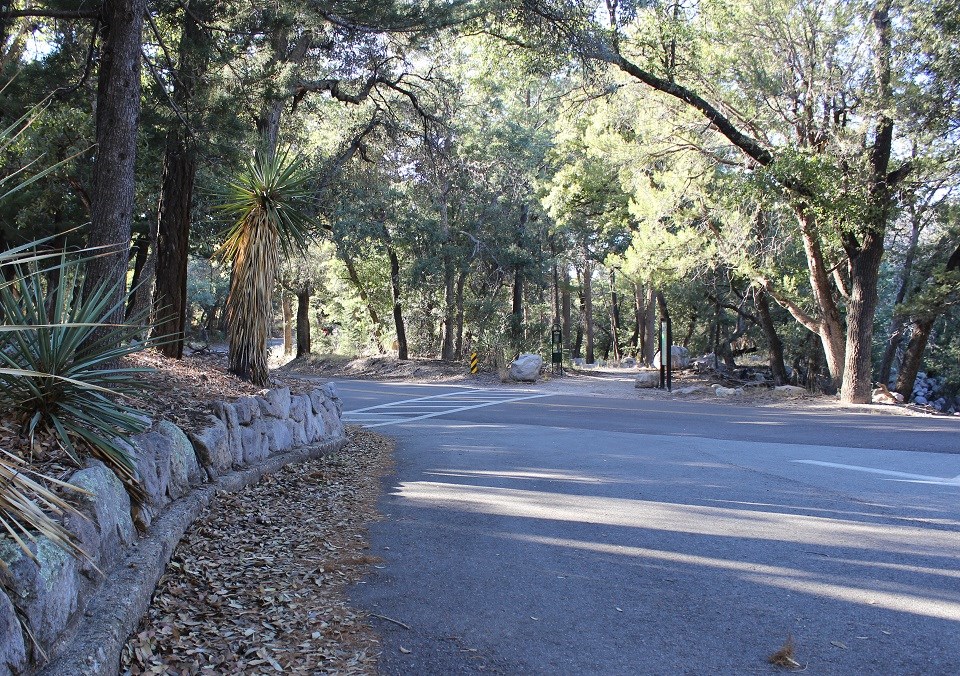 Left image
Credit: NPS/ S. Moody
Right image
Credit: NPS/ A.Huston


Last updated: December 13, 2018