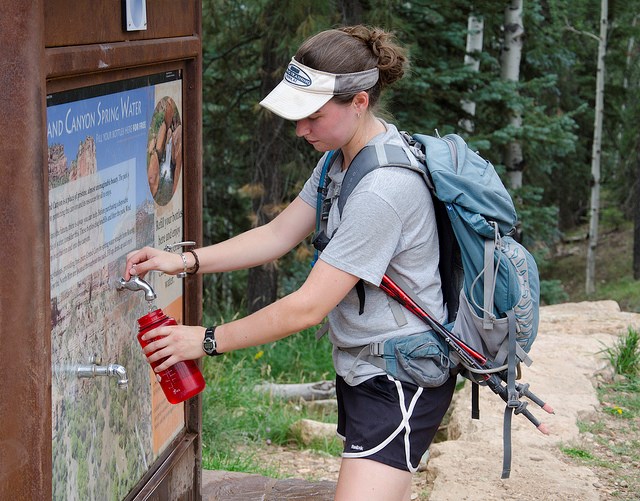 Are you going to explore the great outdoors? Before you head out on your trip, find out if there are potable drinking water sources in the park and locations where water is available along your adventure. Bring enough water for you and your group to last your whole trip.
If potable water is not available, learn how to purify and disinfect natural water before you head out.
Drinking from unpurified water sources can result in waterborne diseases, such as cryptosporidiosis or giardiasis.
Never drink water that you haven't treated from a natural source, even if the water looks clean.
"Potable water" is clean water that's safe to drink, brush your teeth with, wash your hands with, and use for preparing food. Information on water sources can be found on the official NPS websites of most parks. If you can't find the information you need online, use the park contact information to ask about water quality and if water treatment is needed at your destination.
If you're active outdoors (hiking, biking, running, swimming, etc.), especially in hot weather, you should plan to drink about one-half liter to a full liter per hour to remain hydrated.
One liter is about the same as four cups, or two 16.9-ounce water bottles. Prepare your water before you need it and drink before you get thirsty. Do not allow yourself to become dehydrated. Symptoms of dehydration range from mild to severe. Mild to moderate symptoms include thirst, dry mouth, headache, dizziness, and decreased urine output. More severe symptoms can lead to worsening dizziness, severely decreased urine output, a loss in blood pressure, rapid heart rate, shock, seizure, coma, and can be fatal. Seek immediate medical attention if you are experiencing worsening or severe symptoms of dehydration.