News Release
Biscayne National Park to start multiple maintenance and repair projects within Boca Chita Key Historic District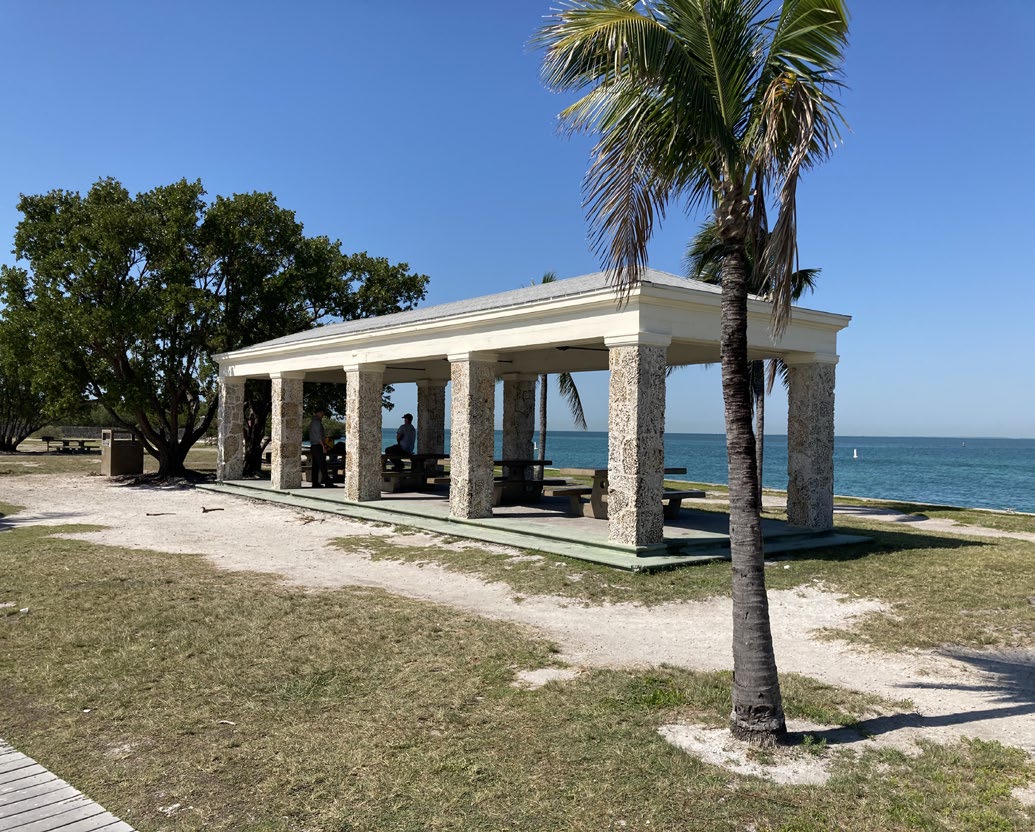 News Release Date:
May 2, 2023
Contact: Ted Firkins, Public Affairs, 786-335-3630
Contact: Joshua Marano, Cultural Affairs, 786-335-3676
HOMESTEAD, Fla. — Biscayne National Park today announced the temporary closure of several structures within the Boca Chita Key Historic District for maintenance and repairs. This work is an initial project in a larger effort to maintain historic structures within the district over the next several years that will include repairs to most of the structures on the island. Future announcements will be made regarding closures or restrictions to areas on the island as various projects, many of which are in the initial planning stages, are implemented.  
For the safety of our visitors and the construction crew, the following closures are currently in place until project work is completed: 
Restoration of masonry work on the Pavilion: The Pavilion will be closed to the public through mid-May. This project consists of addressing three cracked column caps that will be repaired using in-kind mortar to match existing historic fabric. Crews will perform selective repointing and repairs to the limestone veneer of multiple columns. All materials will be used in historically accurate matching materials and mortar ratios. All historic limestone will remain on site and selective replacement will match in-kind materials. The repair and repointing will preserve and prolong the integrity of the columns' structural and aesthetic values while stabilizing the structure for future replacement of the roof. The project is expected to be complete by mid-May. 
For this project, Biscayne National Park is partnering with the National Park Service's Historic Preservation Training Center (HPTC) and will follow The Secretary of the Interior's Standards for the Treatment of Historic Properties. HPTC is dedicated to the safe preservation and maintenance of national parks or partner facilities by demonstrating outstanding leadership, delivering quality day-labor services and developing educational courses that fulfill the competency requirements of National Park Service employees in the career fields of Historic Preservation Skills, Facility Maintenance, Risk Management and Planning, Design and Construction. HPTC uses day-labor projects as its primary vehicle for teaching preservation philosophy, facility maintenance, building crafts, building technology and project management skills. For more information on HPTC, visit Historic Preservation Training Center (U.S. National Park Service) (nps.gov) 
For project updates and general information about Biscayne National Park, visit nps.gov/bisc or follow the park on Facebook, Instagram, and Twitter.  
---
About Boca Chita Key. The Boca Chita Key National Historic District in Biscayne National Park is comprised of a collection of buildings, structures and objects situated on the 32-acre island, developed as a private resort by wealthy early 20th century industrialist Mark Honeywell between 1937 and 1945. Listed on the National Register of Historic Places in 1997, the buildings and structures serve as an example of an early 20th century retreat and are emblematic of the rapid growth and expansion of the Miami area during that time. Boca Chita is also recognized as a Cultural Landscape by the NPS. Landscape features including the designed vegetation and plantings and small-scale historic features such as bollards, walkways and walls are all contributing to the significance of the district. For additional information on the history of Boca Chita, visit https://www.nps.gov/bisc/planyourvisit/bocachita.htm. 
About Biscayne National Park. Within sight of downtown Miami, Biscayne National Park protects a rare combination of subtropical islands, mangrove shoreline, biodiverse coral reefs and 10,000 years of human history. The park is ninety-five percent water and encompasses the northernmost Florida Keys. Most of the park is only accessible by boat. Home to a vast array of species, visitors to Biscayne might encounter sea turtles, dolphins, sharks, stingrays and the West Indian manatee. To learn more, please visit nps.gov/bisc. For regular updates from the park, follow us on Facebook, Instagram, and Twitter.
About the National Park Service. More than 20,000 National Park Service employees care for America's 424 national parks and work with communities across the nation to help preserve local history and create close-to-home recreational opportunities. Learn more at www.nps.gov, and on Facebook, Instagram, Twitter, and YouTube.
Last updated: May 2, 2023