River Road
51 miles
The River Road traverses the remote southern portion of the park, roughly connecting the areas near Rio Grande Village and Castolon. While generally following the course of the Rio Grande, the road runs a considerable distance from the river, especially in its mid-section near Mariscal Mountain. You cannot actually see the river along the River Road unless you take a side trip to one of the primitive roadside campsites located next to the river. Due to its length and usually rough road conditions, allow a full day to drive from end to end.

A variety of Primitive roadside campsites (permit required) located along the road, allow for extended exploration. Highlights along the River Road include the Mariscal Mine, and access to the rugged but spectacular Mariscal Rim Trail (6.5 miles roundtrip hike).

The west side of the River Road is lesser used, and generally in a rougher condition. Unless you have full confidence in your high-clearance vehicle, consider backtracking from the Mariscal Mine and returning via the Glenn Springs Road. The River Road crosses numerous washes, and regularly becomes impassable after rains.

You Will Need A High Clearance Four-Wheel-Drive (4WD) Vehicle
A high clearance 4WD vehicle is defined as a SUV or truck type vehicle, with at least 15 inch tire rims or more, with a low gear transfer case, designed for heavier type use than a standard passenger vehicle, with at least 8 inches of clearance or more from the lowest point of the frame, body, suspension, or differential, to the ground, also including a means to mechanically power both, front and real wheels at the same time.

Protect Big Bend. Always stay on established roadways.
OFF ROAD DRIVING IS PROHIBITED.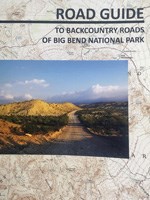 Road Guide
Guide to Backcountry Roads of Big Bend National Park
Now available through the Big Bend Natural History Association bookstore, this 25-page, full-color guide to the highlights and natural/cultural history of Big Bend as experienced along the backcountry roads. Thoroughly revised mile by mile, this new edition now includes GPS coordinates as well as mileage logs along with information for mountain bikers, color photographs throughout, maps of the Glenn Spring and Mariscal Mine historic areas, and more roads!
Last updated: January 21, 2021