Backcountry Closures
Closed Areas
Parts of the backcountry are closed to overnight camping:
Within 1/2 mile of any developed area, road, the Mariscal Mine, or the Hot Springs Historic District.
Within 100 yards of any trail, historical structure, archaeological site, water source, dry wash or cliff edge.
Pine Canyon Research Natural Area.
On Burro Mesa above 3,400 feet elevation.
The north half of the Chisos Mountains, the Basin, and the area around Oak Spring.
Within 500 yards of any tinaja on the Mesa de Anguila.
Check the Big Bend ALERTS page for any current road or trail closures
Seasonal Closures
To protect the peregrine falcon, a species listed as Threatened by the State of Texas, the following areas of the park are closed to all use from February 1 until May 31 each year:
A portion of the East Rim Trail from the southern junction of the Boot Canyon Trail to a point just north of Campsite ER-4.
East Rim Campsites: ER-4, 5, 6, 7, 8, 9.
The park does not plan to close any other areas but restrictions may be modified if Peregrine behavior or nesting sites do not follow traditional trends.

Peregrine Closure Press Release
Includes map of Chisos closed areas.

Learn More about Peregrine Falcons.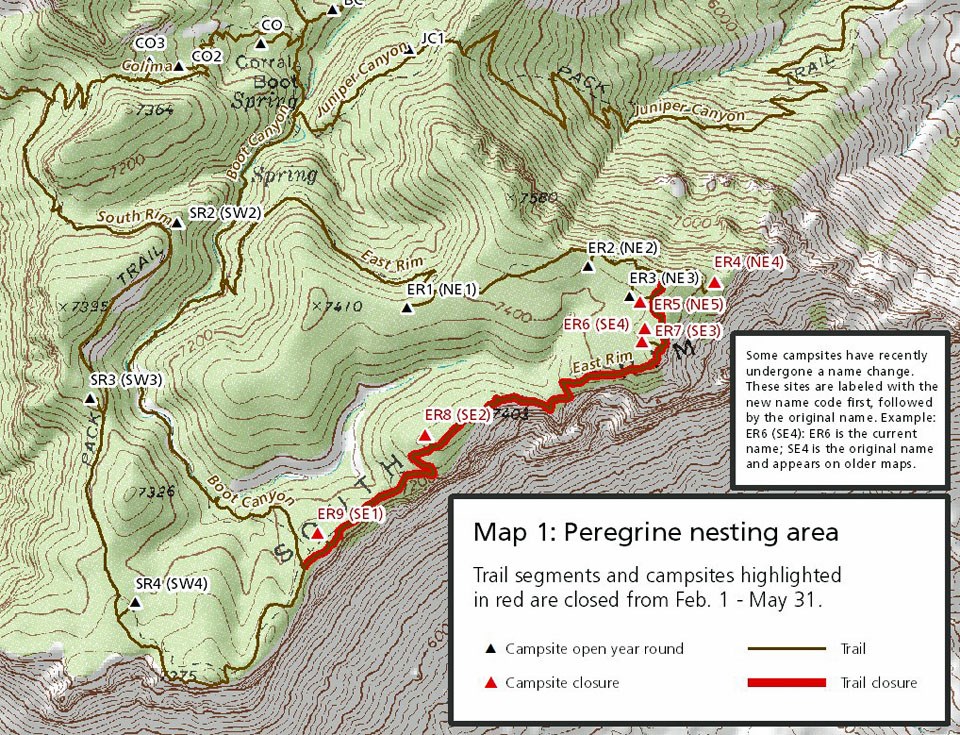 Last updated: March 30, 2023