Outer Mountain Loop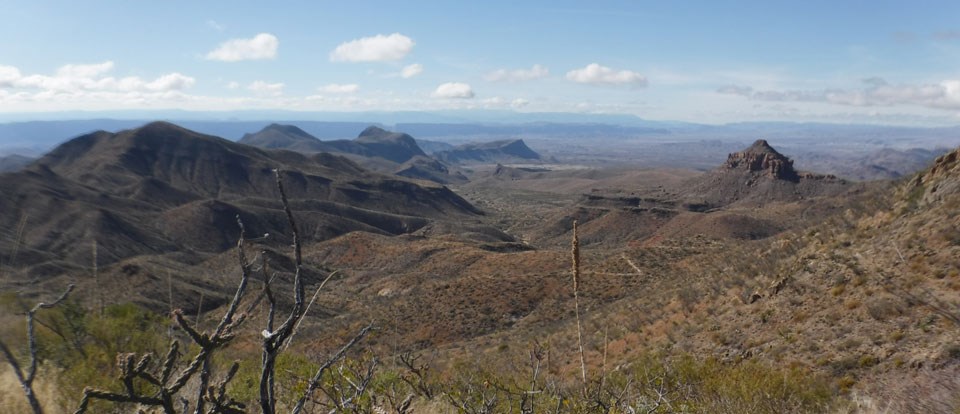 Difficulty: Strenuous; significant elevation changes and primitive trail, no water.
Distance: 30 miles (side-trips to the South Rim or Emory peak add up to five additional miles).
Time: Allow at least three days
The "Outer Mountain Loop" refers to the 30-mile circuit that combines the Pinnacles, Juniper Canyon, Dodson, Blue Creek, and Laguna Meadows trails. It includes a wide variety of habitats and scenery including, the piñon/juniper/oak woodlands of the Chisos Mountains and the surrounding Chihuahuan Desert. Sections of this trail are extremely steep and there is limited flat or level hiking. The route is highly strenuous and is not recommended for inexperienced hikers.
This route is not appropriate for first-time Big Bend hikers.
Do Not Attempt this route during the hotter months of the year.
Most hikers begin from the Chisos Basin and hike the trail in a clockwise direction. Hikers will need to cache water at the Homer Wilson Ranch before attempting this hike. Bear-proof storage boxes are available for caching water at two locations only: The Blue Creek/Homer Wilson Ranch on the Ross Maxwell Scenic Drive and the end of the rugged Juniper Canyon Road (high-clearance vehicle required). Caching water or other items for use on the Outer Mountain Loop in the storage boxes at Toll Mountain Pass (upper end of the Pinnacles Trail) or any other NPS-provided storage box is prohibited.
Safety Concerns
Each year, park rangers are called to respond to medical emergencies along this route. Most are the result of severe dehydration and heat-related conditions.
Do NOT attempt this hike during the hot summer months. From early May through early October, it may be physically impossible to carry enough water to safely hike this trail. The Dodson trail section is brutally hot May-September, and there is no shade available along this stretch.
Backcountry permits are required for all overnight backpacking in Big Bend National Park.
Cell phone service is limited in the park. Always have a friend who knows your itinerary and can call the park if you are overdue.
A surprising percentage of hikers do not actually finish this entire route. There are many reasons, but most of them relate to being unprepared and underestimating the difficulty of the terrain. Many are probably new to backpacking and/or to desert conditions. The elevation gain/loss and the intense desert climate wears people down and they choose to end their trip at the Homer Wilson Ranch after crossing the Dodson when they face the 2500' climb back up into the Chisos at Blue Creek Canyon.
Caching Water
Carrying adequate water is always a concern on this trail. Do NOT rely on seasonal or intermittent springs. Desert water is precious, ephemeral, and unpredictable.

We recommend that you carry a minimum of one gallon of water per person per day. Water can be cached in the storage boxes located at the Homer Wilson/Blue Creek Ranch and at the end of the Juniper Canyon road (Juniper Canyon requires a high clearance vehicle). Caching water in any other NPS-provided storage box is prohibited.

When caching water, remember to mark each bottle with your name and the date you plan to pick up the water. Please pack out empty bottles. Only water can be stored in the storage boxes. Food and equipment left in the boxes are subject to removal.
Permits
You will need a backcountry permit for camping along this route. Most hikers plan on 2 nights/3 days to complete the Outer Mountain Loop.
Permits for desert wilderness camping are available in person up to 24 hours in advance of your first night.

Most hikers stay the first night in the Lower Juniper or Dodson Zone, and the second night in the Dodson or Blue Creek Zone.

Reminder:

For those who like to plan ahead, the High Chisos designated backpacking campsites are reservable in advance online through www.recreation.gov. This is a separate permit system from wilderness zone camping permits. Zone camping permits are arranged in person at Panther Junction or Chisos Basin Visitor Centers.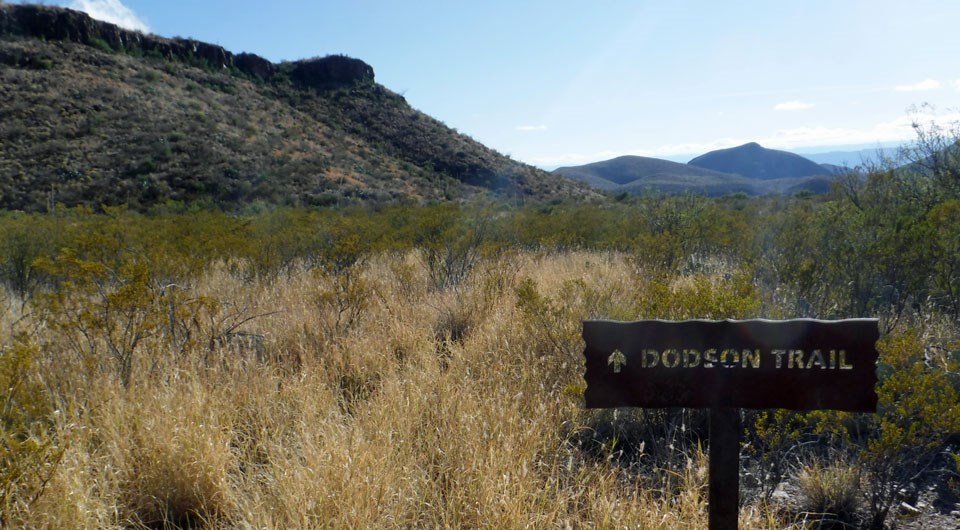 Last updated: June 3, 2021