Article
Top 10 Tips for Visiting Grand Portage National Monument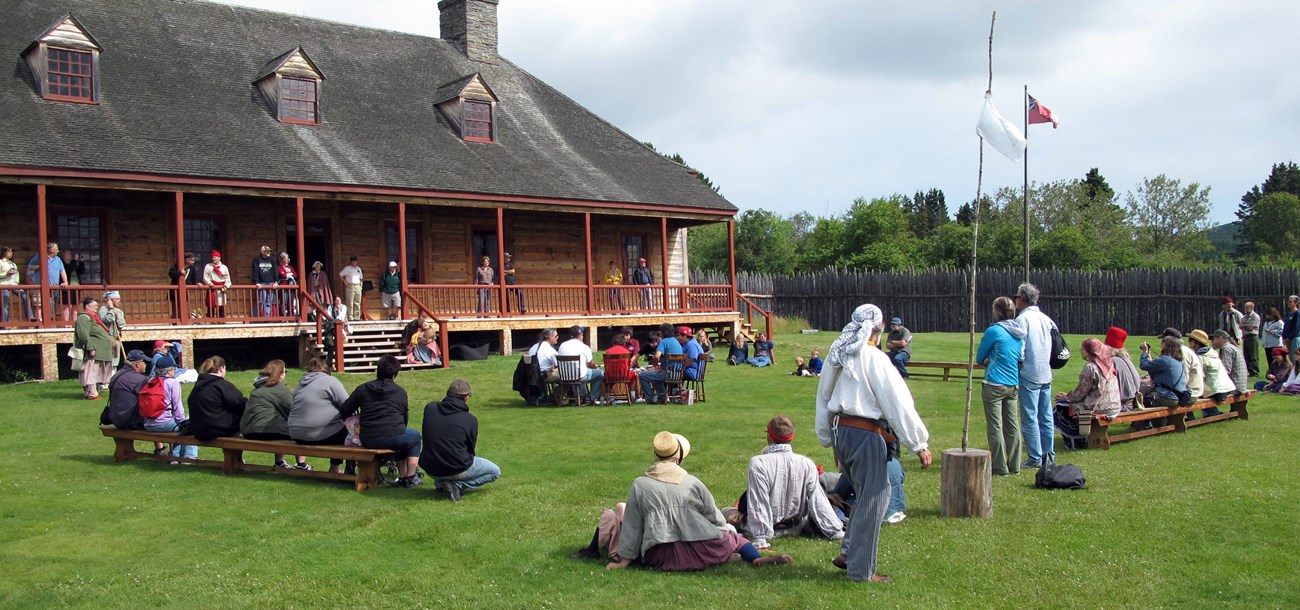 1. We are a National Park Service (NPS) location - Grand Portage National Monument tells the story of the North West Company fur trade. The monument includes a reconstructed depot and 8.5 mile portage (hiking trail) to Fort Charlotte that bypasses waterfalls and rapids on the Pigeon River. To see High Falls, make sure to visit Grand Portage State Park six miles north on Highway 61.

2. Plan in advance - Remember the Historic Depot is open Memorial Day Weekend through Indigenous People's Day, and closed the rest of the year.
Cell phone service in Grand Portage is limited. Also, you may be picking up a signal from nearby Canada in the Eastern time zone. Download the NPS app and any other guides you need before you arrive or stop at the Heritage Center where staff can answer your questions.

3. Dress for the weather - We are on the shore of Lake Superior where afternoon fog and rain are common. Be prepared for cool temperatures and check the weather forecast. Also, the trails can be buggy! Wear sturdy shoes for uneven terrain, a long-sleeved shirt, and a head net. Consider using bug spray for biting insects. Watch for ticks.

4. Reservations are recommended for the ferry to Isle Royale - The ferry to Isle Royale leaves from the Hat Point Marina and is operated by a private company. Book online one to two months in advance. There is also a flight service from Grand Marais, MN.

5. Camping - Make a reservation to camp at Fort Charlotte online preferably two weeks prior to your trip. Campsites at Grand Portage are available at the Grand Portage Lodge.

6. Limited dining options - In fact there are no restaurants at the monument. Pack a lunch! We have two picnic areas, one at the base of Mount Rose and the other near the historic depot within view of Lake Superior. Check with staff about the best place to park. Nearby options include restaurants at the Grand Portage Lodge. For snacks, stop by the Grand Portage Trading Post or Ryden's.

7. We are a fee free area! - We don't charge a fee to visit Grand Portage National Monument. This also means we do not sell any Federal Passes. These can be purchased at the USFS Gunflint Ranger District in Grand Marais.

8. Dogs are welcome on our trails - Leashed dogs are allowed on the Grand Portage and Mount Rose Trails, and not permitted within the palisade. Service animals are welcome in the Heritage Center and within the palisade.

9. Rendezvous Days - This event takes place the second weekend in August and is open to the public. Come prepared to participate in workshops and games! This is our busiest weekend of the season.

10. Continue the story at Fort William in Canada - Before you go to Thunder Bay, fill your tank. The next gas station is 40 miles away. Make sure you have a valid passport or appropriate ID. Learn the requirements for crossing the border for yourself and your pets.
Last updated: October 19, 2023