Pets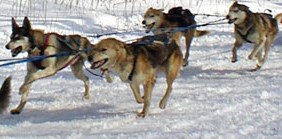 From Superintendent's Compendium:
The following structures and/or sales areas are closed to pets:
The Heritage (visitor) Center, Historic Depot area (gatehouse, kitchen, Great Hall, canoe warehouse, Ojibwe village, restrooms, Rendezvous historic encampment).
"Guide" or "service" dogs for seeing impaired or physically disabled persons are permitted within all park facilities.
Notes of caution:
A "leash law" exists in the Grand Portage community. All pets must be on a leash no longer than six feet.
Sunny summer days include intense sunlight which can heat vehicles up very quickly. Pets can overheat rapidly in closed vehicles possibly resulting in life threatening heat exhaustion or heat stroke. If you choose to leave your pet in your vehicle during your visit to Grand Portage, please provide for adequate ventilation and water in your vehicle and plan regular return visits to monitor your pet's condition. Your pet(s) will thank you for your caution.
Dispose of pet waste:
All pet waste must be removed from the park. Pet waste may not be left on the ground. If you are visiting with your pet, please remember to bring plastic bags or a scoop and determine how you will transport waste from the park. Once you've picked up your dog's waste with the plastic litter bag, you may dispose of it in any outdoor trash can.
Cleaning up after your dog is the responsible thing to do and is the law in most areas. Pet waste can transmit disease to children and other pets. Dogs smell it, roll in it, walk in it, even ingest it. Children and other pets can pick up serious diseases from it. Animal feces are one of the most common sources of the following diseases: giardia, roundworms, salmonella, Ecoli, parvovirus and coronavirus.
Emergencies:
The closest veterinary providers are in Grand Marais:
Cedar Grove Veterinary Clinic
Cedar Grove Veterinary Clinic, P.A. (cedargrovevetclinic.com)
218-877-7321
Lake County Veterinary Clinic
Grand Marais: Tuesday/Thursday
Lake County Veterinary Clinic | Serving Two Harbors & Grand Marais, MN
218.387.1383
Lake County Veterinary Clinic
Main Office: Two Harbors, MN
218.834.4234
FOR EMERGENCIES AFTER NORMAL CLINIC HOURS, ON WEEKENDS, AND ON HOLIDAYS:
Please contact the AFFILIATED EMERGENCY VETERINARY SERVICES in Duluth, Minnesota at (218) 302-8000 for all small animal emergencies.
Last updated: July 31, 2023