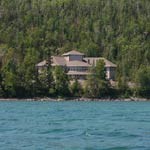 When the Grand Portage Band donated the property, it was with the understanding that the National Park Service and the federal government would invest in an infrastructure to preserve the heritage and promote tourism.

Both parties have common ground in the collaboration between the Grand Portage Band and the Park Service.


A Promise for Revitalizing the Economy


In 1958, the Grand Portage Band donated part of its land inside its reservation to the National Park Service to establish the site of the Grand Portage National Monument. Tribal members hoped that the new park unit, complete with a visitor center and museum, would revitalize the reservation's struggling economy and bring jobs to Grand Portage. However, as time passed, the visitor center and the promised jobs didn't come about.