Weather
Loading weather forecast...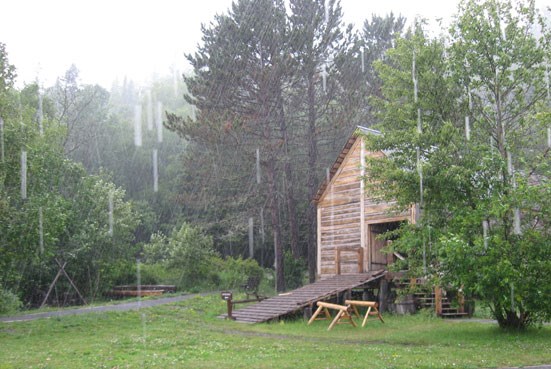 Weather conditions change frequently, due to the site's location on the north shore of Lake Superior. Cool onshore lake breezes are common in spring, summer and fall along with an occasional shower. Summer inland temperatures can reach into the 80's and 90's but are usually 10 to 15 degrees cooler by Lake Superior.

The Heritage Center and Historic Site overlook Grand Portage Bay on Lake Superior and can be cool throughout the summer months. Having layers of clothing to put on or remove and being prepared for summer showers are the best advice we can offer to prepare you for the varieties of possible weather conditions. Winter weather can be very cold and windy, with consecutive days of sub-zero temperatures, followed by pleasant, calm, sunny and moderate temperatures in the 20's and 30's.
Mosquitoes, gnats, black flies are plentiful during the spring and summer months especially inland along the 8 ½ mile Grand Portage footpath. Layers of impenetrable clothing are recommended, as is the use of a head net. Also effective is the use of insect repellent containing DEET placed directly on outer clothing layers. The voyageur's choice of repellent, bear grease and skunk oil, will probably discourage the swarms as well as your neighbors for a little while!
Grand Portage, Minnesota Weather Facts:
July is the average warmest month.
The highest recorded temperature was 95°F in 1995.
On average, the coolest month is January.
The lowest recorded temperature was -43°F in 1996.
The maximum average precipitation occurs in September.
Monthly Weather Data for Grand Portage, Minnesota
Month
Average
Highs (F)
Average
Lows (F)
Rainfall
Average (IN)
January
19
-3
1.33
February
24
2
0.80
March
35
14
1.55
April
47
27
2.22
May
61
38
2.86
June
69
46
3.19
July
75
51
3.45
August
73
52
3.10
September
64
43
3.68
October
52
34
3.25
November
37
20
2.37
December
24
4
1.56
Last updated: October 18, 2022