Camping
Accessibility Information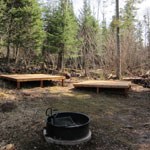 Backcountry Camping at Grand Portage National Monument
The Grand Portage is a nearly nine mile portage/trail that connects Lake Superior to the Pigeon River over land. The hilly, rocky, rutty route challenges even experienced hikers. When making your camping plans please take into consideration your group's physical condition and experience. Know your limits.

Camping at Grand Portage National Monument is limited to two campsites at Fort Charlotte.
Campsites are equipped with tent pads and must be used to protect the delicate topsoil at Fort Charlotte.
A free backcountry permit is required for all camping at Fort Charlotte.
Campsites are limited to nine people.
Make camping reservations well ahead of time, Fort Charlotte is becoming a popular destination. Allow two weeks for permit processing.
Applications for camping permits can be submitted any time of year.
Backcountry Camping Best Practices
Archaeology
Under the Archaeological Resource Protection Act of 1979, it is illegal to dig in, or to take, purchase, sell, receive, or transport materials from a site on federal land without a permit. Similar laws protect state and private lands, and Native American burials. Damage to a site on federal lands that exceeds $500 is considered a felony and can result in the seizure of any vehicle (car, truck, fishing vessel, plane, RV) used in the crime, fines of up to $250,000, and up to five years in prison.
If You Inadvertently Discover Artifacts
Record the location with your GPS, on a map, or make a sketch referencing prominent landmarks. Estimate the size of the site.
Photograph the artifacts in place. Include a common object for scale, such as a pencil or coin. Photograph the site area and the surrounding landscape.
Note any disturbances, human or natural, to the site.
Do not remove the artifact from where it is. Context is everything for park staff to determine the item's history.
Call Park Headquarters at 218-475-0123 or e-mail grpo_back_country@nps.gov.
Camping Safety
Trail Conditions
The Grand Portage is often wet and muddy during late spring, summer, and early fall.
Terrain is uneven and there are exposed rock surfaces and tree roots.
Board walks have been constructed over some of the wettest places, but large areas of standing water frequently remain throughout the year.
Freezing night temperatures can make boardwalks very slippery with frost. Sturdy, waterproof footwear is recommended.
Please stay on the portage trail. Old logging roads and animal trails crisscross the Grand Portage and may lead you astray.
Biting insects and ticks can be prevalent from June to September. Wearing long pants and long sleeved shirts will provide some protection from mosquitos, flies, and ticks. Insect repellents are helpful.
River Conditions
The USGS Streamflow Duration Hydrograph provides useful information for forecasting paddling conditions on the Pigeon River from South Fowl Lake to Ft. Charlotte. After examining the current hydrographic (be sure to select the right year) you should note that very difficult paddling conditions can be expected at 100 cfs (cubic feet per second) and below. At this low water stage, you can expect exposed rocks in the river channel- especially where the English portage used to be located. The English portage is likely little used today as there is typically more than sufficient water to float through this section of river. Very good paddling conditions can be expected at 500 cfs. Conditions for paddling become more complex and difficult as discharge increases above 500 cfs.
Potable Water
Carry plenty of water for hiking the Grand Portage, water sources along the Grand Portage trail and at the Fort Charlotte Backcountry Campground are not potable.
Fires
Campfires must be built in fire rings or in grills where provided. Burn only dead, fallen wood. Cutting of standing (living or dead) trees is prohibited. Open fires will be prohibited during times of high fire danger.
Any remnants of a fire must be extinguished, cold to the touch, free of litter with no evidence of food remains that could attract animals. The use of portable camp stoves is permitted in designated campsites.
Quiet Hours
In order to insure a quality camping experience, quiet hours are enforced from 10 p.m. to 6 a.m.
Garbage and Waste
All visitors must be prepared to carry their refuse out of the park. Do not dispose of garbage in toilets, do not bury it, and do not throw it in the river.
Where vault toilets are not provided, take care to dispose of human waste properly. Dig a hole six to eight inches deep and 200 feet from the nearest body of water. Cover thoroughly.
Pets are best left at home. Pet excrement must be removed if it is within 200 feet of trail, campsite or water.
Hunting
Hunting is not allowed within the boundaries of Grand Portage National Monument. Hunting is common within Grand Portage Reservation which surrounds monument boundaries. You may observe hunting activity September through December. Please consult a park ranger for information on hunting at the time of your visit.
Bear Country Safety
Remember, you are a guest in bear country. Although bears are naturally very wary and avoid people, human-bear contacts have become more frequent when the population increases. When competition for natural food supplies increase, bears tend to expand their searching and sometimes that brings them into campgrounds. When a bear finds food left by campers, she learns that people mean food. Proper care of visitor food supplies is essential to prevent bears from being attracted to campsites and becoming "troublesome" in the eyes of a camper.
To avoid bear problems:
Never feed wild animals.

Hang food-cache away from your tent at least 10 feet off the ground, and at least 4 feet away from the tree trunk.

Prepare food well away from your tent.

Do not eat or keep food, garbage, or unwashed dishes in your tent.

Do not bury or scatter food scraps.
Campsite Example
Privacy Act Statement
General: This information is provided pursuant to Public Law 93-579 (Privacy Act of 1974), December 21, 1984, for individuals completing this form.
Authority: 54 U.S.C. §100101, NPS Organic Act; 16 U.S.C. 1131-1136, Wilderness Act; 43 U.S.C. §1701 et seq., the Federal Land Policy and Management Act; 54 U.S.C. §200301-200310, Land and Water Conservation Fund Act, as amended; 16 U.S.C. §6801-6814, the Federal Lands Recreation Enhancement Act; 36 CFR Part 71, Recreation Fees; and, 36 CFR 1.6, Permits.
Purpose and Uses: To establish and verify an applicant's eligibility for a permit to conduct certain activities within the National Park System and to process permits for individual members of the public and organizations interested in obtaining a permit authorizing an activity. Information collected will be used to provide the public and permittees with permit-related information, to monitor activities conducted under a permit, to analyze data and produce reports to monitor the use park resources, to assess the impact of permitted activities on the conservation and management of protected species and their habitats, and to evaluate the effectiveness of the permit programs. The DOI and NPS may use the information to meet reporting requirements, to generate budget estimates and track performance, and to assist park staff with visitors' education, fee collection, resource management and protection, recreational use planning, law enforcement and public safety personnel for such purposes as emergency contact and search and rescue efforts; to provide permit holders and participants with information about parks and their partners; and to provide reports of activities conducted under an issued permit.
Based on the disclosures generally permitted under 5 U.S.C. 552a(b) of the Privacy Act, the National Park Service may share information with first responders and Federal, state, and local governments to provide information needed to locate an individual or render aid in an emergency; to recover debts owed to the United States; to respond to a violation or potential violation of the law; in response to a court order and/or discovery purposes related to litigation; or other authorized routine use when the disclosure is compatible with the purpose for which the records were compiled.
Effects of Nondisclosure: It is in your best interest to answer all of the questions. The U.S. Criminal Code, Title 18 U.S.C. 1001, provides that knowingly falsifying or concealing a material fact is a felony that may result in fines of up to $10,000 or 5 years in prison, or both. Deliberately and materially making false or fraudulent statements on this form will be grounds for not granting you a Backcountry/Wilderness Use Permit.
Information Regarding Disclosure of Your Social Security Number Under Public Law 93-579 Section 7(b): Your Social Security Number is not needed to complete this form.
Paperwork Reduction Act Statement
We are collecting this information subject to the Paperwork Reduction Act (44 U.S.C. 3501) and 36 CFR 1-7, 12 and 13 which authorize the National Park Service to require applicants to fill out this form to monitor resources and to protect visitors. This information is being collected to allow the park management to make value judgements necessary to enhance the safety and enjoyment of both the visitors and wildlife. All applicable parts of the form must be completed in order for your request to be considered. You are not required to respond to this or any other Federal agency-sponsored information collection unless it displays a currently valid OMB control number.
Estimated Burden Statement
Public Reporting burden for this form is estimated to average 8 minutes per response, including the time it takes for reviewing instructions, gathering and maintaining data, and completing and reviewing the form. Comments regarding this burden estimate or any aspect of this form should be sent to the Information Collection Clearance Officer, National Park Service, 12201 Sunrise Valley Dr. (MS-242), Reston, VA 20192.
Last updated: April 20, 2022