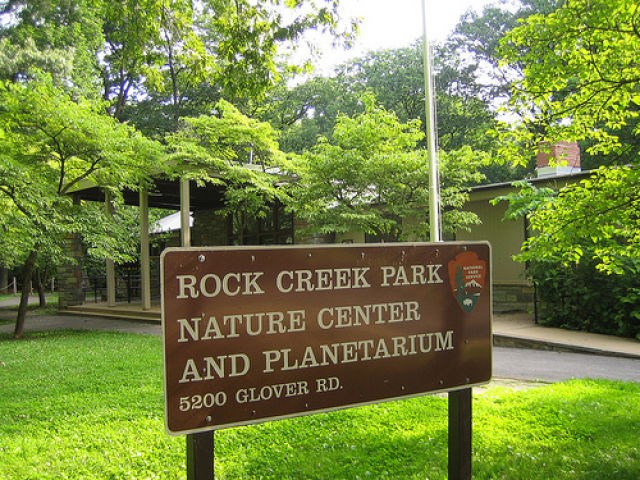 Plan Like a Park Ranger: Ten Tips for Visiting Rock Creek Park
Rock Creek might look cool and inviting on a hot summer day, but please remember to Stay Dry, Stay Safe!
Rock Creek contains high levels of E. coli, other bacteria, and algae that can be harmful to humans and pets. Learn more about how to
Stay Dry, Stay Safe!
Nothing
can be attached to a tree in Rock Creek Park! Many people don't realize that tying anything to a tree--like hammocks, slacklines, rope swings, etc.--can damage tree bark (the skin of the tree), the vascular system of trees (interrupting its food supply), and can impact the growth and development of younger trees (permanently bending or bowing them). Damage like this can injure or kill trees.
Learn more about why it's important to
Hug a Tree
!
Stay on official, designated trails. As visitors try to spread out, it can be tempting to use unofficial ('social') trails to get away. These paths are not part of Rock Creek Park's official trail system, which is maintained for your use.
Unofficial trails (known as social trails) fragment the forest, making them vulnerable to invasion by non-native plants. This can lead to the loss of trees, which support our health and provide critical habitat for wildlife.
The forests cool our city and clean the air – please help protect the forest so it can protect you. Please see this map of Rock Creek Park trails. Consider finding a trail that's new to you if your regular hikes tend to be crowded, or visit at a different time of day. Always check current conditions to see what is – and isn't open – in the park.

Learn more about how to Social distance--not social trails.
This one's for the dogs!
Rock Creek Park welcomes your leashed, furry friends and family! Discover what you can (and can't) do with your pet and follow the B.A.R.K. principles. They help keep your pet, you, other visitors, and the park safe.
Learn more > Yep, your pet can be a
B.A.R.K. Ranger
Let us know if your dog and you would like to serve as a good example for others and help educate other dog owners!
We know that each of us—rangers, volunteers, visitors, everyone—plays a vital role in protecting Rock Creek Park. Whether it's carrying out what we brought in (including our pooch's...well...you know), leaving the spots we visit as we found them, or staying on the trail, we're careful to respect these incredible places.
Learn more >
Seven principles to Leave No Trace
Leave the balloons, banners, and confetti at home and let Mother Nature do the decorating for your next event or family picnic. Balloons are harmful to park wildlife and confetti left on the ground creates unsightly litter. Enjoy the beauty of Rock Creek Park, and leave the decorations behind.
Fires must be kept off the ground and contained—either in a grill you bring from home or in one of the park's historic chimneys or grills. Do not cut down trees/branches or pick up dry wood or leaves for your fires, as you would be destroy habitat and possible food sources for wildlife in the park. Be sure to completely extinguish your fire before you leave and dispose of cold ash and coals in park trash or ash cans. Don't leave them on the ground where someone could be injured!
In the event of an emergency, call 9-1-1.

For picnic grove problems, car troubles, injured wildlife, or non-emergency safety concerns, call the United States Park Police. They can be reached 24-hours-a-day at 202-610-7500.
We nerded out over our own app—the NPS App--it's very cool. You can even access it offline if you plan ahead! The new NPS App offers tools to explore
Rock Creek Park
--interactive maps, tours, accessibility information, and more—and at 400+ other national parks.
Learn more >
One app
, every park at your fingertip