White Parlor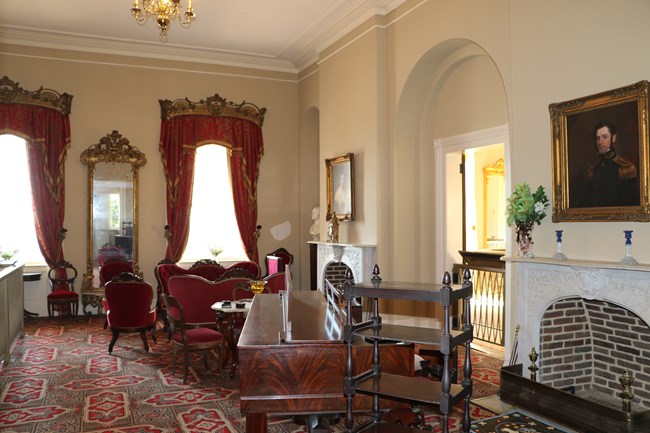 A Reminder of West Point
Robert E. Lee's long military career often kept him away from Arlington House. However, he assisted in caring for the property as Mr. Custis aged. Lee then managed the plantation after Custis' death. Robert and Mary Lee furnished this formal parlor in 1855. The décor reflects Lee's personal tastes. He originally purchased some of this red velvet furniture for his West Point superintendent's quarters. Lee also chose the wall color and designed the marble mantelpieces with leaf carvings to symbolize Arlington's oak forest.
"How I do want to see my home…O to be once more in Grandpa's arms, once more in the dear old house…" – Agnes Lee, Robert E. Lee's daughter, at West Point
Robert E. Lee served in the US Army for 32 years. His career ranged from overseeing engineering work on the Mississippi River to fighting in the Mexican-American War.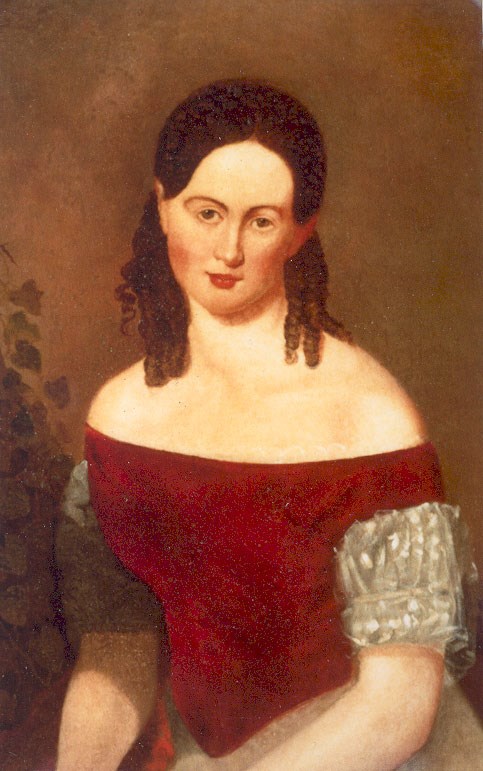 A House Sacrificed
Before the Union Army crossed the Potomac River in May 1861, the Lees fled their home. They saved most of the "Washington Treasury," including the bed where George Washington died, and their most valued possessions. As Mary Lee recalled, "There was little time to deliberate. The family plate so long treasured especially that portion in which my Father inherited from Mt. Vernon was the first secured, then our own."
A Union soldier stole the only known portrait of the Lees' daughter, Annie, (pictured right) who died during the war. The soldier's descendants later returned it to Arlington. Emma Gray Syphax—once enslaved at Arlington—identified the figure as Annie.
A House Overrun by War
In 1861 thousands of Union troops occupied Arlington and fortified the area surrounding the estate. Officers and their families lived in the mansion, turning it into a military headquarters. Although officers made some efforts to protect the house, soldiers looted the property. Some saw the damage as retribution for Lee's role in the Confederacy.
"The military headquarters of McDowell's division was in the Arlington House, which was open to the public and hundreds tramped at will through its apartments."–Rufus R. Dawes, 6th Wisconsin Volunteers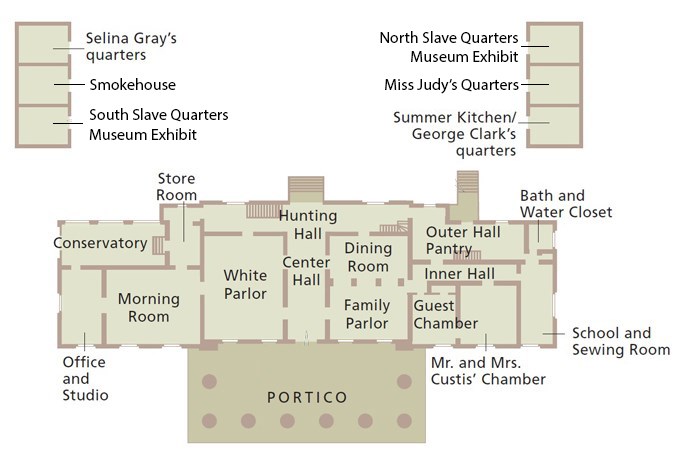 Last updated: June 17, 2021