Tidepooling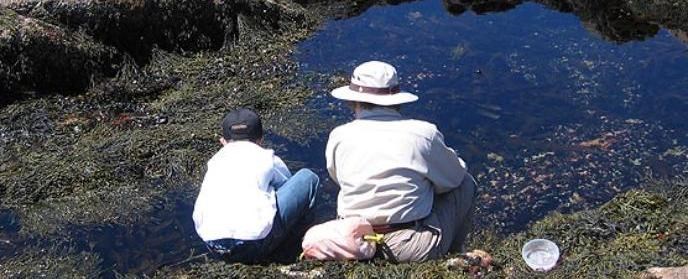 Where

Self Guided:

Bar Island Sand Bar: Great for young children. Accessible off Bridge street for about 1.5 hours on either side of low tide.
Ship Harbor and Wonderland: West side of Mount Desert Island
Ranger Programs: Check the Schedule of Events for times.

Life Between the Tides: June, September, October at Ship Harbor
Beyond the Beach: July and August at Sand Beach
Before you head out to the intertidal zone on your own, check online for a tide chart. The best times for tidepooling are the extreme low tides of the full and new moons ("spring" tides).
Remember these marine animals are not indestructible. Our careless handling and footsteps can do damage that the changing tides cannot. When you visit the intertidal zone, keep in mind these tips for your safety and for the protection of marine life:
Do not wade or sit in tidepools.
Rocks and algae are slippery. Watch your step.
Never turn your back on the ocean: rogue waves can occur at any time.
Wear suitable clothing and closed-toe shoes.
Sea creatures live everywhere. Be careful where you place your feet.
If you move animals or rocks, return them to the same spot.
Do not pry animals from rocks; you may injure them in the process.
Re-cover animals you find under rocks or seaweed so they won't dry out.
All living creatures are protected in the park. Take only pictures.
Last updated: December 4, 2014