Hiking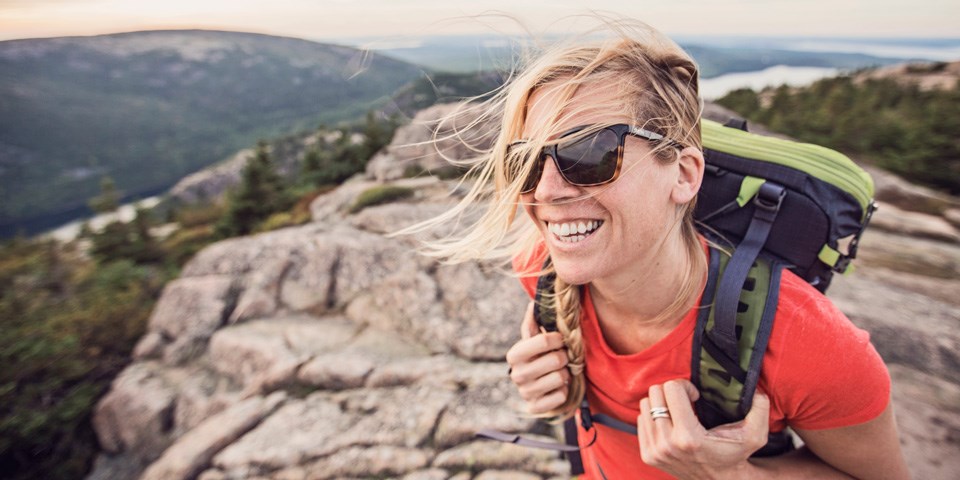 Explore Hikes
Hiking opportunities at Acadia are seemingly endless on more than 150 miles of trails. Immerse yourself in forests, walk along rocky coastlines, or stand on exposed mountain tops — sometimes all in one hike.

Don't be fooled by the height of the park's mountains; challenging hikes climb from sea level to summits. If a leisurely stroll along the coast or around a lake is more your pace, there are plenty of easier, more level options. Many trails can also be combined with walks on the carriage roads and dirt fire roads.

Consult a topographic map before hiking. Do not rely on the park handout map. To buy trail maps, visit the bookstore.

Use the guide below to search for hikes by environment, route, location, and public transportation options.
---
By Environment
Hiking trails at Acadia pass through a variety of environments. Some stay in forested areas or along the coastline, while others outline lakes, rise through the trees, and walk along cliffs to mountain tops. You will even find some hikes fall into all three categories.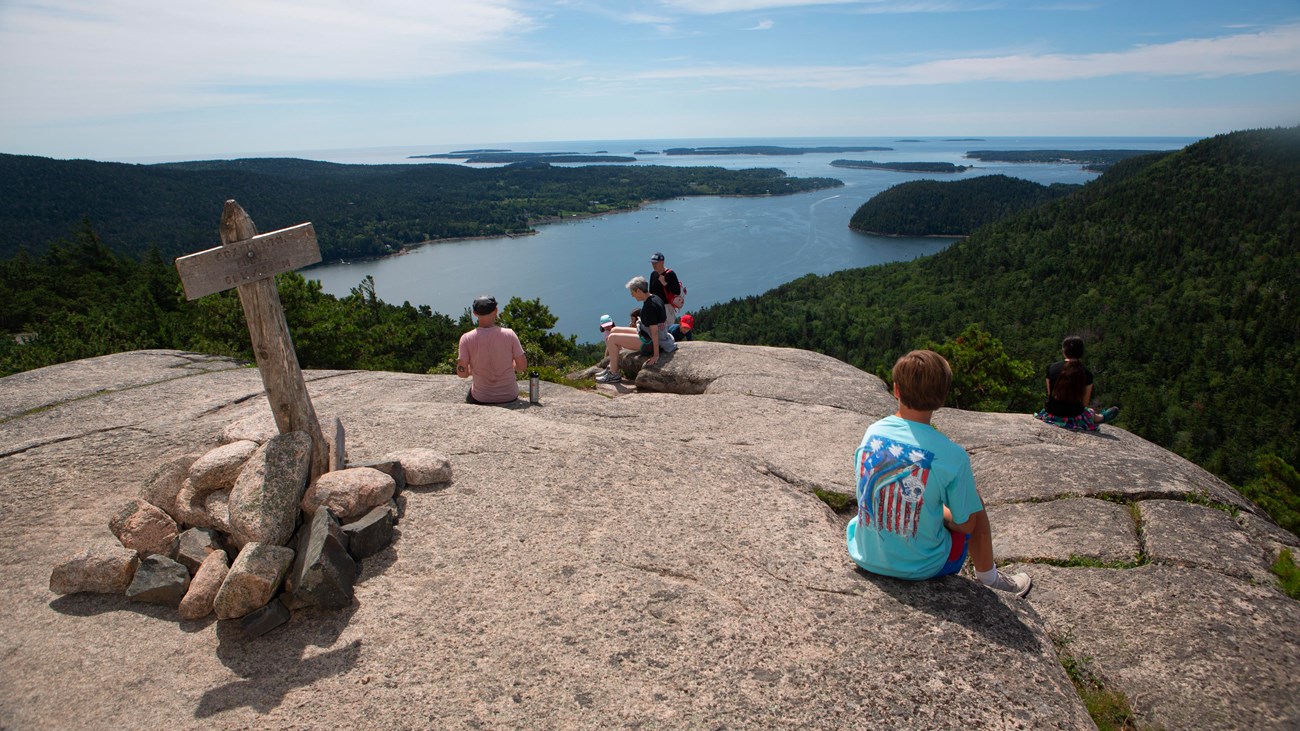 Summit Hikes
Want to stand on top of Acadia's mountains? Check out hikes with lots of elevation gain, stairs, ladders, and more.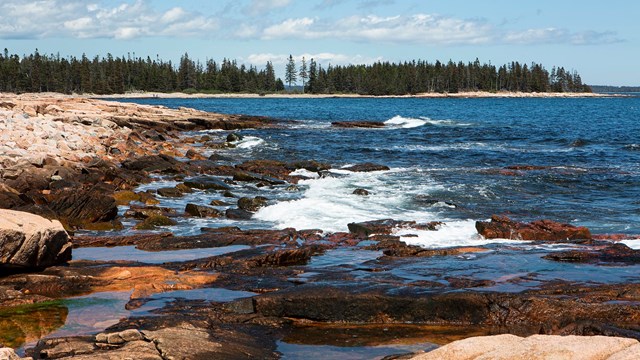 Coastal Hikes
Learn about coastal hiking opportunities around the park.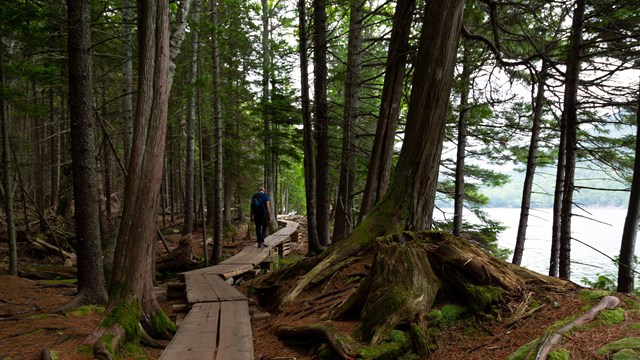 Lake and Forest Hikes
Looking for more tree coverage and views of lakes and ponds? See hikes that pass by freshwater or weave through the forest.
By Route
Enjoy seeing a trail twice? Check out a few out-and-back options. Do you want different views the whole way? Luckily, most hikes are loops or can be turned into them by linking together various trails. Some are even recommended as loops for safety based on steepness, iron rungs and ladders, or cliffs.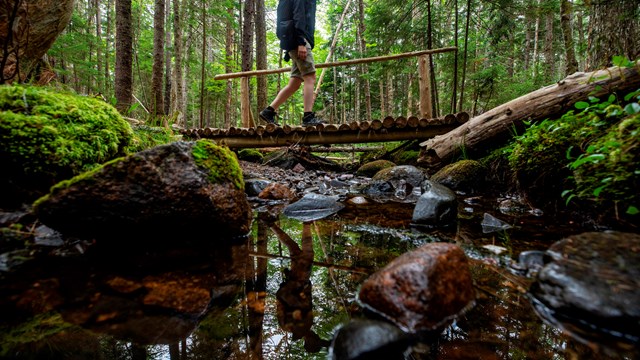 Loops and Lollipops
Many hikes at Acadia are loops or can be linked together to create one. Others form a "lollipop" shape.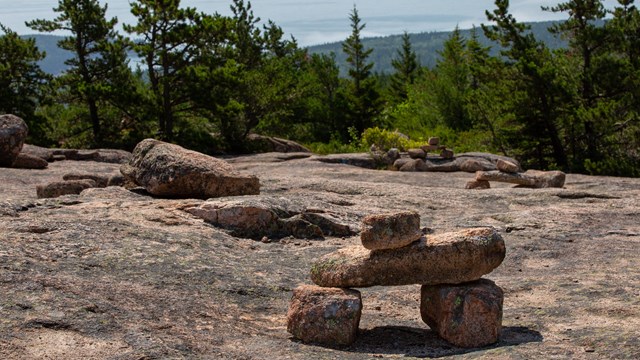 Out and Back
Return the same way you came on these out and back trails.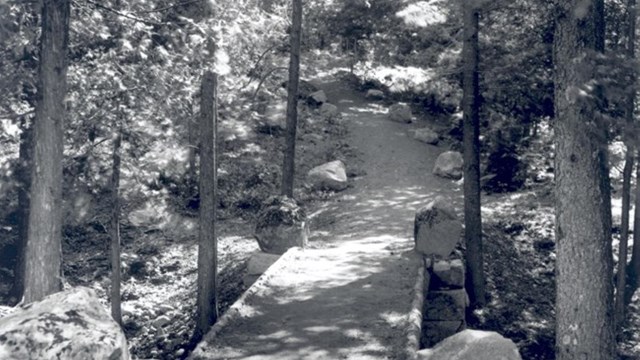 Historic Routes
Some routes in the park are part of a impressive historic trail network that stretches across Mount Desert Island.
By Location
Check out hiking options based on what parts of the park you decide to visit.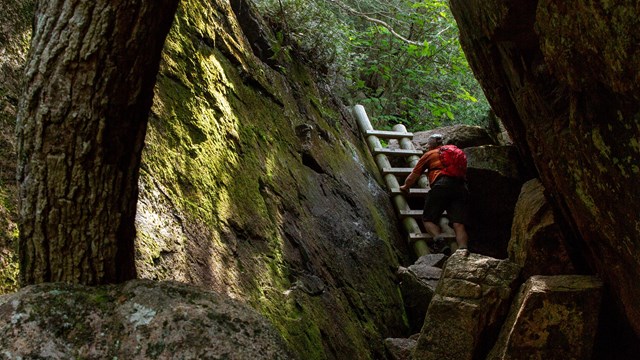 Mount Desert Island Hikes
Check out all the hikes at Acadia on Mount Desert Island.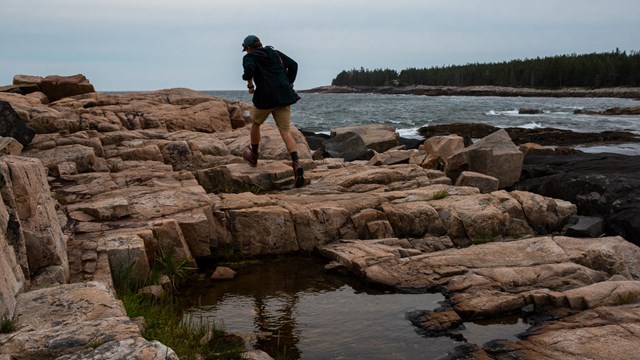 Schoodic Peninsula Trails
Check out the hiking trails and bike paths on Schoodic Peninsula.
By Public Transportation
Leave your car behind and ride the fare-free Island Explorer to a number of trailheads. This helps reduce congestion on park roads and in parking areas. Familiar with the park already? Create longer hikes using different drop off and pick up locations. Always check bus routes and schedules before trip-planning.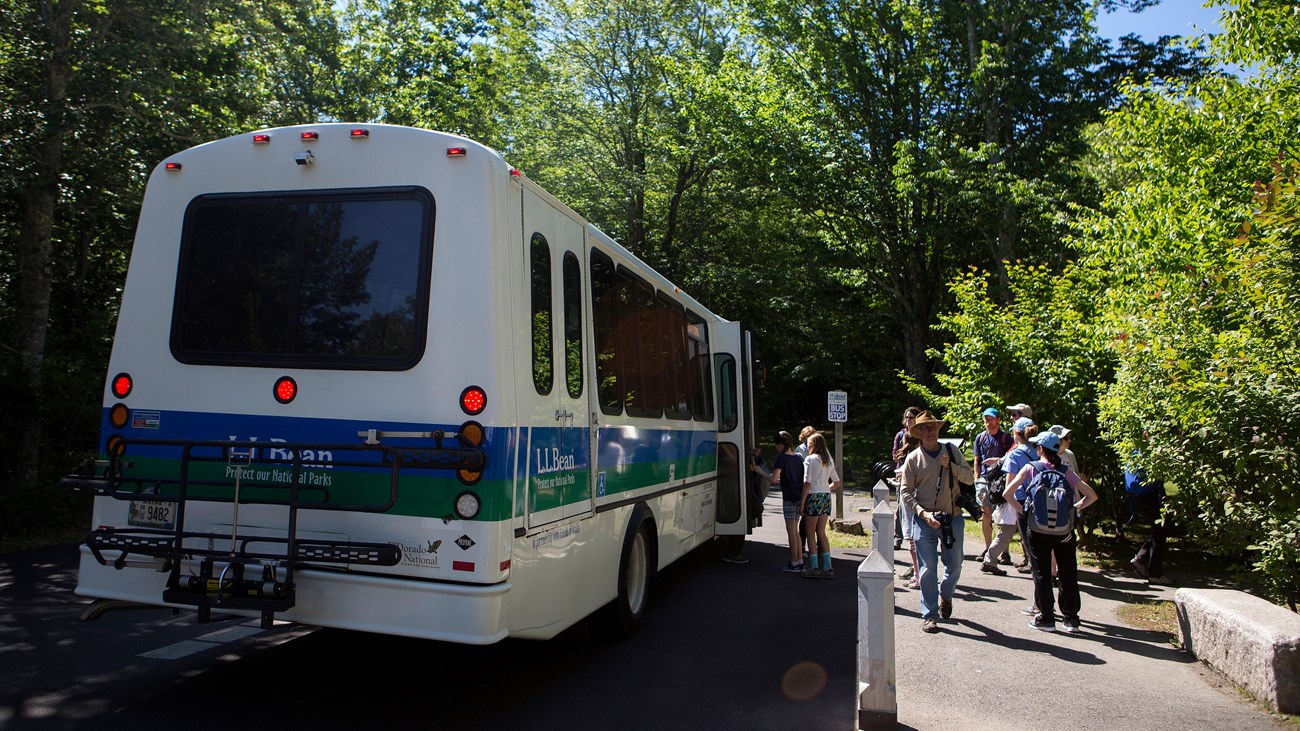 Hikes via Island Explorer
No car, no problem! Take the fare-free Island Explorer to various trailheads across the park.
Hiking Rules and Regulations
Trail Closures are posted online and at park visitor centers.
Federal law requires that all pets must be kept on a leash no longer than 6 feet (1.8 m). Pets are not permitted on ladder trails.
Do not feed or disturb wildlife. If your presence changes the behavior of any wild animal, you are too close.
Bicycles and horses are not allowed on hiking trails.
There is no backcountry camping. Fires are permitted only in designated areas.
Swimming, wading, and pets are prohibited in public water supplies. Please respect posted regulations at lakes and ponds.
Be careful when hiking near cliff edges.
Carry water, at least 1 L (over 32 oz), and more on warmer days.
Wear sturdy hiking shoes.
Follow blue trail blazes and use a topographic map.
Do not modify or build new cairns.
Know the difficulty level of the trail and your physical abilities and limitations.
To buy trail maps, please visit the bookstore.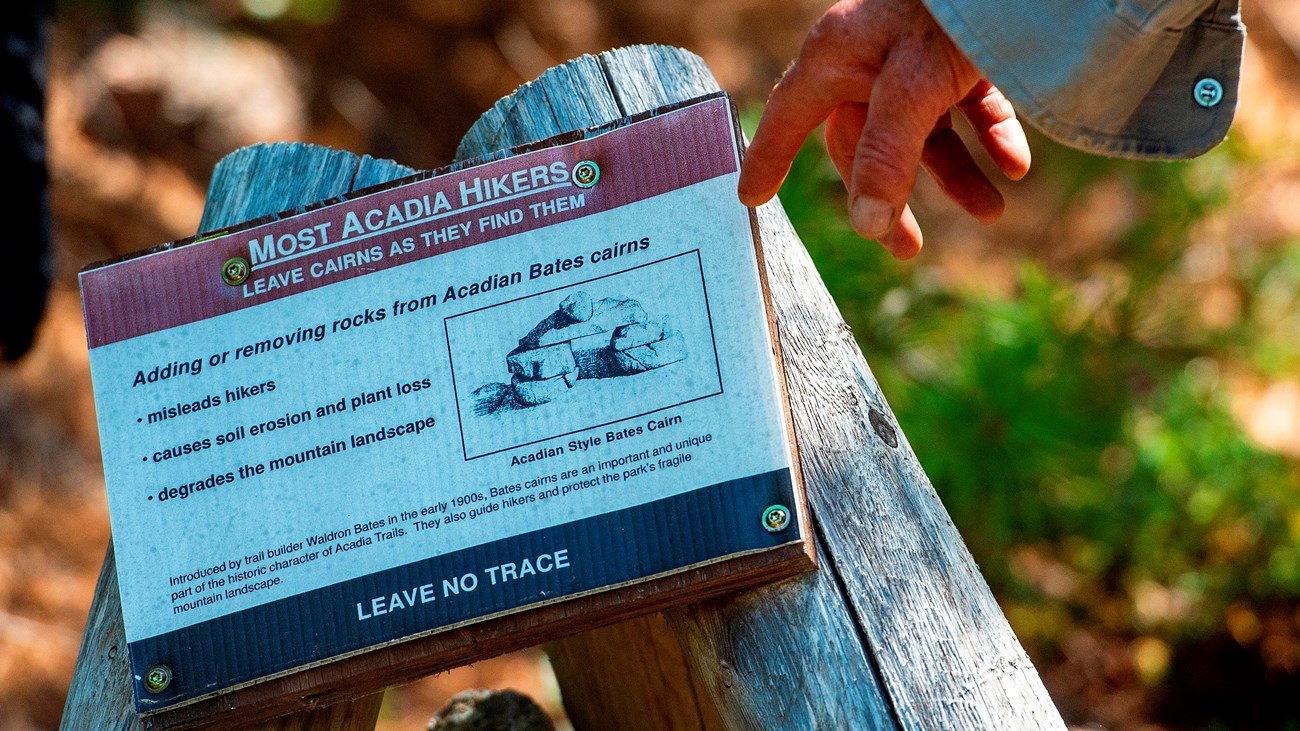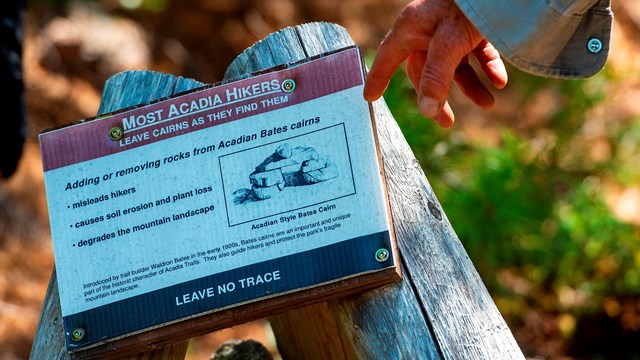 Leave No Trace
Acadia National Park is committed to promoting Leave No Trace and encouraging visitors to minimize their impact during their visit.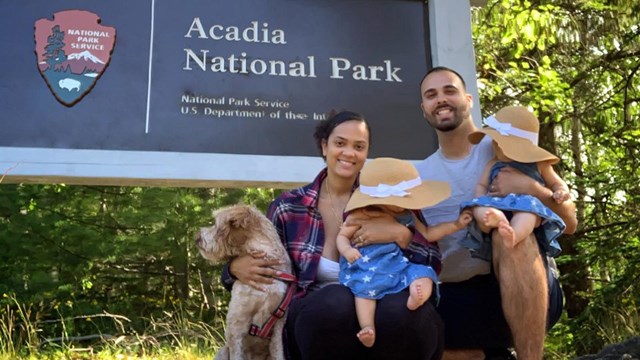 Plan Your Visit
Details of your visit start to come together here.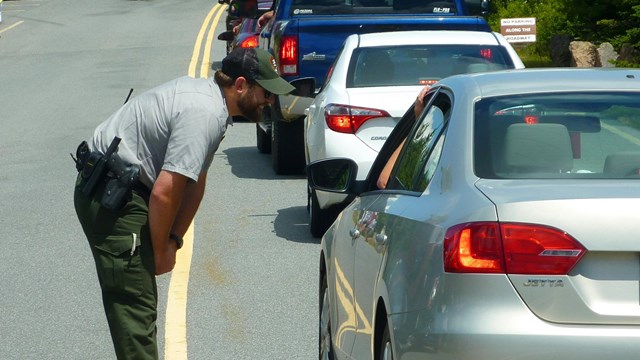 Park Rules & Safety Advisories
Are visitors allowed to harvest mushrooms, or fly a drone in Acadia? Check out highlights of the park's important Rules and Regulations.


Last updated: September 8, 2022