Fall Programs
Requests for Fall 2019 ranger programs are currently being accepted.
To schedule your class to come to the park for a field trip or to have a ranger come to your school, please fill out our Field Trip and School Program Request form.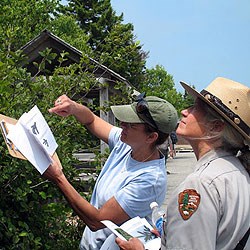 Fall Field Trip Programs - September & October
Kindergarten
9 am–11:30 am
Join a ranger for a fun-filled walk through a coastal forest to learn about the connections between the energy of the sun and the resources of Acadia.
1st Grade
9 am–11:30 am
Explore woodland areas near the sea. Students will have the opportunity to be Junior Scientists by measuring, counting, and sorting resources along the trail.
2nd Grade
9 am–11:30 am
Hike forest trails with scenic ocean views. Students will search, sketch and use maps to discover how various landforms in Acadia have been shaped over time.
3rd Grade
9 am–noon
Students use their knowledge of park jobs while doing activities that fulfill their Junior Ranger requirements. After taking a pledge to explore, learn about, and protect national parks, all children become official Acadia Junior Rangers! (See the pre-requisite "What Do Rangers Do?" classroom program below.)
4th Grade
9 am–noon
This hands-on program takes place at Sand Beach and is an exploration of geological processes such as weathering and erosion. Interpretation of geologic and topographic maps is included.
5th Grade
9 am–12:30 pm
Student citizen scientists investigate the habits and habitats of dragonfly nymphs and salamanders, two animal groups indicative of environmental health. Data is collected in the field while learning about food webs and the impact of toxins in the ecosystem.
7th Grade
9 am–1 pm
While visiting the trails around Sieur de Monts and the new exhibit on climate change at the Nature Center, students will explore the topic of human change in the environment. We will look for evidence of past change, make present scientific observations, and discuss how these can impact our future actions.
6th–8th Grade
9 am–1 pm
While hiking around the Great Head peninsula, students learn to read the landscape as they unearth the story of Acadia's geologic past. See evidence of the local rock cycle, glacial features, and plate tectonics. Warning: sections of the hiking trail are fairly steep.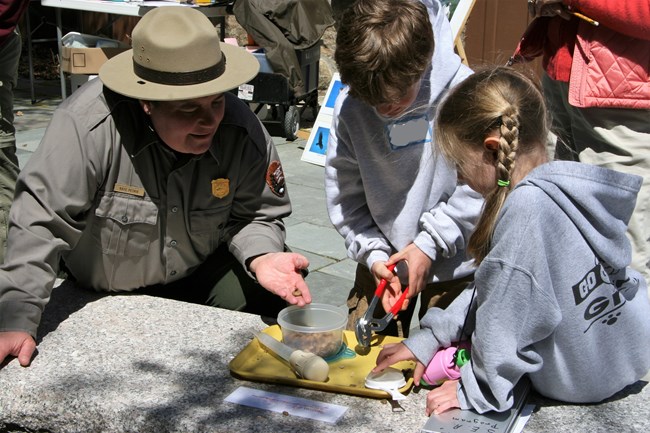 Fall Classroom Programs
Please note, we are limited to visiting schools with a travel time of 2 hours or less.






1st–2nd Grade
60 minutes
Learn how Acadia's habitats provide animals with what they need to survive. This interactive hands-on "show and tell" includes the use of puppets, imagery, skulls, shells, and more!
3rd Grade
60 minutes
Prerequisite for Junior Ranger Day field trip. Students learn about the mission of the National Park Service and the different jobs needed to protect our national parks. This is part of the requirements to become an official Acadia Junior Ranger, along with workbook activities and Junior Ranger Day at the park.
4th–5th Grade
90 minutes
Bats are facing many stresses with the recent spread of the bat disease called white-nose syndrome. Learn about these unique animals through engaging hands-on activities as we debunk myths, review adaptations, and examine their importance. Students collect data during a mock bat research activity and discuss how rangers and students can help protect bats.
5th–7th Grade
90 minutes
This hands-on program introduces the diversity and values of our national parks. Through a small group activity, artifacts, and class presentations, students discover the rich natural and cultural resources protected by more than 400 park sites. They learn ways to help safeguard America's special places.
Last updated: August 26, 2019