Field Trips
Ecosystem Explorers (2nd Grade)
Grade Level:

Lower Elementary: Pre-Kindergarten through Second Grade

Subject:

Math,Science

State Standards:

NGSS 2-ESS2-2, NGSS 2-ESS1-1
Background
Based around Next Generation Science Standards, this series of programs invites students to have a sensory experience on one of Acadia's coastal trails. The three programs are offered in the fall season and explore different topics by grade. 

Sun Seekers: Kindergarteners explore the earth's relationship with the sun and the sun's energy. Students explore the suns effect on weather and how that impacts a habitat. Students count and classify objects and colors while participating in a variety of movement activities. 

Nature's Counters and Classifiers: First grade students will hike a short coastal trail, while using tally marks, counting and classifying objects based on attributes. Students will compare and contrast objects based on colors, shapes, and sizes in a way similar to how scientists identify features. 

Earth, Sea, and Sky: Second graders will hike on a coastal trail and identify key landscape features such as island, harbor, and coastline. While learning about the land they will find evidence for quick and slow changes to the landscape and the natural processes that allow these changes to occur. 

An exploratory hike is an essential part of each program. We hike along the ocean coast, observe the waves crashing, and seek shelter in the spruce fir forest. While observing the natural world there is no telling what the group will find!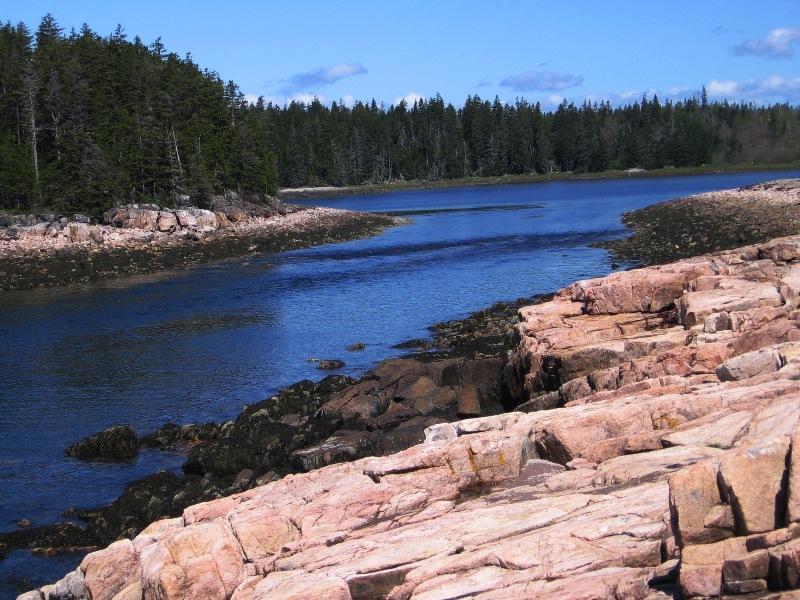 We are looking forward to your visit to Acadia National Park which will provide your students with a special opportunity to hike along a portion of a nature trail and learn about the earth's landforms and the processes that shaped them. This trail is considered easy overall; however, some of the trail has very rugged rocky uneven areas. It is around 1.2 miles long.
Note that students will NOT be in the water/mud/tidepool areas during this program.
Plan a restroom break just before departing school. If you have any questions about the program in advance please call the education office at 288-8823, or 288-8825 on the day of the program. If you will be more than 15 minutes late, please call the Visitor Center at 288-8832 so that they can contact the ranger by radio.
 IMPORTANT NOTE! This program takes place along a nature trail. There is only one vault/pit toilet here (and no water fountain). You MUST inform Lead Ranger Michael Marion before your field trip if you will choose Option 1 or Option 2 below. Option 2 allows for a bathroom break with more facilities at a nearby picnic area.
OPTION 1: Meet at trailhead (best for groups w/ less than ~12 participants and/or are very close by)
Meet your rangers at 9:00am at the trailhead parking area. Rangers will be there to help manage parking. We will welcome the group, have a bathroom break (note there is only one toilet), and then begin the program. Remember that there's not a water fountain here.
9:00      Welcome and bathroom break at trailhead
9:15      Hike trail. There will be a snack break during the program.
10:45   Bathroom Break
11:00   Depart trail
OPTION 2: Meet at Seawall Picnic Area for a pre-program bathroom break (best for groups with more than ~12 participants)
Meet your rangers at 9:00am at Seawall Picnic Area for a welcome and bathroom break, as there are multiple facilities here. Then, rangers will escort the bus to the trailhead (~5 minute drive) for the program. After the program, groups can drive back to the Seawall Picnic Area for a bathroom break if they choose to. Remember there's only 1 toilet at the trail.
9:00      Meet Rangers at Seawall Picnic Area for welcome and bathroom break. Then drive to trail.
9:30      Hike the trail. There will be a snack break during the program.
11:00   Farewell to rangers and depart. Drive to Seawall Picnic Area for bathroom break if needed.
11:30   Depart Seawall Picnic Area or stay and eat lunch, if applicable.
Plan to Bring
Chaperones

: Plan early! Acadia requires a chaperone for every ten students. Extra chaperones are welcome.

Food

: A water fountain is available at Seawall Picnic Area, but not at the program site. Also, there will be no food or drinks to purchase. Each student needs to bring a snack and a re-sealable drink. Although a lunch break will not be included in the program, you are welcome to plan to eat your bag lunches at Seawall Picnic Area before heading back to school.

Clothing

: Wear layered outdoor clothing to accommodate changing weather conditions. Supportive shoes are essential—no sandals or flip-flops. It's best to wear pants instead of shorts for extra tick protection.

Nametags:

Students and adults need name tags. A piece of masking tape with the name in marker is sufficient.

Signed photo release forms:

Please send photo releases home with students for parent signatures.
Teachers' Responsibilities
Prepare students for the program by utilizing suggested classroom activities or your own.

Adherence to school procedures such as permission slips, insurance, transportation, etc.

Recruit chaperones and inform them of their responsibilities. Please photocopy and distribute the chaperone handout.

Prepare students to follow Leave No Trace practices:

Stay on trails if possible.

Respect, listen, and use quiet voices.

Leave all natural objects. Take trash with you. (You may want to bring a trash bag.)

Supervise students and help them stay focused while on the program.

Notify trip participants about the recommendation to check for ticks after visiting the park. Tick numbers here have risen in recent years.

Ensuring that safe practices are followed throughout
Program Goals:
To provide an opportunity for students to connect to the resources of Acadia through sensory exploration and discovery

To increase students' understanding of landforms and the natural forces that help shape them

To increase students' understanding of weathering and erosion

To foster a sense of respect and stewardship for Acadia and the environment
Program Objectives:
Students will be able to:
Identify several landforms.

Describe one way the earth's surface may change slowly or quickly.

Identify forms of weathering and erosion

Sketch different landforms and bodies of water.
Learning Standards:
Next Generation Science Standards:
Structures and Properties of Matter; Earth's Systems: Processes that Shape the Earth
2-PS1-1 Plan and conduct an investigation to describe and classify different kinds of materials by their observable properties
2-PS1-3 Make observations to construct an evidence-based account of how and object made of a small set of pieces can be disassembled and made into a new object.
2-PS1-4 Construct an argument with evidence that some changes caused by heating or cooling can be reversed and some cannot
2-ESS1-1 Use information from several sources to provide evidence that earth events can occur quickly and slowly
2-ESS2-1 Compare multiple solutions designed to slow or prevent wind or water from changing the shape of the land
2-ESS2-2 Develop a model to represent the shapes and kinds of land and bodies of water in an area.
2-ESS2-3 Obtain information to identify where water is found on earth and that it can be solid or liquid.
Common Core English Language Arts Standards: Speaking and Listening (Comprehension and Collaboration)
CCSS.ELA-LITERACY.SL.2.1 Participate in collaborative conversations with diverse partners about grade 2 topics and texts with peers and adults in small and larger groups.
CCSS.ELA-LITERACY.SL.2.3 Ask and answer questions in order to clarify comprehension, gather additional information, or deepen understanding of topic or issue.
Materials
Last updated: April 4, 2019