Field Trips
Sedimentary Sleuths (4th Grade)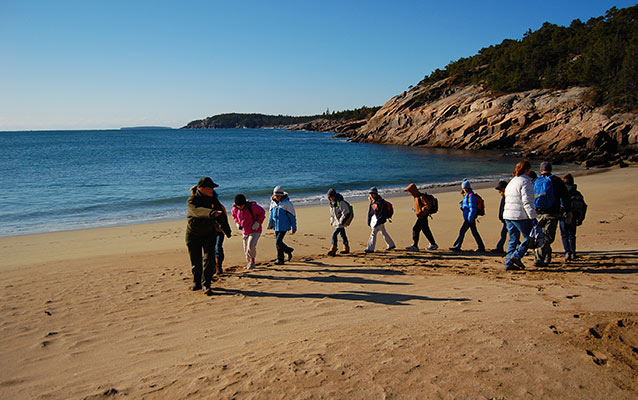 Description
Activities in this three hour program are organized into four stations. At Station One students conduct a sand magnification weathering investigation. They share their observations in a group brainstorming session on the possible sources for sand. Each student is given a journal to record their thoughts and observations. They learn about physical and chemical weathering of shells through a simple experiment. Next, students participate in an ocean erosion relay race to see how water is moving the sand from the sea, building up a beach. This leads to a discussion of wave energy and its role in depositing sand. The role of wave energy and the impact of storms are demonstrated by the ranger with a "beach in a jar" activity. This concept is further illustrated when students dig for buried "treasure".
At Station Two students work in small teams to build a model of a topographical map then compare their map to the surrounding landscape. Boys and girls act out how sand moves in the wind as they do a wind erosion relay at Station Three. The class hikes into the nearby forest to examine types of sediment other than sand. In the Sediment Size Line Up activity classmates work together to compare the relative sizes of sediment categories. The ranger reinforces this with a sediment sieve to separate out the different sizes of sediment in a soil sample.
To reach Station Four the group hikes up a challenging section of the Great Head Trail. On a granite ledge they are treated to a spectacular view of Sand Beach, the Beehive and beyond. What does one notice from this new perspective of the landscape? What could have sculpted out this big flat shelf, or valley, of land that deposited sand made into a beach? What created the rounded shapes of the mountains and valleys? Students use clay and ice to replicate and understand the glacial evidence before them.
Students leave Acadia with first-hand knowledge of how weathering and erosion have shaped their surroundings and how we can use maps to describe these places. They will have tools to solve the mysteries of how other landscapes in Acadia and at home were shaped over time.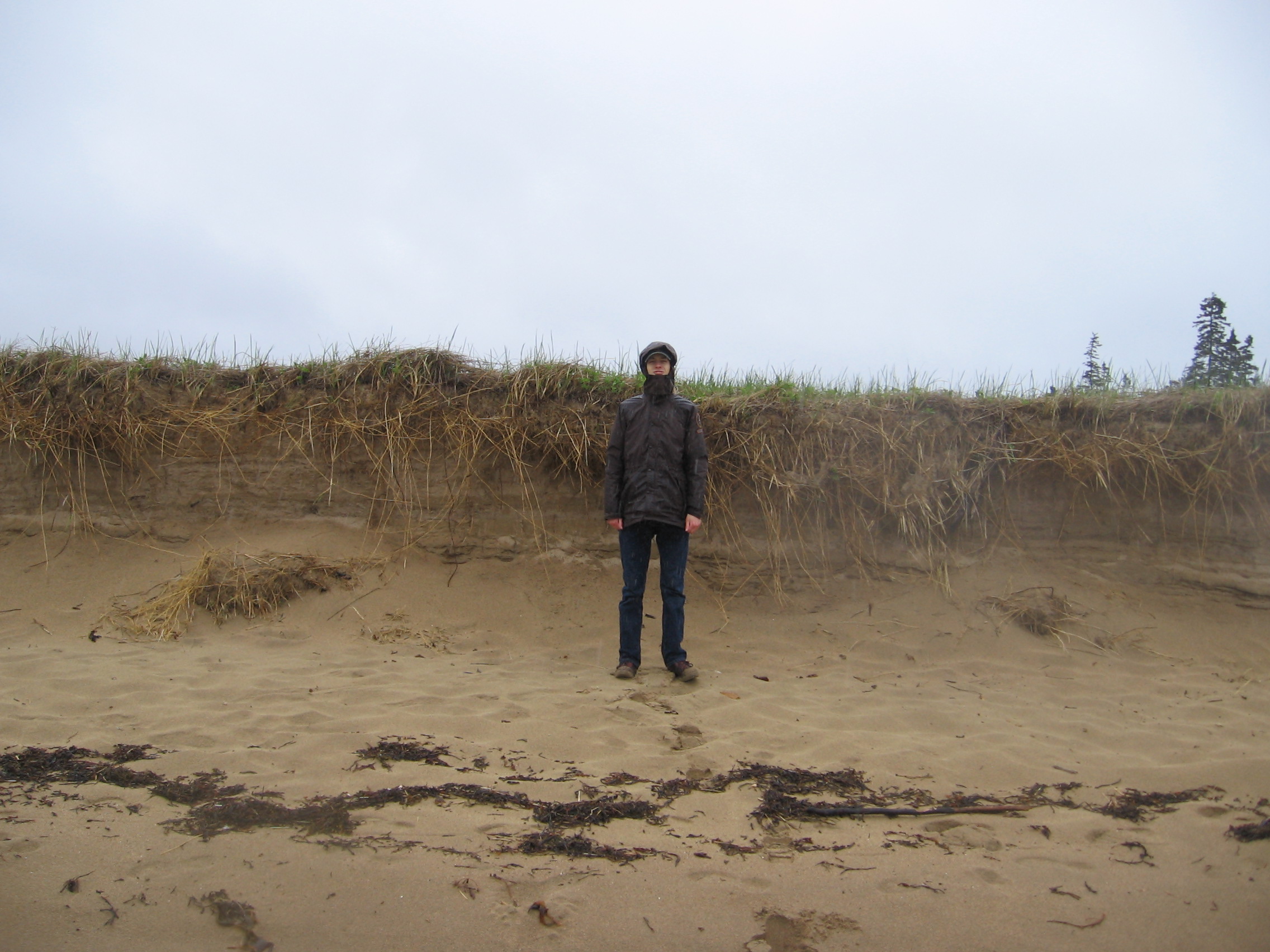 We are looking forward to your visit to Acadia National Park, which will provide your students with a special opportunity to explore weathering, erosion, and mapping on and around Sand Beach.

Although the program activities take place mostly on the beach itself, there is also a portion of the program that includes a short hike up a rocky and uneven section of trail that is more strenuous.
Please meet your ranger at 9:00 AM on Ocean Drive (on the one-way section of the Park Loop Road). Your ranger will actually meet your bus out on the Park Loop Road just before the parking area; they will escort the bus to the appropriate parking spot along the road and then walk the group down to the bathrooms. The program concludes at 12:00 PM. Plan a bathroom break just before departing school. If you have any questions about the program in advance, please call the education office at 288-8823, or 288-8825 on the day of the program. If you will be more than 15 minutes late, please call the Visitor Center at 288-8832 so that they can contact the ranger by radio.
Program Schedule

(timing and sequence may vary)
9:00    Welcome, Coordinate with Ranger, Introduction
9:15    Sand Magnification Weathering Investigation, Ocean Erosion Relay, Sediment Treasure
9:45    Snack
10:00  Build a Topography Map
10:30  Wind Erosion Relay, Sediment Size Line-Up and Sieve
11:00  Short hike and Glacier Sculpting
11:30  Conclusion and walk back to parking area
12:00  Depart for school or stay in Park to eat lunch
Plan to Bring
Chaperones:

Plan early! Acadia requires a chaperone for every ten students. Extra chaperones are welcome.

Please communicate to all chaperones the description of the terrain beforehand.

Food:

No food is available at Sand Beach. Each student needs to bring a snack and a water bottle or re-sealable drink (no cans or glass bottles). There is a water fountain available at the beginning of the program. Although a lunch break will not be included in the program, you are welcome to plan to eat bag lunches afterwards before heading back to school.

Clothing:

Wear layered outdoor clothing to accommodate changing weather conditions. Supportive shoes are essential—no sandals or flip-flops. Students do not go into the ocean during this program. Shoes must remain on.

Nametags:

Students and adults need name tags. A piece of masking tape with name in marker is sufficient.

Signed photo release forms:

Please send photo releases home with students for parent signatures.

Educational Fee Waiver:

To access Sand Beach for your program, you will need to show an approved educational fee waiver at the Entrance Station. The waiver form for your trip will be prepared by the park's Fee Management Office and e-mailed to you in advance of your trip by the Education Office.
Teachers' Responsibilities
Prepare students

for the program by utilizing the suggested classroom activity.

Adherence to school procedures

such as permission slips, insurance, transportation, etc.

Recruit chaperones

and inform them of their responsibilities. Please photocopy and distribute the chaperone handout.

Prepare students to follow Leave No Trace practices:

Stay on trails if possible.

Respect, listen, and use quiet voices.

Leave natural objects. Take trash with you. (You may want to bring a trash bag.)

Supervise students

and help them stay focused while on the program.

Notify trip participants

about the recommendation to check for ticks after visiting the park. Tick numbers here have risen in recent years.

Ensuring that safe practices are followed throughout.
Program Goals:
To provide an opportunity for students to connect to the resources of Acadia through sensory exploration & discovery.

To help students gain a first-hand understanding of how weathering and erosion have shaped Acadia.

To introduce the concept of topographic maps and their importance.

To foster a sense of respect and stewardship for Acadia and the environment.
Program Objectives:
Students will be able to:
Define weathering and erosion.

Name two different ways weathering can occur.

Describe how the energy of waves affects the sand on the beach.

Explain how wind can move sand particles around.

Describe how a topographic map works.

Name three different types of sediment.

Describe two ways that glaciers affect the landscape.

Compare and contrast different methods of erosion.

Give one reason why resources are protected by Acadia National Park.
Learning Standards:
From the Next Generation Science Standards:
Earth's Systems: Processes that Shape the Earth
4-ESS1-1. Identify evidence from patterns in rock formations and fossils in rock layers to support an explanation for changes in a landscape over time.
4-ESS2-1. Make observations and/or measurements to provide evidence of the effects of weathering or the rate of erosion by water, ice, wind, or vegetation.
ESS2-2. Analyze and interpret data from maps to describe patterns of Earth's features.
From the Common Core:
Informational Text:
CCSS.ELA-Literacy.RI.4.4    Determine the meaning of general academic and domain-specific words or phrases in a text relevant to a grade 4 topic or subject area.
Contact
Acadia Education Office
207-288-8822 or 8823
Details
Subject:

Chemistry, Conservation, Earth Science, Geography, Geology, Glaciers, Landscapes

National/State Standards:

Next Generation Science Standards:
Earth Systems - Processes that Shape the Earth
4-ESS1-1.
4-ESS2-2.

Keywords:

erosion, topography, topographic, glaciers, weathering, geology, sediment

type:

Field Trips