Distance Learning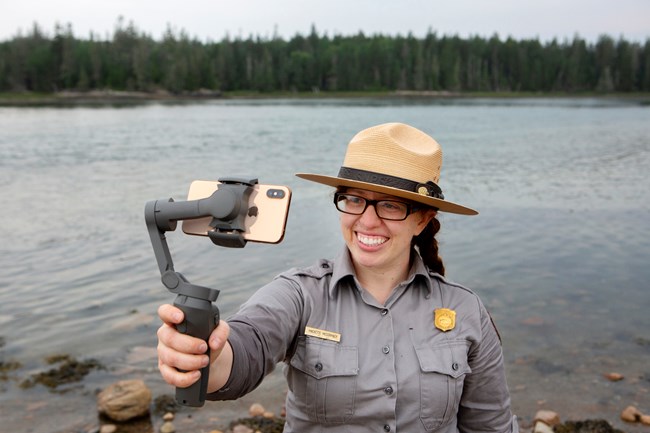 Ranger-Led Distance Learning Programs
Our virtual program season has ended.

Please check back in November 2023 for more distance learning offerings from Acadia.

Acadia National Park offers free distance learning programs for classrooms and groups of all ages. These interactive programs are conducted live from the park through your preferred meeting platform. Choose from the topics below: NPS Mission & History, Weather & Climate, Birds, Marine Science, Ecology, Earth Science & Physics.
To request a program, please e-mail us and provide the following information in the "Your Message" box:
School Name
Grade(s) the program is requested for
Number of students attending
The title(s) of the program(s) you are requesting
NPS Mission & Local History Programs
Grades K-3: What do you Notice Videos?
On Your Own or With a Ranger!
These ~1-minute non-narrated video clips of Acadia's resources are designed to be shared with your students for them to generate "I Notice, I Wonder, and I'm Reminded Of" statements. The videos are available on our website, and each include a 1-page "Fast Fact" reference page. Student observations, questions, and connections can be shared with the class, and teachers can utilize the "Fast Facts" to expand on the students' ideas. (Overall length of lesson determined by teacher.)
Grades 3-12: Acadia's Top 10! (Overview of Acadia Slideshow)
What makes Acadia… Acadia? Invite a ranger to your virtual space to present a slideshow showcasing the resources protected here. This overview acts as a great introduction to the Park! (45 minutes)
Grades 3-4: What Do Rangers Do?
Investigate some of the many jobs that rangers do in national parks and learn what it takes to keep Acadia running. "What Do Rangers Do?" is the prerequisite for completing the Junior Ranger Program and earning a Junior Ranger badge. Request your copy of our Junior Ranger Book ahead of time so you can choose the pages you want your students to work on. Discuss the program conclusion with your ranger and decide whether you want a badge ceremony as part of the conclusion. (45 minutes)
Grades 3-6: Interview with a Wildland Firefighter
Controlled wildland fires are often used in managing parks and forests. A National Park Service firefighter-ranger will give students a tour of the specialized clothing, equipment, and tools which allows firefighters to do their job safely. Students should prepare questions in advance for interviewing the ranger. (45 minutes)
Grades 4-8: Carroll Homestead
Learn about the daily life of Mount Desert Island settlers in the mid-1800s. Join a ranger for a tour of the Carroll Homestead, examine historic tools and toys, and learn about children's chores and responsibilities. This program serves as a pre-fieldtrip primer for local students or as a stand-alone program for groups further away. (50 minutes)
Grades 3-5: Carriage Road ABCs: Architects, Bridges, and Carriages!
Design and draw your own carriage road as we explore the stories of those who helped engineer, build, and maintain the historic carriage roads and bridges of Acadia. (45 minutes - 1 hour)
Grades 9-12: Career Day
Interview a ranger about a variety of National Park Service careers. Explore career options in science, law enforcement, search & rescue, teaching, graphics editing, management, accounting, history, cultural lands management, motor vehicle repair, heavy equipment operation, several trades, public policy, and more! Program is tailored to each school's needs. (45 minutes)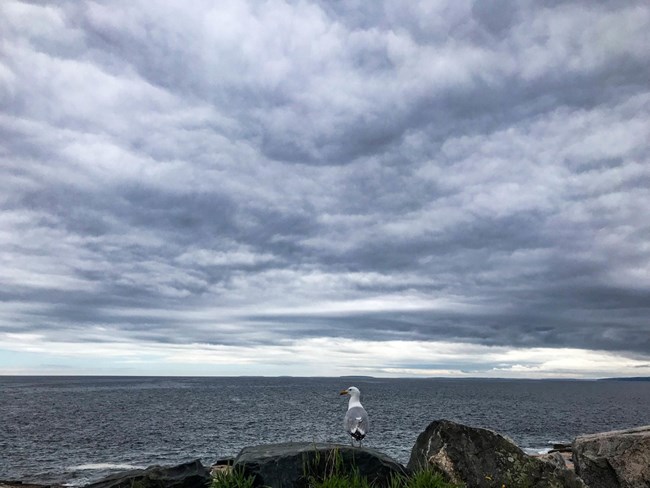 Weather & Climate Change Programs
Grades K-2: Weather Watchers
Do you like looking at the clouds? What's your favorite season? How do we plan for a snowy day? Let's become weather watchers and explore why it's important to learn about different types of weather. (30 - 45 minutes)
Grades 3-5: Adventures in Weather and Climate
Bring your weather-wise observations along for a program investigating how we measure weather and why it matters. Explore the tools used and compare weather in different national park climates. (45 minutes)
During the winter many people enjoy the snow that comes with it. Do you like to build snowmen or go sledding? Maybe you like to sit inside and watch the landscape change into a winter wonderland. Whichever way you enjoy snow, you know that it has many qualities that make it a unique part of winter. Join us as we unravel the mysteries of snow and learn how to make our own snowflake cutout. Please have paper, scissors, and adult supervision for the program's craft. (45 minutes)
Grades 6-8: Tracking Acadia's Seasons – Climate Change & Phenology
Students will learn about phenology and why it's important in helping us understand interrelationships of organisms. We will explore seasonal/cyclic changes of plants and animals and the impacts related to climate change while gaining exposure to the concept of citizen science. (45 minutes)
Grades 6-8: Acadia in a Changing World (Climate Investigations)
Climate Change. These two words can leave many of us feeling disempowered or confused. This program gives students the reins and allows them to put themselves in the role of park managers to better understand the challenges of climate change and to explore climate solutions. Students spend the first half of the program learning from the ranger, and then work together to problem solve three ongoing and real-world Acadia National Park challenges. (1 hour)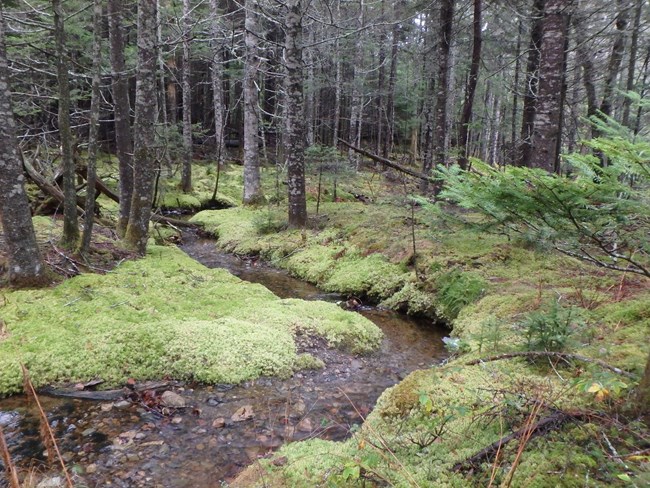 General Ecology Programs
Grades K-2: Hooray for Habitats
Forests and coastlines and lakes, oh my! Discover how Acadia's habitats provide animals with what they need to survive in this fun program full of puppets and imagination. (30 - 45 minutes)
Grades 4-6: Habitats of Acadia
Venture from forest, to ocean, to fresh water as we explore the three distinct habitats of Acadia and learn about the animals who call these places home. (45 minutes)
Grades K-2: Adaptation Olympics
Join a park ranger to learn about the amazing adaptations of the animals in Acadia. Students have the option to move along with the ranger; they'll only need a small space to jump, wave their arms around, and try the ant plank! (30-45 minutes)
Grades 3-6: Amazing Animal Adaptations
Explore the diversity of animals in Acadia and learn about the remarkable adaptations that help them survive! From tongues to tails, we will take a close look and learn wild facts about some local Maine creatures. (45 minutes) Amazing Animal Adaptations Resources
Grades K-8: Acadia's Winter Ecology
Freeze, stay, or go away.  We will focus on the strategies of hibernation, tolerance, and migration that Acadia's animals use to survive Maine's winters.  Join us to explore the winter ecology of Acadia and learn about some of the amazing animals who adapt to this challenging season! This program is adapted to each grade level. (30-45 minutes)
Grades 2-4: Acadia's Reptiles and Amphibians
Who are the reptiles and amphibians of Acadia? Grab your pencil and paper and join us for a draw-along and fun introduction to the fabulous snakes, turtles, salamanders, and frogs of the park! (45 minutes- 1 hour)
Grades 4-5: Jr. Bat Researchers: All About Bats
Learn all about bats as we debunk myths, review adaptations, and examine their importance. We'll dive into some bat research going on in the park and discuss how rangers and students can help protect bats. (1 hour)
Grades 3-5: Ecosystem Explorations
Learn about interactions between producers, consumers, predators, and prey in Acadia's ecosystem.  We'll explore the relationships between organisms and focus on their roles in the environment, as well as food webs. (45 minutes)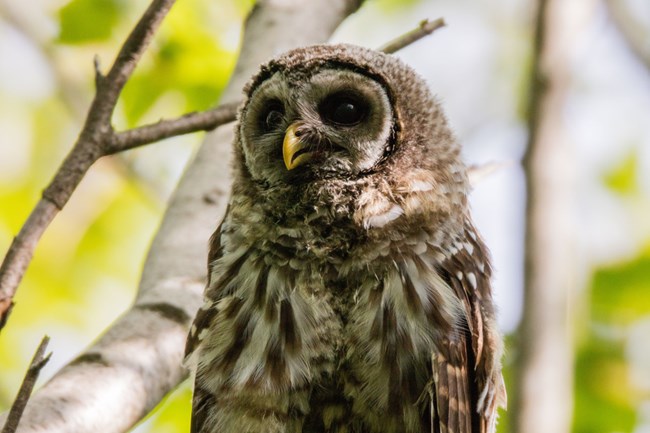 Bird Programs
Grades K-2: Feathered Friends
From feathers to beaks and feet, birds vary quite a bit! In this interactive lesson, we will explore and appreciate the great diversity of our feathered friends. (30-45 minutes)
Grades 3-8: Acadia's Birds!
Feathers, beaks and special feet, birds have a diverse array of adaptations for survival! In this lesson, we will investigate several adaptive behaviors and structures that make birds so successful. (45 minutes)
Grades 3-8: Loons!
The common loon is one of Acadia National Park's most famous avian residents. Come learn about their biology, their behavior, and ways that you can help protect this spectacular species. (45 minutes)
Grades 3-12: Owls: Nature's Nighttime Predators
Explore the unique and amazing adaptations of owls as we learn about their natural history! We'll focus on species that call Acadia home as we delve into the world of these incredible nocturnal birds. (45 minutes)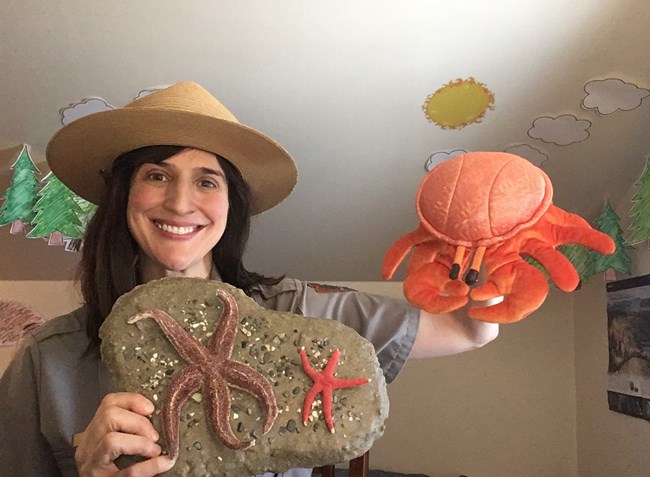 Marine Science Programs
Grades 2-4: Shoreline Discovery
Learn about the wildlife that live along Acadia's rocky shoreline during this interactive program. An introductory skit showcases challenges encountered here, and shells, replicas, and images of different animals will be used to highlight various adaptations. (45 minutes)
Grades 6-8: Between the Tides
What happens to marine animals when the tide goes out? Learn about the challenges that these animals face at low tide and how their adaptations help them to survive. (1 hour)
Grades 6-8: Marine Chemistry
Sea water is more than just H2O (water) and NaCl (salt). It is also made up of minerals, nutrients, and dissolved gasses that marine plants and animals need to survive. This can harm marine organisms and the fisheries they support. Learn about the chemistry of the ocean and why it is so important to marine and human life. (1 hour)
Grades K-12: Tidepool Tank Tour
Tidepooling is a popular activity in Acadia National Park. Each tidepool is a miniature window to the ocean where many amazing plants and animals can be found. Join us as we learn how to safely explore Acadia's intertidal habitat and the diversity found within. (45 minutes) This program will be available beginning in mid-February.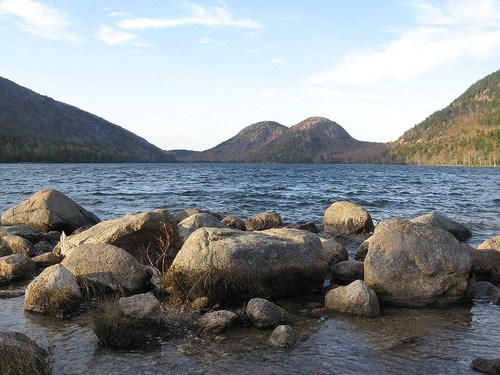 Earth Science & Physics Programs
Grades 2-3: Where the Mountains Meet the Sea
Join a ranger to discover how landforms and bodies of water in Acadia have been shaped over time! Through imagery, fun movements, and sketching, we'll connect the various forces that sculpt the planet to the incredible resources of our National Parks. (45 minutes - 1 hour)
Grades 4-5: Sedimentary Sleuths
Wind, waves, and ice! Become a sediment detective and investigate how weathering and erosion have shaped the landscape of Acadia National Park over time. (1 hour)
Grades 6-8: Geology: A Story Written in the Landscape
The story of Acadia's formation involves colliding continents, ancient oceans, intruding magma chambers, and bulldozing glaciers. We will investigate the rocks and the landscape to learn about Acadia's dynamic story of past and ongoing change. (45 minutes)
Grades 7-10: Waves in Acadia: Sound and Light
Draw sonograms. Measure the infrared. Chart radio waves. Explore real-world examples of light and sound waves in Acadia National Park with this interactive, virtual program. (1 hour)
Grades 7-10: Physics of Acadia: Ocean Waves
Ocean waves are fascinating to watch, but how are they formed? Explore and learn about the interaction between sunlight, wind, and water and how they create waves using basic principles of physics. (1 hour)
Contact Information for Requests
To request a program, please e-mail us and provide the following information in the "Your Message" box:
School Name

Grade(s) the program is requested for

Number of students attending
The title(s) of the program(s) you are requesting
Last updated: April 3, 2023