Field Trips
Junior Ranger Day (3rd Grade)
Grade Level:

Lower Elementary: Pre-Kindergarten through Second Grade

Subject:

Social Studies
Background
This program has three parts: a visit to your classroom by a ranger, completing activities in the Acadia Junior Ranger book, and time outdoors at Acadia National Park.
Part I. In the classroom, the ranger introduces the National Park Service (NPS) using the NPS arrowhead that every ranger wears on their uniform. The arrowhead shows the many resources the NPS protects - plants, animals, water, air, land and history. It takes a lot of people to take care of Acadia and other national parks. Kids are given an overview of the many jobs that rangers perform. Then, working in small groups, every child gets to perform in a short skit depicting a different type of job that rangers do. The kids love dressing up as rangers and taking center stage!
Part II. At the end of this 60 minute classroom presentation the ranger gives every kid an Acadia National Park Junior Ranger Activity Book donated by the park. Students need to complete a certain number of the activities in order to become a Junior Ranger. They begin work on the activities in the classroom and complete them during their park visit.
Part III. Teachers contact the park's education office to schedule a three hour Junior Ranger Day at the park. Excited boys and girls participate in the following activities: hike a trail, complete a clean-up or other service project, have their Junior Ranger books signed by the ranger, and proudly repeat the Junior Ranger pledge. Rangers award students their Junior Ranger patches and celebrate by singing Junior Ranger songs.
As official Junior Rangers, students board their school bus, now prepared to explore, learn about, and protect the resources of Acadia.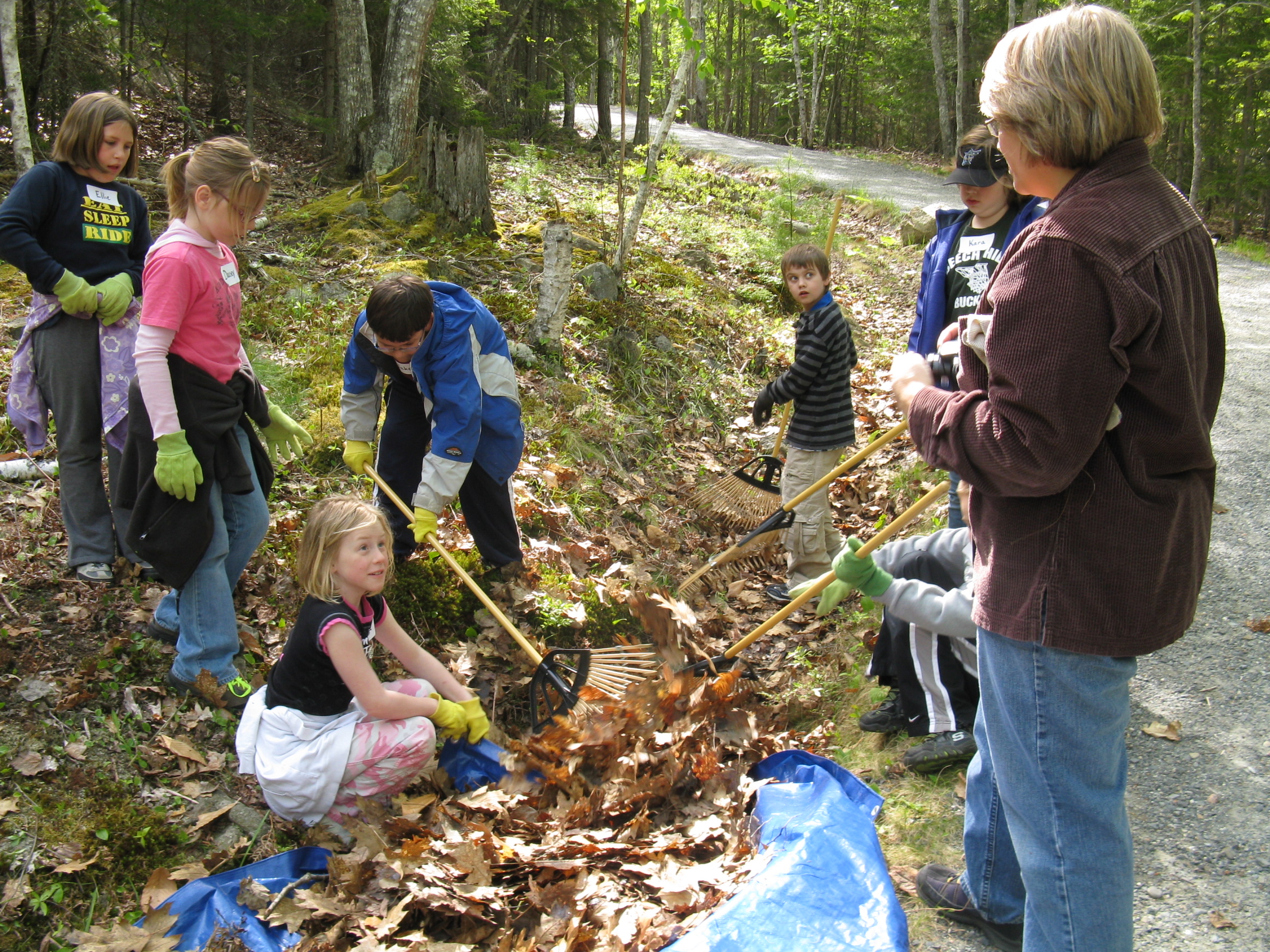 We are looking forward to our visit to your school and your visit to Acadia National Park which will provide your students with a special opportunity to learn about their national park and how Park Rangers protect it.
What Do Rangers Do?
The classroom program takes one hour. If you have any questions about the program in advance please call the education office at 288-8823, or 288-8825 on the day of the program. We will let you know during this program the location of your Junior Ranger Day.
Teachers' Responsibilities
Prepare students for the program.

Adherence to school procedures for classroom visitors.

Supervise students and help them stay focused during the program.
Junior Ranger Day
Please meet the rangers at 9am. We will let you know the location of this program soon. The program concludes at 12:00 noon. Plan a restroom break just before departing school. If you have any questions about the program in advance, please call the education office at 288-8823, or 288-8825 on the day of the program. If you will be more than 15 minutes late, please call the Visitor Center at 288-8832 so that they can contact the ranger by radio.
Program Schedule (timing and sequence may vary)
9:00      Welcome, logistics, restroom break
9:30      Activity rotation (30 minutes each)
11:00   Restroom and snack or lunch break
11:40   Junior Ranger pledge and wrap up
12:00   Departure
Plan to Bring
Chaperones:

Plan early! Acadia requires a chaperone for every ten students. Extra chaperones are welcome.

Food:

There is no food or drinks available at the program site. Each student needs to bring a snack and a resealable drink. If a lunch break is not be included in the program, you are welcome to plan to eat your bag lunches in the park before heading back to school.

Clothing:

Wear layered outdoor clothing to accommodate changing weather conditions. Supportive shoes are essential—no sandals or flip-flops

Junior Ranger booklet

for each student. Students can work on activities before the field trip, but please don't do Activity 8 Naturalist's Corner yet. We'll do that one as part of the field trip.

Nametags:

Students and adults need name tags. A piece of masking tape with the name in marker is sufficient.

Signed photo release forms:

Please send photo releases home with students for parent signatures
Teachers' Responsibilities
Prepare students for Junior Ranger Day by participating in a What Do Rangers Do? classroom program and completing the recommended activities in the Junior Ranger booklet.

Adherence to school procedures such as permission slips, insurance, transportation, etc.

Recruit chaperones and inform them of their responsibilities. Please photocopy and distribute the chaperone handout.

Prepare students to follow Leave No Trace practices:

Stay on trails if possible. o Respect, listen, and use quiet voices.

Leave all natural objects. Take trash with you. (You may want to bring a trash bag.)

Supervise students and help them stay focused during the program.

Notify trip participants about the recommendation to check for ticks after visiting the park. Tick numbers here have risen in recent years.

Ensuring that safe practices are followed throughout.
3rd Grade Program Goals
To provide an opportunity for students to connect to the resources of Acadia through sensory exploration & discovery

To show the diversity of jobs that rangers perform in the National Park Service

To familiarize students with the purpose of the National Park Service

To foster a lasting sense of park stewardship and connection to park resources
3rd Grade Program Outcomes
Students will be able to:
List four kinds of resources the National Park Service protects

Describe three types of ranger jobs.

Complete five activities in Acadia's junior ranger book.

Identify two park threats and two solutions in which students can take part.

Participate in a service project at the park. (Junior Ranger Day)
Common Core Learning Standards:
Informational Text:
CCSS.ELA-Literacy.RI.3.4 Determine the meaning of general academic and domain-specific words and phrases in a text relevant to a grade 3 topic or subject area.
CCSS.ELA-Literacy.RI.3.7 Use information gained from illustrations (e.g., maps, photographs) and the words in a text to demonstrate understanding of the text (e.g., where, when, why, and how key events occur).
Speaking and Listening:
CCSS.ELA-LITERACY.SL.3.1 Engage effectively in a range of collaborative discussions (one-on-one, in groups, and teacher-led) with diverse partners on grade 3 topics and texts, building on others' ideas and expressing their own clearly.
CCSS.ELA-LITERACY.SL.3.1.B Follow agreed-upon rules for discussions (e.g., gaining the floor in respectful ways, listening to others with care, speaking one at a time about the topics and texts under discussion).
CCSS.ELA-LITERACY.SL.3.1.C Ask questions to check understanding of information presented, stay on topic, and link their comments to the remarks of others.
CCSS.ELA-LITERACY.SL.3.1.D Explain their own ideas and understanding in light of the discussion.
Last updated: April 4, 2019