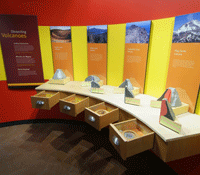 NPS Photo
Facilities
Kohm Yah-mah-nee Visitor Center
The visitor center has an exhibit hall, information desk, auditorium, amphitheater, café, gift shop, and bookstore. The visitor center is fully accessible with tactile exhibits including a relief map of the park and models of the four types of volcanoes. Audio description of the exhibits is available; inquire at the information desk. Accessible parking spaces are located near the entrance of the visitor center, and near the Southwest campground. Click here for visitor center operating hours.

Loomis Museum
The Loomis Museum has an information desk, bookstore, and history exhibits. An auditorium inside the visitor center shows the 20-minute park film. A wheelchair accessible entrance is located on the west side of the building. Accessible restrooms are located outside of the museum in the Loomis Plaza. For Loomis Museum operating hours click here.

Discovery Center
The Discovery Center at Manzanita Lake is located across the street from the Loomis Museum. The center is geared towards children and their families and is open at select times each summer. Check the park newspaper for operating hours. The center offers nature exhibits and interactive, tactile displays on Lassen's natural history. A wheelchair accessible entrance is located at the east entrance, and an accessible restroom is located inside.

Picnic Areas
Lassen has several picnic areas in which to enjoy an afternoon in the park. Manzanita Lake, Lake Helen, Devastated Area, and Kings Creek picnic areas offer level sites, accessible restrooms, and accessible parking.