Park Highway Closed to Through Traffic

Lassen National Park Highway is closed to through traffic. The highway is open to the the Kohm Yah-mah-nee Visitor Center (1 mile inside the southwest entrance) and the Devastated Area (10 miles inside the northwest entrance). Snow removal has begun. More »
Ranger-led Programs
Lassen Volcanic National Park offers a wide variety of Ranger-led and Junior Ranger programs throughout the summer and winter seasons. View information about ranger-led program below or learn more about special events.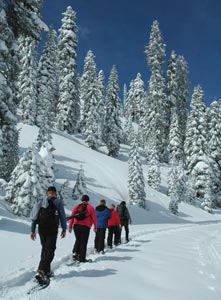 NPS Photo
Ranger-led Walks
Loomis Ranger Station, Manzanita Lake
Saturday and Sunday - 1 p.m. (weather permitting)
January 11 through March 23, 2014

NOTICE: For Saturday & Sunday 3/22 & 3/23 - There is not enough snow to snowshoe at Manzanita Lake. A ranger will be leading a guided hike around the lake (same time, same place).

This winter season, ranger-led snowshoe walks will be offered to the public in the Manzanita Lake area. Join a ranger for a one to two mile adventure exploring winter ecology and Lassen's geologic history. Visitors should meet the ranger outside the Loomis Ranger Station on the plaza at 1:00 p.m. and come prepared for a range of winter conditions. Dress in layers and carry food and drinking water.
Route and distance varies depending on group ability and fitness. At the beginning of each snowshoe walk, a ranger will demonstrate how to put on snowshoes and how to move around. Once the basic techniques are covered, the group heads out into the snow and the adventure begins!
Due to the seasonal closure of the Kohm Yah-mah-nee Visitor Center from December 1, 2013 to March 31, 2014, ranger-led snowshoe programs will not be offered on the south side of the park.

Winter Ecology Snowshoe Program for School Groups (Grades 3 - 8)
As part of Lassen Volcanic National Park's Education Program the park is offering Ranger-led snowshoe walks and winter ecology programs for school groups. Programs are by reservation only. Please visit our Field Trips page for more information.

NPS Photo
Public Bird Banding Demonstration
Sunday, July 21
8:00 a.m. - 8:30 a.m. - 9:00 a.m. - 9:30 a.m.
Meet at the Manzanita Lake boat ramp
Each year Lassen's natural resource team uses nets to capture and band migratory birds. This monitoring provides information on population abundance and health. Join us for a public bird banding demonstration. Meet a ranger at the Manzanita Lake boat ramp area at one of the times list above for a five minute walk to the banding site. Don't forget your camera!


Did You Know?

Lassen Volcanic National Park started as two separate national monuments designated by President Theodore Roosevelt in 1907: Cinder Cone National Monument and Lassen Peak National Monument.