Ranger-led Programs
Lassen Volcanic National Park offers a wide variety of Ranger-led and Junior Ranger programs throughout the summer and winter seasons. View information about ranger-led program below or learn more about special events.
Public Lands Day Events
Join us for free park entrance and special events on Saturday, September 20, 2014.
Summer Ranger-led Programs

The ranger-led program schedule is provided in two week periods to allow us to best serve the needs of visitors.
Ranger-led program schedule and descriptions:
NPS Photo
Public Bird Banding Demonstration
Sunday, July 20, 2014
8:00 a.m. - 8:30 a.m. - 9:00 a.m. - 9:30 a.m.
Meet at the Manzanita Lake boat ramp
Each year Lassen's natural resource team uses nets to capture and band migratory birds. This monitoring provides information on population abundance and health. Join us for a public bird banding demonstration. Meet a ranger at the Manzanita Lake boat ramp area at one of the times list above for a five minute walk to the banding site. Don't forget your camera!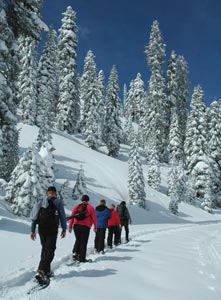 NPS Photo
Ranger-led Snowshoe Walks
Each winter from late December to April, Lassen offers ranger-led snowshoe walks. Ranger-led snowshoe walks are an excellent way to learn or practice snowshoeing techniques and explore Lassen in its winter form. Route and distance varies depending on group ability and fitness. At the beginning of each snowshoe walk, a ranger will demonstrate how to put on snowshoes and how to move around. Once the basic techniques are covered, the group heads out into the snow and the adventure begins!
Winter Ecology Snowshoe Program
Lassen's Education Program offers ranger-led snowshoe walks and winter ecology programs for school groups grades 3 through 8. Programs are by reservation only. Please visit our
Field Trips page
for more information.


Did You Know?

The Lassen Volcanic National Park newspaper comes out twice a year--one issue for winter and one for the summer season. The newspaper describes the many activities you can enjoy visiting during the very different seasons. More...