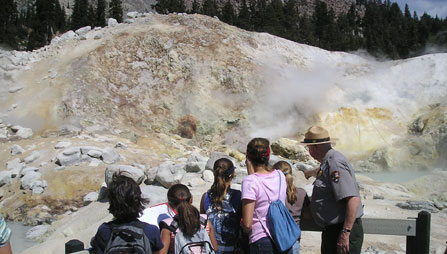 NPS Photo
Lassen Volcanic National Park offers a wide variety of Ranger-led and Junior Ranger programs throughout the summer and winter seasons. View information about ranger-led program below or learn more about special events.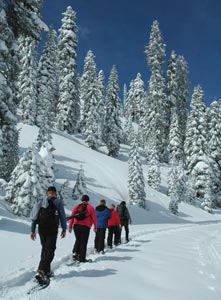 NPS Photo
New! Ranger-led Walks
Saturdays and Sundays through April 5, 2015
Kohm Yah-mah-nee Visitor Center | 1:30 p.m. to 3:30 p.m.
Due to a lack of sufficient snow, Ranger-led Snowshoe Walks (outlined below) have been canceled.
Rangers will lead guided hikes to Sulphur Works, a dynamic hydrothermal area.
The hike is 2 miles round-trip distance and about 2 hours in length.
Be prepared for winter-like conditions.

Uneven footing is present over snow.
Ranger-led Snowshoe Walks
New!Canceled March 8, 2015
Saturday and Sundays, January 3 through April 5, 2015
Kohm Yah-mah-nee Visitor Center | 1:30 PM - 3:30 PM
Ranger-led snowshoe walks are an excellent way to learn or practice snowshoeing techniques and explore Lassen in its winter form. Route and distance varies depending on group ability and fitness. At the beginning of each snowshoe walk, a ranger will demonstrate how to put on snowshoes and how to move around. Once the basic techniques are covered, the group heads out into the snow and the adventure begins!
Snowshoes are provided, a $1 donation is requested to cover maintenance costs.

Organized groups planning on attending a regularly scheduled walk must schedule a ranger-led snowshoe walk outside of regularly scheduled walks.

Space is limited to 40 people per program. A ticket must be obtained in person the day of in order to attend the walk.

Walks are open to those eight years of age and older; children in carriers are not allowed due to safety concerns.

Poles are not permitted due to safety concerns.

Snowshoes are only provided for the ranger-led activity; the park does not rent snowshoes or other winter equipment.
New! Spanish Snowshoe Programs
Saturday, February 7, February 21, March 7, and March 21, 2015
Kohm Yah-mah-nee Visitor Center | 10:00 am - 12:00 PM
This winter Lassen will offer ranger-led snowshoe programs in Spanish and English. These walks will most likely follow the snow-covered park highway from the Kohm Yah-mah-nee Visitor Center to the Sulphur Works hydrothermal area. The route is about two miles round-trip and is appropriate for first-time snowshoers. Space is limited please call 530 595-4480 to make reservations. Please read more information about ranger-led programs in general in the section above.
Winter Ecology Snowshoe Program
Lassen's Education Program offers ranger-led snowshoe walks and winter ecology programs for school groups grades 3 through 8. Programs are by reservation only. Please visit our
Field Trips page
for more information.
Summer Ranger-led Programs
Ranger-led programs usually begin mid-June and continue through mid-September. Please check back in the spring for a list of 2015 ranger-led programs.
NPS Photo
Public Bird Banding Demonstration
The demonstration is usually held in late-July. Please check back in the spring for the 2015 date.
8:00 a.m. - 8:30 a.m. - 9:00 a.m. - 9:30 a.m.
Meet at the Manzanita Lake boat ramp
Each year Lassen's natural resource team uses nets to capture and band migratory birds. This monitoring provides information on population abundance and health. Join us for a public bird banding demonstration. Meet a ranger at the Manzanita Lake boat ramp area at one of the times list above for a five minute walk to the banding site. Don't forget your camera!