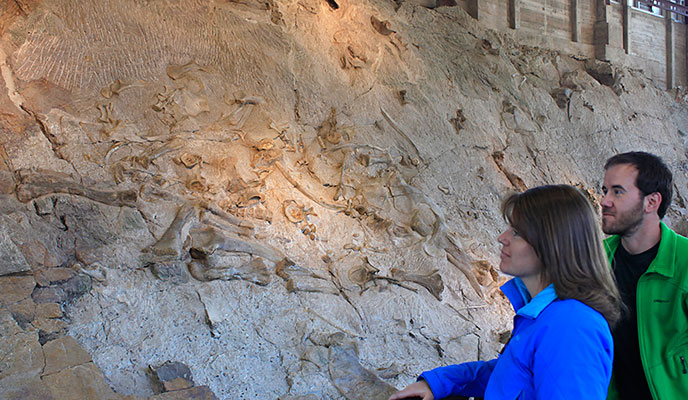 NPS
Come Discover Dinosaur!
Most people come to see dinosaur fossils and there are 1,500 bones of these amazing creatures still encased in the rock at the Dinosaur Quarry Exhibit Hall. But there is more to see here beyond the amazing fossils. Go whitewater rafting and star gazing. Explore mountains and canyons. Watch wildlife and photograph wildflowers. Contemplate historic cabins and Fremont rock art. Dinosaur offers countless opportunities for discovery and we hope you will have fun, make lifelong memories, and develop a deep connection to this special place.
This "Plan Your Visit" section has all kinds of helpful tips about things to do, places to go, eating & sleeping, and current conditions. Dig deeper for information about accessibility, directions, operating hours & seasons, fees & passes, reservations & permits, and brochures.
Visit the official online store for books, maps,and guides to the park. Operated by the nonprofit Intermountain Natural HistoryAssociation, store proceeds directly benefit Dinosaur National Monument.

Visitor Centers
Dinosaur National Monument has two visitor centers where you can obtain information on the monument.
More information…

Pets
Pets are permitted in monument, but there are rules and restrictions regarding where they are allowed.
More information…

Hiking
Dinosaur features miles of trails plus unlimited cross country travel oppportunies.
More information…

Monument Information
Need other information that you cannot find on our website. Feel free to email or call us at (435) 781-7700.