Maps
The park map is available to download below for your convenience. You can also request park staff to mail a copy of the park brochure to you.

---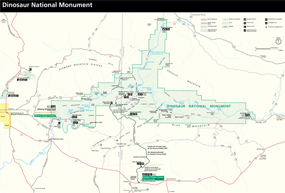 2012 Dinosaur National Monument Map (HQ Version 23MB PDF)
2012 Dinosaur National Monument Map (No background terrain version 4MB PDF)
Please note that this PDF of the park map is 30 inches x 22 inches in size and is for screen viewing or it can be printed from a plotter printer. It can be printed on letter size paper but most of the text detail will be lost.
The park map in the link above is not designed for route planning or remote backcountry hiking and camping. The Intermountain Natural History Association sells National Geographic maps for $11.95. These maps contain much more information.


Did You Know?

Dinosaurs were a remarkably successful group of animals. They lived on the Earth for 160 million years. The fossils at Dinosaur National Monument represent only 10 of the many dinosaur species that existed during that long era.